iPad 2 to have speaker boost and slimmer bezel?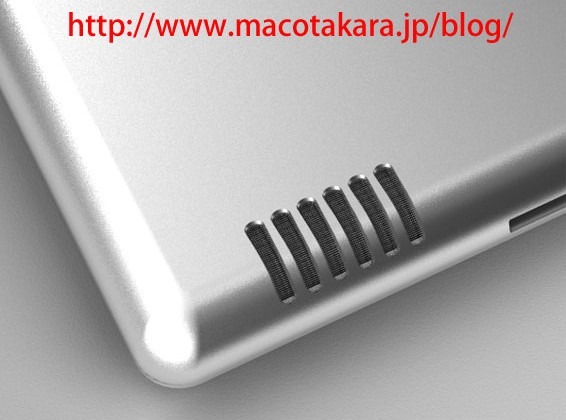 What we definitely need more of these days are iPad 2 rumors; after all, Apple leaks are what really make the holidays special. Japanese site Macotakara has come up with one, too; according to their unnamed Chinese sources, the second-gen iPad will be a little smaller than the original iPad – at 239 x 186 mm – though still use a 9.7-inch display, meaning a slightly narrower bezel. Meanwhile it will also have a larger speaker, as shown in their mock-up here.
According to the Chinese sources, that speaker – described as "mesh covered" – is the reason for the mysterious hole we've seen on previous alleged leaked iPad 2 parts. At the time it was speculated that Apple would use that gap for an SD card reader or USB port, but instead it seems the company will be sticking with a dock connector and little else.
Other changes appear minor, at least on the outside. The ambient light sensor is now smaller and has been moved, and the rear panel is now apparently flat like an iPod touch rather than bowed as with the current model. The site claims the iPad 2 will begin shipping in January, which tallies roughly with previously mentioned dates.
[via AppleInsider]