iOS 9's keyboard for iPad further hints at 'iPad Pro'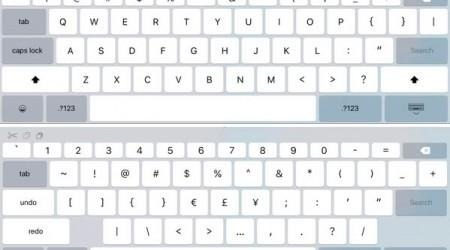 We've long heard rumors about specs and parts to be used on an "iPad Pro," a new 12.9-inch tablet from Apple, and even potential cases, but now some hints have been discovered within the code of iOS 9, specifically for the keyboard. After spending some time with the new iOS 9 beta that Apple released last week, developer Steven Troughton-Smith found that the iPad's keyboard is able to scale and adapt to a larger size, automatically rearranging keys to best fit the space.
Among the most noticeable changes are keys for Tab and Caps Lock added to the left side of the keyboard. The top row also now features smaller keys for the symbols usually found on a physical keyboard's number keys, such as @, $, &, and parenthesis. New keys are also added to the right of the letter P, with curly brackets and a vertical line.

Switching over the secondary keyboard, where one would normally find the numbers and symbols keys, the extra row of keys means all the symbols from the third keyboard can be fit on a single page, possibly eliminating the need for the "#+=" key. Also accompanying the Undo key on the left is a new Redo button.

A larger model iPad certainly makes more sense now that Apple has added multitasking features to iOS 9 such as Slide Over, Split View and Picture in Picture. These new views are specific to the iPad Air 2 and future tablet models, and they would certainly be at home on a 12.9-inch screen.
The iPad Pro has also been rumored to feature advancements like Bluetooth stylus compatibility, stereo speakers, and Apple's new Force Touch screen technology. We'll have to wait until this fall to see if it finally makes a debut.
SOURCE Steven Troughton-Smith/Twitter
VIA 9 to 5 Mac