iOS 9 download error? Try iTunes (no, really)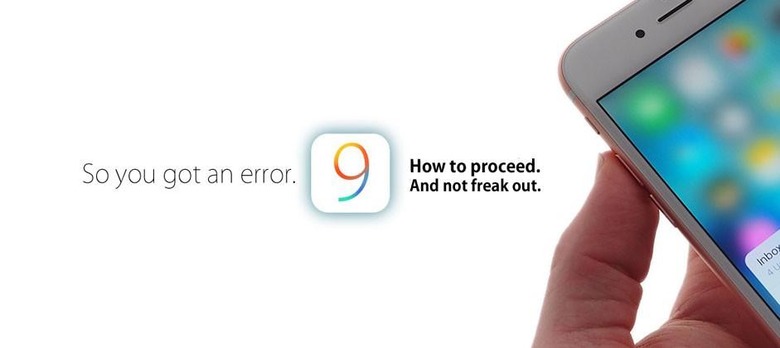 This morning iOS 9 was released by Apple to the public for iPhone, iPad, and iPod Touch. Along with this release came a bit of an error for users attempting to download remotely. Tapping the Update button on one's own iPhone results in a failed download for some users. As it were, the iTunes-based update from a user's connected Mac or PC seems to be the trick – no errors yet reported.
For those of you new to connecting to your desktop computer to update, the steps are super simple. In fact, now that the update is out officially, the steps have been reduced to three. They are as follows:
1. Plug your device into your computer using a USB cord.2. iTunes will display a message like you see below.3. Accept, sit back, tap around SlashGear's Apple hub.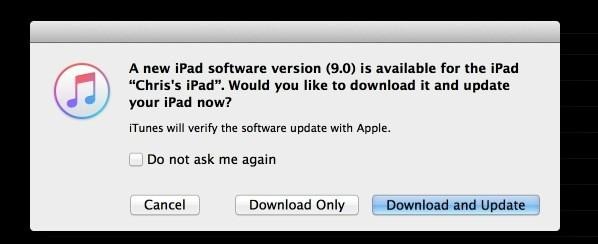 It's super easy. For those of you that clicked quickly past the update notes, we've grabbed the most important bit right up at the top for you. Straight from Apple, this update does the following:
"With this update your iPhone, iPad and iPod touch become more intelligent and proactive with powerful search and improved Siri features. New multitasking features for iPad allow you to work with two apps simultaneously, side-by-side or with the new Picture-in-Picture feature. And, built-in apps become more powerful with detailed transit information in Maps, a redesigned Notes app, and an all-new News app. And improvements at the foundation of the operating system enhance performance, improve security and give you up to an hour of extra battery life."
Have a peek at our iOS 9 iOS 9: how to download, when to expect guide if you still need more guidance than you've already gotten.