iOS 7 gets flat with Apple banner at WWDC [UPDATE: OS X]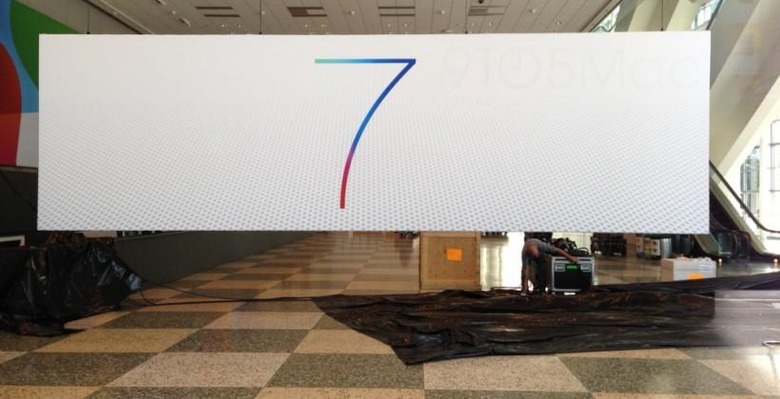 Just days away from the start of the multi-day event, Apple has begun to decorate the Moscone Center West in San Francisco for its yearly developers conference WWDC. This year's first banner appears to bring iOS 7 to the mix with a clear and present – and massive – number 7 in rainbow-colored font. Though it's difficult to tell at the moment with so little to go on, this may be indicative of a "flattening" going on in the aesthetic presentation of the mobile software.
Since the last major release of iOS, there's been a bit of a reshuffle in the ranks at Apple, with lead industrial designer Jony Ive being given a bit more charge in the user interface department. With this change of the guard, so to speak, the essence of the software is sure to be given a bit of a revamp.
UPDATE: An OS X banner has been added – same source, same day – all happening right now!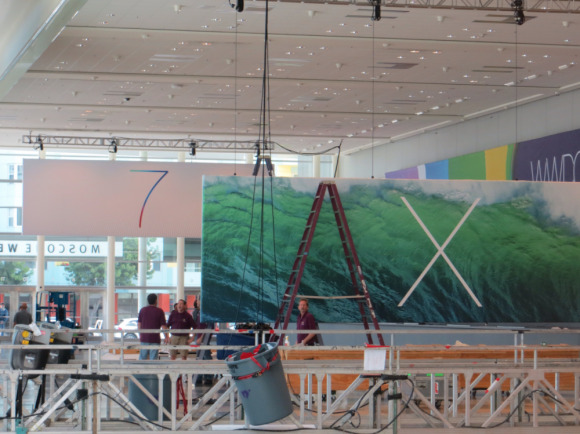 Speaking about the conference recently in an interview at D11, Tim Cook mentioned that iOS specifically would be getting a new "look and feel", courtesy of Jony Ive. With Ive the head of Apple's Human Interface Group, more than a few potential simplifications have been rumored over the past several months.
"Yes. What we did last fall was change things up — to really ramp up our innovation. The key in the post-PC era for having a great product is incredible hardware, incredible software, and incredible services, and to combine them so you can't tell what's what. The magic is at the intersection." – Tim Cook
The entire event will be liveblogged by SlashGear, where readers will be able to follow along in-step with the main keynote from start to finish. On Monday, June 10th, Apple will be presenting their first major keynote surrounding both iOS and OS X, their desktop-based operating system. SlashGear will be presenting this event in our live portal with photos and text galore.
SOURCE: MacStories, 9to5Mac