iOS 5 gesture bait & switch frustrates original iPad owners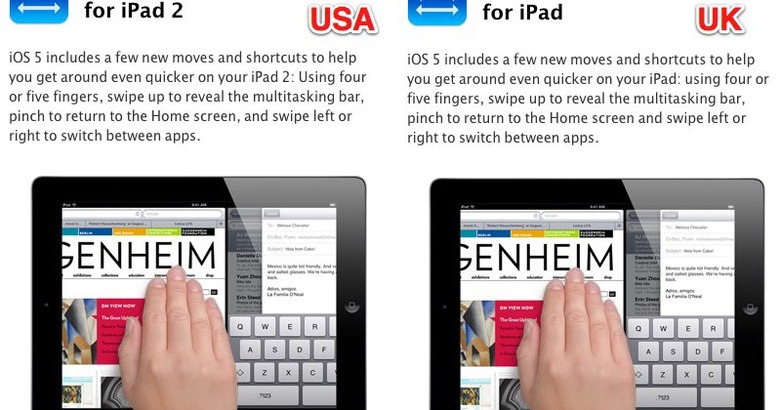 All eyes may be on the iPhone 4S queues this morning, but Apple's recent iOS 5 update is also prompting some feedback, and not all of it positive. iPad owners upgrading to the latest version have discovered that their first-gen tablets in fact won't get multitasking gestures, something it seems Apple has quietly updated its iOS features page to clarify.
Unfortunately, the company is yet to amend the UK version along with other international versions of the page, at time of writing. According to those pages, first-gen iPad owners running iOS 5 should be able to "using four or five fingers, swipe up to reveal the multitasking bar, pinch to return to the Home screen and swipe left or right to switch between apps."
As many have complained about in Apple's support forums, however, that's not the case. Apple is yet to comment publicly, but instead has reportedly been pruning some of the more frustrated posts from its user forum and making the amendments to the US site.
Limitations between different hardware versions are common, of course, but owners of the original iPad are particularly frustrated because, with an Xcode hack, they had the exact same multitasking gestures working on iOS 4.3. This seems more like a decision based on positioning than one on capabilities.
[Thanks Jenny!]