Ion Audio Guitar Apprentice: Teach you guitar skills with your iPad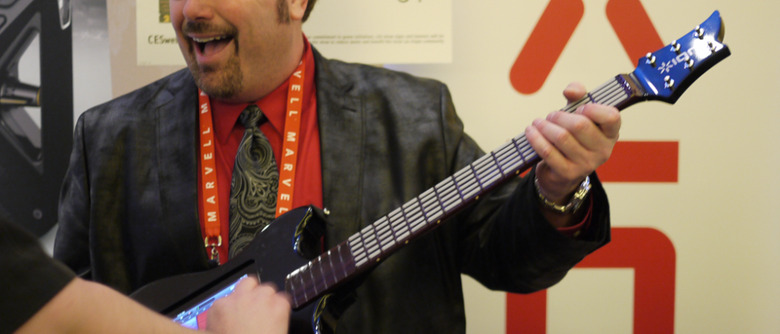 Ion Audio, the makers of the iCade iPad arcade machine and Piano Apprentice devices you've probably seen at Best Buy are back with their latest and greatest. They've developed a full-sized guitar nicely rounded out with a built-in iPad (sold separately of course) that will teach you to strum those chords like Jimmy Hendrix and Van Halen.
With Guitar Apprentice users can then learn to play the guitar or play along with apps such as GarageBand. What's even better though, is with the custom Ion Audio application the strings will light up as indicators when you've struck the correct cord — or wrong one when your fingers aren't long enough like mine. The learning stage each individual fret will light up and direct the user to the proper location that for chord, making the learning experience easy — and fun. If you've been eying a good way to finally learn how to impress your friends and family on the guitar this is for you.
Live at CES, the demonstration unit was fully running although the Ion iPad app needed some work and was still very much in beta stages. It did however still put on quite the show and I might of learned how to play a few D chords. Hitting the U.S at just $99 the build quality was better than expected. I was worried about the weight on the end with an iPad being built-in but weight distribution didn't seem to be an issue.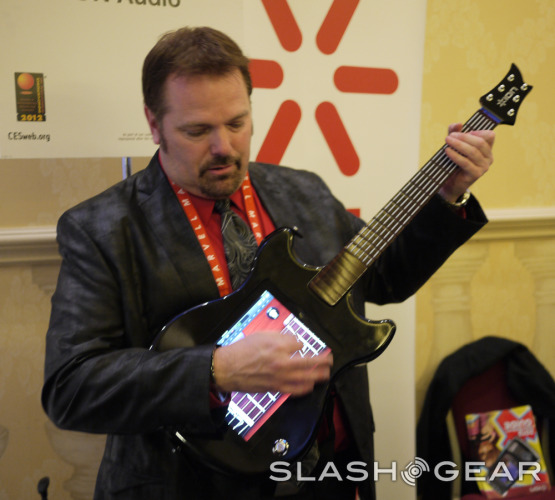 This is like Guitar Hero but on a whole new level. Ion Audio told SlashGear it will hit the U.S. initially but they plan to launch in other regions and the UK soon. Again the Ion Guitar Apprentice will retail for $99 (£64 approx) and should be available in many of the same retailers as other Ion Audio devices like Best Buy, Walmart and more soon.