Iomega StorCenter ix2-200 gets bigger, swappable drives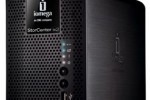 It's been a long time since we reviewed Iomega's original StorCenter ix2 NAS, and the company have finally got around to updating the dual-drive consumer/small-office backup and media-sharing system.  The Iomega StorCenter ix2-200 keeps the compact footprint of its predecessor but boosts capacity – 1TB, 2TB and 4TB models are on offer – upgrade potential and green credentials.
Unlike the ix2, the ix2-200 has twin user-accessible drive bays, and they're filled with low-power drives that are automatically spun-down when not in use.  The StorCenter also has DLNA media streaming, RAID 1 drive spanning for improved data security, three USB ports for plugging in external drives or webcams, and optional Bluetooth for wirelessly transferring files from mobile devices.
It's worth noting that those two bays aren't hot-swappable, so you'll need to power-down and whip out your screwdriver to switch them out.  Still, most of Iomega's target audience are unlikely to be looking for that sort of capability anyway; they'll be more pleased with the straightforward remote access, Apple Time Machine compatibility and one-touch photo transfers.
All three versions are available in the US and Europe now, priced at $269.99 for the 1TB, $369.99 for the 2TB, and $699.99 for the 4TB.  They'll drop in Asia come November.
Press Release:
Iomega Announces Next Generation "Green" Desktop Network Storage Appliance With Powerful Enterprise and Consumer Features

Compact StorCenter ix2-200 Features:

Easy Push Button Appliance-to-Appliance Copy and Backup

Disk Spin Down for Energy Efficiency

User Replaceable Disk Drives and More

San Diego, October 8, 2009 – Iomega, an EMC company (NYSE: EMC) and a global leader in data protection, today announced the next generation of its popular double-drive desktop NAS appliance with the worldwide launch of the new Iomega® StorCenter™ ix2-200. Based on industry-leading enterprise-class EMC® storage technologies, the versatile yet affordable StorCenter ix2-200 wraps ease-of-use around big business data management functionality and advanced media serving and other consumer features that make it the ideal NAS appliance for small business users and home users.

Available in 1TB*, 2TB and 4TB capacities, the new ix2-200 utilizes a very simple four-step setup to be operational in a matter of minutes – be it in a business setting or in the digital home. Starting at less than $270.00, the ix2-200 employs an easy-to-understand interface to provide robust data management and protection for the serious business user, as well as the latest in multimedia serving and remote access features that makes it a breeze to access your own data, whether in the office, the home, or anywhere else in the world.**

Among the standout business features of the new StorCenter ix2-200:

Device-to-device replication for business continuity and file recovery

iSCSI block-level access for efficient storage utilization

RAID 1 configurations for optimized data protection

Windows® Active Directory support

A new front panel QuikTransfer button for easy copying of selected files

User replaceable hard drives

Multiple IP security camera support

And for the forward-thinking small business, VMware® certification for virtualization installations.

The new StorCenter ix2-200 also has a treasure trove of features for the digital home, including:

A DLNA® certified UPnP® AV Media Server that makes the ix2-200 the central repository for serving up all your movies, pictures, music and other files to any compatible device on your network

Serves as a Time Machine® target for Apple® computer backups

Built-in torrent support for file-sharing without the need for a dedicated PC

Bluetooth® capability for uploading all kinds of digital content from a smart phone

Cooliris™ slide show plug-in allows for easy photo viewing

And remote access to the ix2-200 from anywhere in the world

"The new StorCenter ix2-200 is definitely the easiest to use small office and consumer network storage appliance in the marketplace today," said Jonathan Huberman, president of Iomega and the Consumer and Small Business Products Division of EMC. "Combining EMC's world class enterprise storage and security technologies with advanced media serving features makes the ix2-200 a versatile and affordable NAS appliance that gives smaller organizations, work groups and home users not only cost-effective and robust network storage but some of the same sophisticated data management capabilities as a Fortune 100 corporation – but without any need for IT experience."

The new Iomega StorCenter ix2-200 NAS appliance is now available in the Americas and Europe from retailers, VARs and IT resellers, including valued Iomega partner CDW.

"When it comes to managing and protecting digital content, small businesses today face many of the same challenges as much larger organizations," said Matt Troka, vice president, Product & Partner Management, CDW Corporation. "Iomega's new StorCenter ix2-200 delivers cost-effective network storage with advanced enterprise features at extremely affordable prices. For the budget conscious small business with a need for dependable network storage that is easy to setup and maintain without any internal IT expertise, the compact StorCenter ix2-200 offers a great value proposition, which makes it a viable data storage and back-up solution for our customers."

The Little Compact Desktop NAS Appliance with Lots of Capabilities

The new StorCenter ix2-200 NAS desktop appliance utilizes the acclaimed EMC LifeLine™ software, a fully-developed Linux operating environment and suite of applications that is designed for cross-platform support with Windows®, Mac® and Linux computers. The LifeLine operating system presents a simple-to-use graphical interface that makes it easy to perform valuable business tasks while remaining confident that your data is securely stored, protected, and accessible whenever and wherever you need it.

Small office users will enjoy the ix2-200's fast Gigabit Ethernet connectivity and high-performance embedded architecture, which boosts productivity by making data readily accessible and secure over a local network at the office or in the home. The ix2-200 also boasts the versatility of three USB 2.0 ports for adding printers or additional storage capacity with external USB drives.

Key Features of the StorCenter ix2-200 NAS Appliance

The new ix2-200 NAS appliance's many features make it one of the most advanced, innovative and easy-to-use double-drive network storage devices available today. Among the features:

Device-to-Device Replication (copy jobs): Copy or backup files to and from the ix2-200 to any other NAS or USB-attached storage device without the need for a client computer. Jobs can be set to run at pre-determined schedule or at the touch of the ix2-200's new QuikTransfer button. The ix2-200 uses either the rsync or Windows File Sharing protocol to transfer data between itself and another network storage device.

iSCSI Support: Provides block-level access for the most efficient storage utilization, especially for database, email and backup application performance. This feature also allows host-based operating systems and virtualization software to use the full capabilities of their native file systems, such as enabling VMFS for VMware utilization.

VMware® Ready Certification: The ix2-200 is certified as both NAS (NFS) and iSCSI storage for VMware ESX Server 3.5 and 4.0 vSphere. The ix2-200 is listed on the VMware hardware compatibility list, enabling small offices and work groups to affordably take advantage of the benefits and advanced features offered by shared storage in a VMware environment. The ix2-200 is the ideal storage match for smaller virtualization deployments that use the new VMware vSphere Essentials and vSphere Essentials Plus software packages.

Remote Access: Set up remote access and remotely manage and access pictures, videos, work files and other digital data on the ix2-200 from anywhere in the world. Just enter a personalized web address into any browser for easy downloading and uploading of files securely.

RAID Support: RAID 1 with automatic RAID rebuild for data redundancy and protection. Single volume (JBOD) mode also available.

Multiple Network Protocols: Works in Windows, Linux and Mac environments with network protocol support including CIFS/SMB/Rally, NFS, and AFP/Bonjour. The ix2-200 also supports advanced protocols such as HTTP, FTP and SNMP.

Time Machine® Support: Lets Apple® users easily backup to the ix2-200 with Mac computers running OS X (10.5 or later) using Time Machine.

Windows® Active Directory Support: Allows the ix2-200 to function as a client member in an Active Directory domain, giving users and groups access to the ix2-200.

Uninterruptible Power Supply Support: Enables unattended system shutdown without data loss in the case of power failure.

Gigabit Ethernet: high speed connectivity with jumbo frame support

Video Surveillance: Connect up to five Axis® Network video cameras for real-time monitoring and video capture, without the need of a dedicated computer (dependent upon system workload and network conditions). The ix2-200 can be used as a storage target for other network surveillance cameras as well.

Print Server: Supports intelligent print sharing capability for up to three USB printers directly connected to the ix2-200.

UPnP AV/DLNA Certified Media Server: Compatible with UPnP and DLNA certified media players, the ix2-200 streams photos, audio content and videos to not only laptops and computers but a variety of media devices, including game consoles (Xbox® 360, Sony PlayStation® 3), audio bridges, iTunes™ players, networked digital picture frames and other compatible devices.

Bluetooth capability: Allows users to upload contacts, photos and more from a cell phone, pocket PC or Blackberry® phone (Bluetooth USB adapter required, sold separately).

Photo Slideshow: Integrated utility based on Cooliris™ technology for quick browsing and sharing of pictures stored on the ix2-200 to both local and remote users.

Picture Transfer Protocol (PTP): Supports no touch, automatic transfer of photos from digital cameras via one of the three USB 2.0 ports on the ix2-200.

Versatility: Supports read and write on various formats, including Fat32, NTFS or ext2/ext3 formatted hard disks; also supports HFS+ (ready only).

Backup and Security Software for a Complete Solution

The StorCenter ix2-200 provides data backup and protection for any number of desktops and laptops with integrated EMC Retrospect® Express backup software. During the set-up process, users choose files and folders for scheduled automatic backups. After that, any changes or additions are updated and saved automatically.

For data security, the ix2-200 also includes RSA® BSAFE® encryption security technology for protecting installs and upgrades from viruses or malware. RSA is the security division of EMC that protects digital data at many of the world's largest banks.

A Power Saving "Green" NAS Appliance

The StorCenter ix2-200 utilizes such power saving features as automatic hard drive spin down when the ix2-200 isn't copying or serving up data, power consumption "green" hard disk drives, and an Energy Star® certified power supply. All of these features ensure the most efficient or minimal power consumption.

Compatibility

The StorCenter ix2-200 is compatible with Windows®, Mac OS®, and Linux® PCs. The interface is localized in 11 supported languages (English, Spanish, Portuguese, French, Italian, Japanese, Korean, Traditional and Simplified Chinese, German, and Russian).

Price, Availability and Warranty

The new 1TB StorCenter ix2-200 NAS appliance is now available in the Americas and Europe for $269.99, the 2TB model is now available for $369.99, and the 4TB model, which will be available later this month, is $699.99. (All prices are U.S. suggested retail.) All three capacities of the new StorCenter ix2-200 will be available in Asia in November. The StorCenter ix2-200 is backed by a three-year warranty (with product registration).

About EMC

EMC Corporation (NYSE: EMC) is the world's leading developer and provider of information infrastructure technology and solutions that enable organizations of all sizes to transform the way they compete and create value from their information. Information about EMC's products and services can be found at www.EMC.com.

About Iomega

Iomega Corporation, a wholly owned subsidiary of EMC Corporation headquartered in San Diego, is a worldwide leader in innovative storage and network security solutions for small businesses, home offices, consumers and others. The Company has sold more than 410 million digital storage drives and disks since its inception in 1980. Today, Iomega's product portfolio includes one of the industry's broadest selection of direct-attached external hard drives; industry leading network attached storage products for the home and small business; and the ScreenPlay family of multimedia drives that makes it easy to move video, pictures and other digital files from the computer room to the livingroom. To learn about all of Iomega's digital storage products and managed services solutions, please go to the Web at www.iomega.com. Resellers can visit Iomega at www.iomega.com/ipartner.

NOTE: This release contains "forward-looking statements" as defined under the Federal Securities Laws. Actual results could differ materially from those projected in the forward-looking statements as a result of certain risk factors, including but not limited to: (i) adverse changes in general economic or market conditions; (ii) delays or reductions in information technology spending; (iii) our ability to protect our proprietary technology; (iv) risks associated with managing the growth of our business, including risks associated with acquisitions and investments and the challenges and costs of integration, restructuring and achieving anticipated synergies; (v) fluctuations in VMware, Inc.'s operating results and risks associated with trading of VMware stock; (vi) competitive factors, including but not limited to pricing pressures and new product introductions; (vii) the relative and varying rates of product price and component cost declines and the volume and mixture of product and services revenues; (viii) component and product quality and availability; (ix) the transition to new products, the uncertainty of customer acceptance of new product offerings and rapid technological and market change; (x) insufficient, excess or obsolete inventory; (xi) war or acts of terrorism; (xii) the ability to attract and retain highly qualified employees; (xiii) fluctuating currency exchange rates; and (xiv) other one-time events and other important factors disclosed previously and from time to time in EMC's filings with the U.S. Securities and Exchange Commission. EMC disclaims any obligation to update any such forward-looking statements after the date of this release.

###

* 1 TB = 1,000,000,000,000 bytes.

** Requires an Internet connection.