Iomega StorCenter ix2 NAS Review - 1TB Edition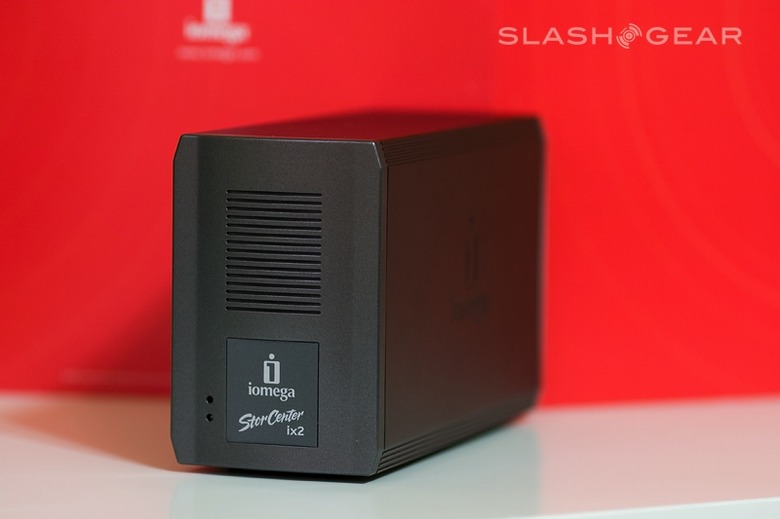 Backup isn't generally seen as glamorous, and the Iomega StorCenter ix2 is unlikely to change that perception. A sober gray box, the ix2 is as compact as dual 3.5-inch SATA-II hard-drives will let it be. However inside there lurks an iTunes-compatible media server, printer sharing facility and optional CCTV recording and Bluetooth file transfers, all for a competitive entry price. Can the StorCenter ix2's hidden charms change our mind about the unbearable dullness of archiving?
In the box there's an ethernet cable, PSU, printed quick-install guide and software CD which also has the full user manual, as well as the ix2 itself. Connections include a gigabit ethernet port, two USB 2.0 host ports for adding external drives or printers, and power; plug in one of a list of supported Bluetooth adapters and you'll be able to transfer files wirelessly, too.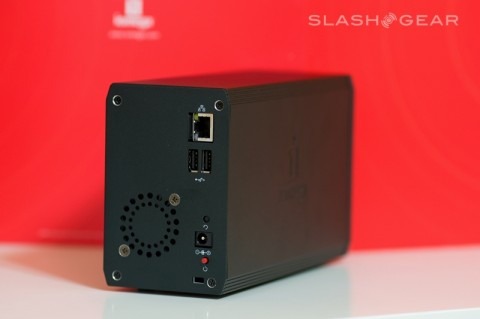 Setup is straightforward; the ix2 ships as a RAID 1 array, mirroring the two hard-drives, although it can be set to JBOD for the total combined capacity (and no data redundancy or protection). Two versions are avialable, 1TB (offering 500GB in RAID-1) and 2TB (offering 1TB in RAID-1). Iomega recommend a DHCP configured network, but the StorCenter ix2 can be given its own IP address; we plugged it straight into our router, with the included four-step installation CD, had it showing up on a networked PC within minutes. Also on the CD is a copy of EMC's Retrospect Backup software that works on both PCs and Macs and can be used to schedule automatic backups of specific files and folders. Unlike some NAS products we've seen, there doesn't appear to be a limit on how many computers you can install Retrospect on.
At it's most basic, the ix2 works as a simple central backup server. Transfer speeds are limited more by the network connection from your computer to the drive, together with your machine's specs, than the NAS itself. Load a folder full of audio and video files, however, and the ix2 becomes a DLNA media server; all manner of digital media adapters are supported, with UPnP, PTP (for digital cameras and photo frames) and iTunes streaming all possible. We had no problems streaming multiple files to different computers simultaneously; we only wish that there was the possibilty of loading third-party apps such as Logitech's SqueezeCenter to use with their range of media streamers.
The two USB ports can either hook up external hard-drives, boosting storage (though it won't be mirrored on the RAID-1 array, unless you plug in a dual-disc external drive) or printers. Two printers can be connected simultaneously, offering say a choice between monochrome laser for text and color inkjet for photos. We tried a number of different models from the usual big brands and had no issue with printing to them; however sometimes the monitoring software included (to give instant updates on ink levels and paper status) complained at the absence of a direct connection.
So far, nothing too different from other NAS models on the market. Bluetooth, though, is a less common inclusion: plug in a compatible wireless dongle and you can send photos, video, files and address book contacts directly to the ix2. It's a one-way transfer – there's no easy way to copy files on the NAS back over to the phone – but for impromtu backups (or merely to free up space on a memory card) it's useful. Not integrating the Bluetooth receiver feels like a cost-cut too far, however.
Perhaps less useful to home buyers, but of interest to small businesses, the ix2 can be connected directly to an Axis CCTV camera. That allows both for real-time recording direct to the hard-drive and viewing the footage across the network.
Unsurprisingly the StorCenter ix2 uses a web-based administration system, accessible from any computer on the network and password secured. Here you can set up individual accounts and groups, limit access to certain directories and give different levels of read/write priviledge. One feature notable by its absence is space quota management, where users are permitted a limited amount of storage on the NAS; Iomega tell us that this, together with remote file access and seemless links to online storage, are planned for future software updates. Nonetheless, the setup GUI is clear and straightforward, and it's simple to establish user groups and identify which folders contain media and as such should be monitored by the UPnP/DLNA streamer.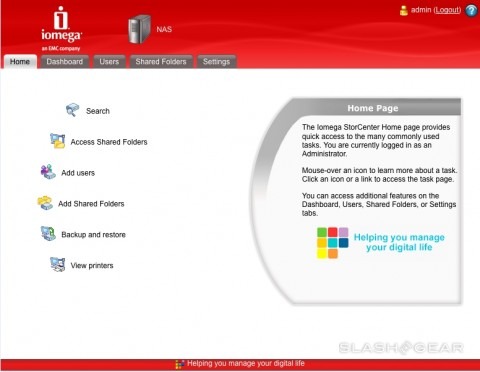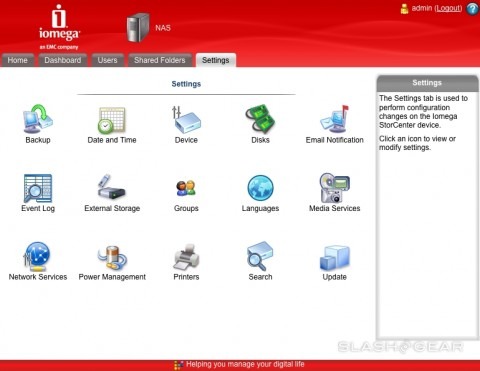 While setup is quick, recovery and decommissioning isn't. Although a RAID-1 array means that, in the case of one of the 7,200rpm, 16MB-cache SATA-II hard-drives failing, your data isn't lost, Iomega tell us that replacing the broken drive yourself will void the manufacturer warranty (one year standard, two years costs $149.95). That basically means that, if you get an email from the NAS saying a disc is either going or gone, you have to send the whole thing to Iomega to have it repaired. It also prevents you from adding capacity as hard-drive prices come down and your storage needs increase.
It's a bizarre state of affairs, and it undermines one of the main points of a RAID system: that data is still accessible even with hardware failure. Iomega deserve credit for streamlining the install and ongoing use of the StorCenter – after all, too complex and it won't be used – but it's a step too far locking up that data from home or office recovery by threatening the warranty status.
As for decommissioning, we were surprised by how long the ix2 takes to reformat (almost an hour). Thankfully it's a hands-off procedure once started. Similarly hands-off is the optional encryption, using RSA technology, which secures as files are transferred.
Overall, we're in two minds about the Iomega StorCenter ix2. For small business users, unless particularly tech-phobic, the potential for downtime as you send your part-broken or failing NAS in for drive repair is probably unacceptable. The lack of space quota management is another issue, as could be remote file access if you have field workers, and while Iomega is promising such functionality in future updates there's no known timescale for that.
For a home user, however, the ix2 makes much more sense. The StorCenter is a capacious, fast and affordable way to centralize backup and, with the included software, pretty much automate the whole process. Being able to use it as a media server and to share printers is icing on the cake. Yes, the same downtime issue applies, but its impact is likely less serious in a home environment. Given the competitive starting price – $299.99 for the 1TB, $479.99 for the 2TB – they're flaws that are more easily overlooked.