Iomega Mac Companion Hard Drive Hands-On [Video]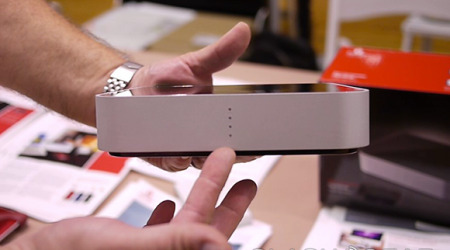 This week we're getting all sorts of opportunities to get our hands on some soon to be released products from various companies, the latest of which is the Iomega Mac Companion Hard Drive. We spoke about this hard drive back at the beginning of August noting that its uniqueness lied in both its ability to sit perfectly nicely under the newest series of iMac Core i5 devices as well as its unique new ability to charge your iPad and other Apple devices as it worked to keep your main computer unit free from clutter.
This lovely device was out for us to take a look at inside Pepcom's end of summer 2011 Holiday Spectacular, a digital forest of many wonders. What you've got here is an external hard drive available in 2TB and 3TB configurations, both of them working with an ultra-fast 7200 RPM 3.5-inch hard drive formatted HFS+ made ready for Mac computers with no additional fixing up right out of the box. The device is also a 2.1 Amp hookup in addition to holding all your media and whatnot, this making it easy for you to plug in all your peripherals and extra mobile devices without a hassle.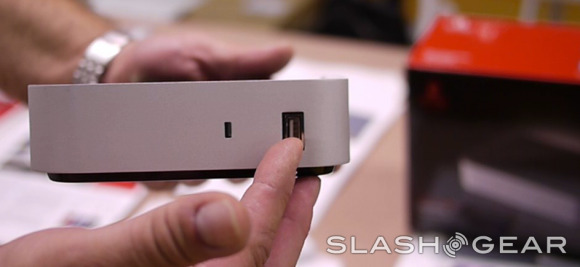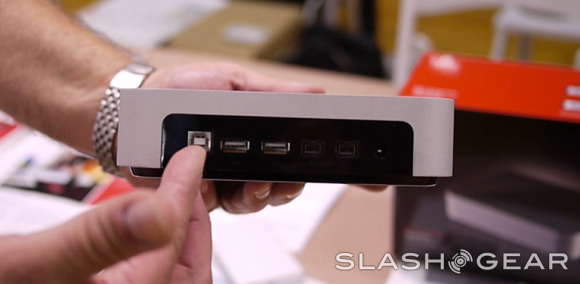 As for what you can actually plug in to this mother, you'll get two FireWire 800 ports, one USB 2.0 port, a two port integrated 2.0 hub that'll connect you back up to your Mac device or connect to other external storage devices in a daisy-chain sort of situation. This drive also comes with one FireWire800 wire, one conversion FireWire 400-800, and one single USB 2.0 cable.
Check out what this simple and lovely looking drive is all about:
[vms 793e8bdcd7c19a8ac0c2]
Notice the lovely LED lights up the center front of the device, four in a row. These lights let you know how much storage you've got left in general:
4 LEDs lit white: less than 20% capacity in use

3 LEDs white: 20-40% capacity in use

2 LEDs white: 40-60% capacity in use

1 LED white: 60-80% capacity in use

1 LED red: more than 80% capacity in use
Interesting, yes? Next you should note that this device comes with Iomega Protection Suite, Mac Edition, Iomega QuikProtect, MoxyHome Online Backup, and a free 12 month subscription to Trend Smart Surfing for Mac. The smaller of the two drives, the 2TB model, will run you $239.99, while the 3TB model will cost you $369.99. These prices are suggested US retail – you can find them immediately if not soon in your local Apple store or in various online sources.
ALSO have a crack at the rest of our hands-on videos from the event in our Pepcom Holiday Spectacular 2011 portal!