Iomega eGo 1TB USB 3.0 HDD Review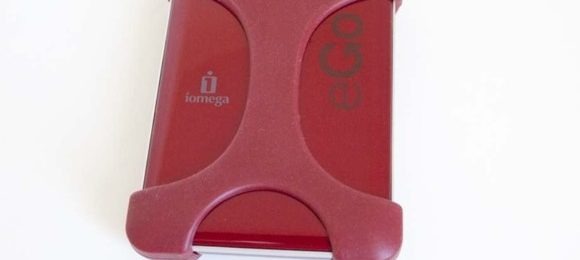 We're spoiled for choice when it comes to external hard drives, and given a large number of people base their decision primarily on price-per-gigabyte, a manufacturer has to offer something compelling if they want to stand out from the crowd. Iomega's latest eGo drive offers both 1TB and USB 3.0, complete with a semi-ruggedized chassis. Check out the full SlashGear review after the cut.
There's not much to say about the eGo's design that you can't see in the photos. The 1TB eGo is available in black, silver or the eye-catching red of our review unit, while drive protection is a combination of the rubbery cross and Iomega Drop Guard for locking the drive-heads down should it fall. That red brace looks distinctive but does add bulk.
Ports are limited to a single USB 3.0 – backward compatible with USB 2.0 – and Iomega include a double-headed cable should just one port not supply enough power. There's no AC adapter option. Iomega supply the drive formatted for PCs, so OS X users will have to reformat first.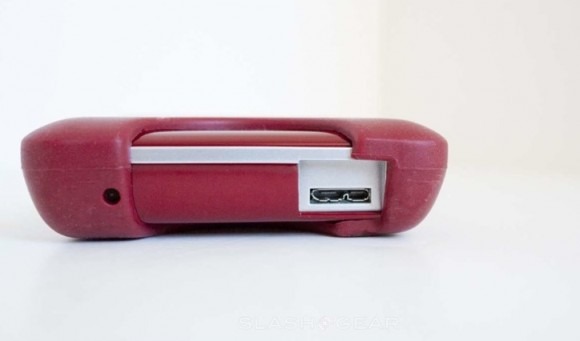 In fact, the drive as a whole feels PC-centric. Plug in the eGo 1TB and a virtual CD drive is loaded, offering the 256-bit encryption software. The annoyance factor of that will depend on whether you leave auto-run turned on in Windows, since there's no apparent way to delete it; it's also worth remembering that, while the software works, it's PC-only and so you won't be able to access it on a Mac. Oddly, while the virtual CD seems intended to ensure the Iomega software is never deleted, the company doesn't bundle their Iomega Protection Suite on there. Instead, you have to download that separately; you get a single license, and it's also PC-only.
In use, the drive was fast though fell short of the rates we observed from the Seagate FreeAgent GoFlex 1.5TB we reviewed back in September. Over USB 3.0, the Iomega managed around 81.6 MB/s average read rates and 72.1 MB/s average write rates. With no FireWire option – unlike the modular Seagate – it's not best suited to Mac users, but at $159.99 RRP (with street prices more like $128) it's a reasonable option for PC owners on the move. Still, we wish Iomega would sort out their software situation, and opt for either downloads or virtual drives rather than both.