Internet Explorer slips as Chrome grabs browser market share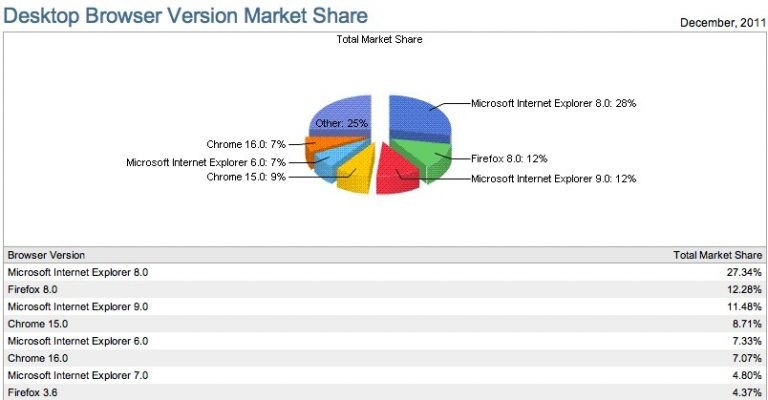 The battle of the browsers continues, with Microsoft's Internet Explorer losing market share to Google's Chrome and others, while analysts predict a sub-50-percent dip for IE as early as March 2012. Counting all versions, Internet Explorer dropped to 51.9-percent market share in December according to Net Applications, ComputerWorld reports, with Chrome ending the year at 19.1-percent. However, Microsoft maintains that the most important number to consider is the growth in IE9 installs on Windows 7.
Those figures, Microsoft's IE team claims, suggest that "as of November, IE9 usage share on Windows 7 worldwide was higher than all versions of Chrome and all versions of Firefox – second only to IE8" and that December numbers look set to follow that trajectory. In fact, Microsoft says it expects that 25.6-percent of Windows 7 PCs will have been using IE9 by the end of 2011, in the US at least.
IE8 remains the top individual browser version in play according to Net Applications, at 28-percent alone, though those figures differ from those released in December by StatCounter which indicated Chrome v.15 had overtaken it. Google has begun an aggressive update push to get users onto Chrome v.16, and Microsoft recently revealed plans to automatically update its own legacy users unless they had previously opted-out.
Nonetheless, Microsoft could find itself dipping beneath the 50-percent market share point come March, Net Applications predicts, if its overall share continues to dwindle at the same pace. Firefox, too, ended 2011 on a sour note, with its 21.8-percent share only slightly higher than that of Chrome.