Intel speeds up 5G modem plans - and the 2020 iPhone could benefit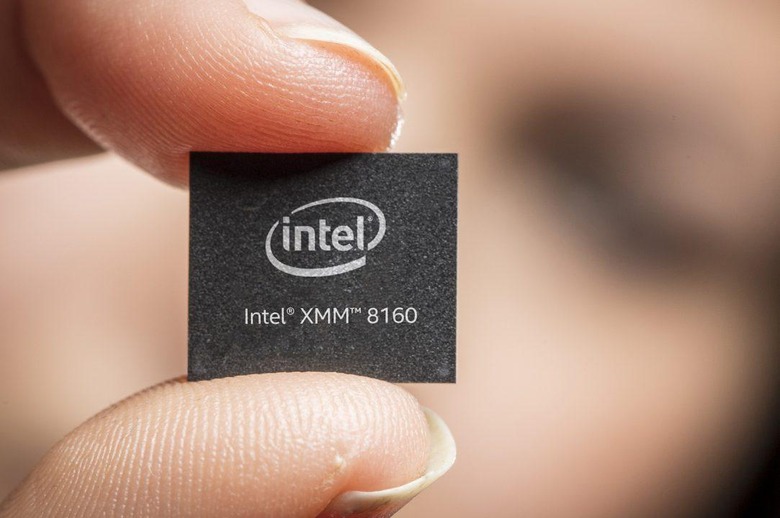 Intel is pulling forward its most important 5G modem launch, dragging up the roadmap in a move that could have big implications for the new iPhone and more. The chip-maker has been in a race with Qualcomm to get a foot in the game with 5G, given the first networks supporting the next-generation standard are due to begin going live by the end of 2018.
Today, Intel says that it plans to launch the XMM 8160 5G modem in the second half of 2019. That's more than six months earlier than initially intended. While it won't be the chip-maker's first 5G modem, it will arguably be the most important.
That's because it'll be Intel's first – and indeed potentially the industry's first – multimode 5G modem. As well as 5G New Radio (NR) in standalone (SA) and non-standalone (NSA) modes, it'll also support 4G, 3G, and 2G, all on a single chipset. It's a stark contrast to the strategy being followed by other modem-makers.
So far, we've seen 5G modems as adjuncts to a traditional radio chipset, adding the next-generation network support. That's been a somewhat cautious play, as well as one shaped by the early stage of both 5G technology and standardization. 5G modems haven't had the iterations of shrinking and power efficiency improvement, for one.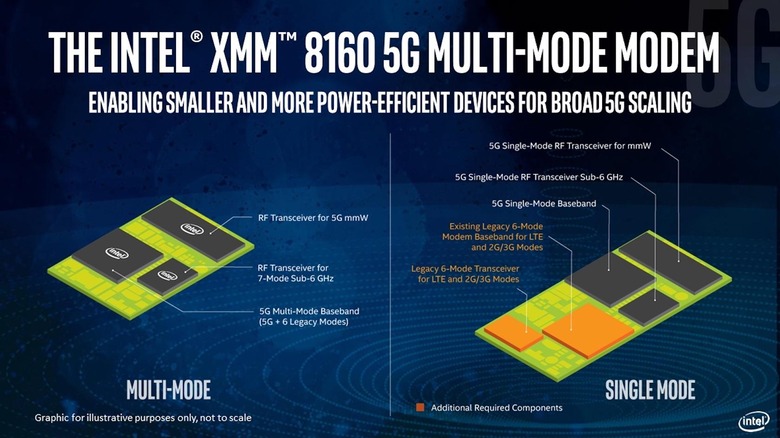 Intel's argument for the XMM 8160 5G is that device-makers want a more compact, more efficient multimode chip that puts all of their 2G-5G radios in one place. It'll support millimeter wave (mmWave) spectrum as well as sub 6 GHz 5G NR support, including including FDD and TDD bands from 600 MHz to 6 GHz. Download speeds of up to 6 Gbps will be supported, network depending of course.
"Intel's new XMM 8160 5G modem provides the ideal solution to support large volumes for scaling across multiple device categories to coincide with broad 5G deployments," Dr. Cormac Conroy, Intel corporate vice president and general manager of the Communication and Devices Group, said of the roadmap change. "We are seeing great demand for the advanced feature set of the XMM 8160, such that we made a strategic decision to pull in the launch of this modem by half a year to deliver a leading 5G solution."
The big question is just where that demand is coming from, but it's not hard to make one guess. Apple opted to use Intel modems for the iPhone XS, and is believed to be continuing that partnership into 5G. If Intel can guarantee not only size, power efficiency, and performance advantages from the XMM 8160 5G modem, but the ability to ramp up production at scale, it could guarantee itself a huge deployment.
That's not likely to happen until 2020, mind. Intel says it expects the new 5G modem to ship in the second half of next year, but it won't be until the first half of 2020 when we actually see it in devices, the chip-maker warns. Too late for the 2019 iPhone, but perfect timing for the 2020 iPhone.
It won't just be Apple, however. Intel says it sees PCs and broadband access gateways – replacing traditional cable or DSL internet connections – as also being ideal candidates for the new modem.