Intel: Seriously, our tiny mobile chips are almost here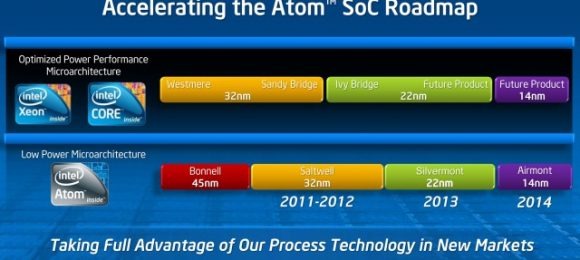 Intel has reiterated it is on track to deliver 22nm SoCs next year, as the company attempts to close the gap between it and ARM-adopting rivals like Qualcomm and NVIDIA. "Intel's 22nm SoC [System-on-Chip] technology will be ready for high volume manufacturing in 2013" the chip company said in San Francisco this week, Reuters reports, though the company is yet to pin down production plans to any more specific a timescale.
While Intel already has 22nm fabs producing processors, crafting SoCs at the same sort of level introduces another stage of difficulty. An SoC fits not only the processor but other components – potentially including memory, radios, DACs, and other technologies – onto the same, compact die.
To help it achieve this, Intel plans to use the same sort of 3D Tri-Gate processes as it has implemented to good result in its Ivy Bridge processors. Using special stacked architecture, Tri-Gate adds conducting channels on three sides of a "vertical fin structure"; the end result is a cut down in heat, longer battery life for mobile devices, and better performance, thanks to the combination of high-k gate insulators and strained silicon.
In fact, the switch to Tri-gate could see 22nm Atom SoCs outperforming Intel's current 32nm parts by anything from 20- to 65-percent, according to Intel senior fellow Mark Bohr, Bit-tech reports. That would mean a choice for OEMs and users between longer battery life with no dip in performance, more performance with the same battery longevity as existing devices, or a mixture of the two.
[Image via ExtremeTech]