Intel 3rd Gen Core Ivy Bridge processors official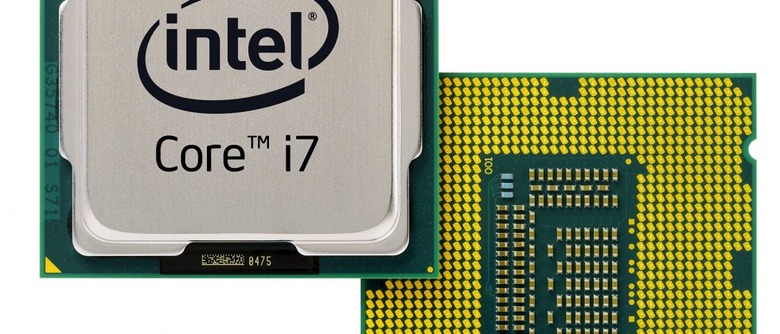 Intel has officially launched its 3rd-gen Core processor line-up, based on 22nm Ivy Bridge architecture, for a 20-percent performance boost while using 20-percent less power than last-gen Sandy Bridge chips. The new Core chips are built using 3D Tri-Gate transistor architecture, and include a new on-processor HD Graphics 4000 GPU for up to twice the HD media and 3D graphics performance. Finally, there are new security features for home and enterprise users.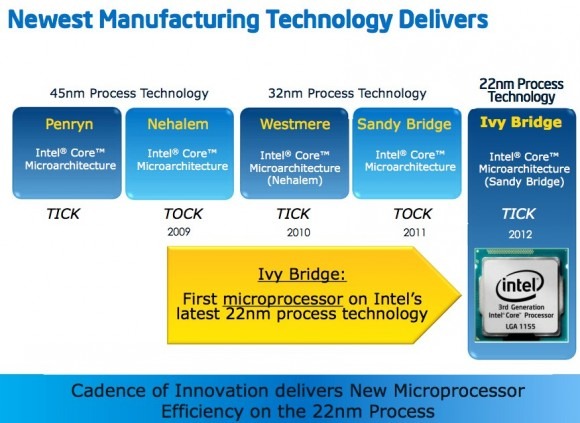 3D Tri-Gate is Intel's system of decreasing die size while simultaneously fitting in more transistors. Rather than the existing 2D layout of flat transistors, Intel festoons the chip with raised fins – hence 3D – onto which the transistors are applied. That allows for three transistors – front, back and top – on each fin, despite minimal footprint.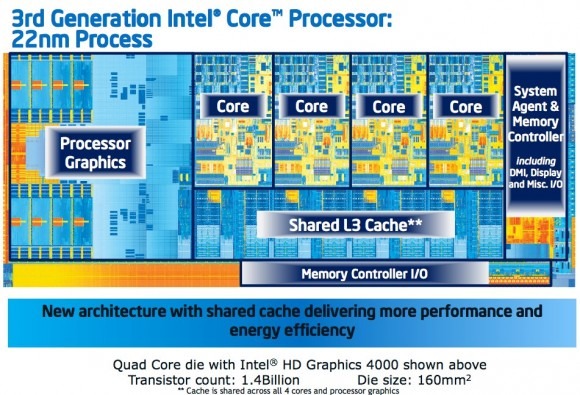 As well as making better use of space, the 3D Tri-Gate technology actually performs better than previous systems. Despite the increased complexity, though, the increase in price per chip has been only minor, Intel insists: in the ballpark of 2- to 3-percent, in fact.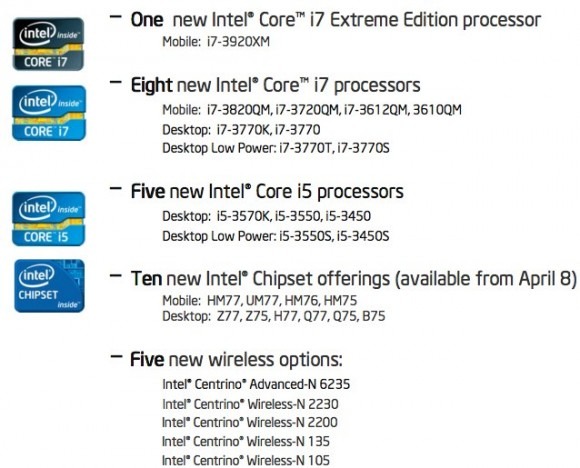 The Intel HD Graphics 4000 supports Microsoft DirectX 11, OpenGL 3.1 and OpenCL 1.1, along with Intel Quick Sync Video 2.0. The latter, the second-gen iteration of the technology, will allow users to convert their videos up to twice as fast than with Sandy Bridge chips. Systems will also have USB 3.0 support integrated into the Series 7 Platform Controller Hub (PCH), and there's PCI Express 3.0 integrated into the processor too.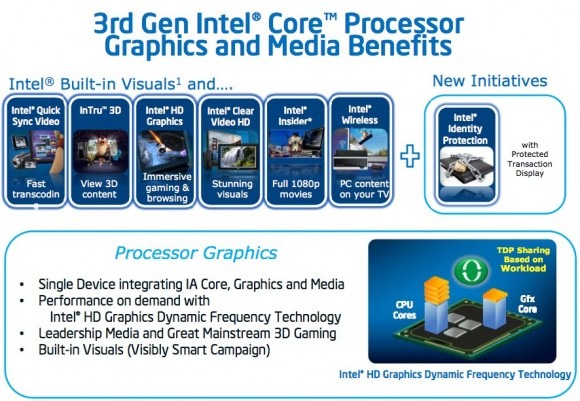 As for security, there's Intel Secure Key and Intel OS Guard. The former uses a digital random number generator to create "truly random" numbers to strengthen encryption algorithms, while OS Guard helps defend against privilege escalation attacks, such as when a hacker remotely takes over the user's system.
The first systems based on the Intel 3rd Generation Core processor series will go on sale from today, with firms including Acer, Lenovo, Sony, ASUS and others all expected to jump onboard. Apple, too, is tipped to be readying an Ivy Bridge refresh of its MacBook Pro range. Meanwhile, boxed versions of the chips will also go on sale this month.
Other 3rd-gen chip versions, for ultrabooks and laptops among other products, will arrive later in 2012.