Intel Atom 330 dual-core benchmarks less impressive than expected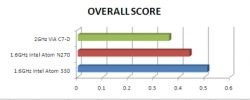 Intel's Atom 330 is most definitely intended for the nettop, not the netbook, market, we're told, and so hopes were high that the latest super-efficient chip would offer a pleasing boost of dual-core performance what with battery concerns no longer an issue.  PC Pro brought a Shuttle barebones – I'm guessing the X27D – based on the Atom 330 in from the cold and proceeded to benchmark it against not only the single-core Atom N270 but a 2GHz VIA C7-D system too.  The results were, to be blunt, mildly disappointing.
Baselined against a Pentium-D system, the Shuttle barebones – which was outfitted with Windows XP, a 7,300rpm SATA hard-drive and 1GB of DDR2 RAM – edged ahead of the single-core N270 and VIA C7-D in the overall tests.  However just 16-percent faster seems on the low-side, considering the whole extra core.
Media performance fared better, with 2D graphics tests showing the 330 besting the N270 by 41-percent and the C7-D by 71-percent, while audio and video encoding tests were less dramatic but still saw the 330 ahead by at least 18-percent.  In what PC Pro are calling an erroneous result, the 330 was actually slower at running Office 2003 than the two other systems.