Intel 6th-gen Core "Skylake": What you need to know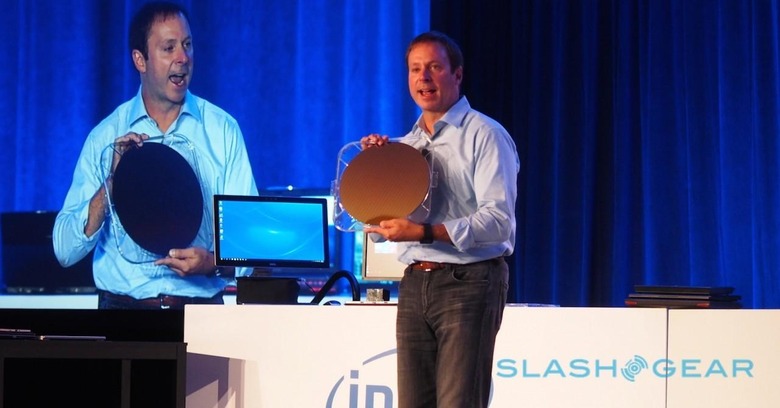 It's the processor revamp gamers have been waiting for, Apple fans have been holding off upgrading over, and video card companies feared. Intel has finally detailed its 6th-generation Core "Skylake" platform, a brand new 14nm architecture putting performance, security, graphics abilities, and power consumption at the forefront, with a sizable nod to Windows 10 in the process.
Mobile
With Skylake, Intel's Core M range finally graduates from one-size-fits-all nomenclature. There'll be Core m3, m5, and m7 processors (along with vPro versions of the latter two), as Intel makes it easier to understand the wide range of power, core count, and speed options on the table.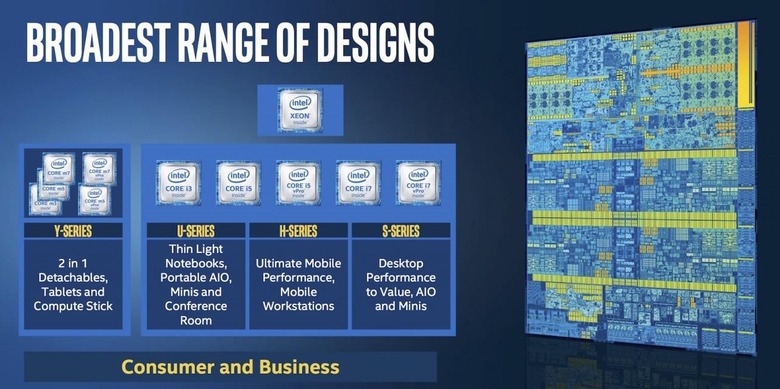 The mobile chips will kick off at 4.5W and climb all the way to 45W, with up to a 60-percent cut in active power despite being up to 60-percent faster versus the fifth-gen processors. In total there'll be nearly 30 different variants, with Intel predicting more than 300 designs to launch using the chips.
As well as the performance improvements – which also include up to 40-percent better visuals thanks to the 4K-capable HD Graphics 500 GPU, and the ability to play four 4K/30fps videos with the CPU load under 20-percent – there are other improvements with this generation.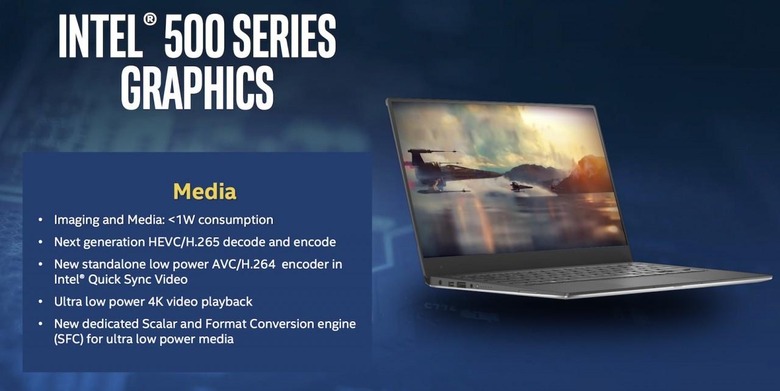 Tablet-like features are baked in, like I/Os, an integrated ISP and sensor hub, and a special ISP for the front-facing camera. There's native support for the latest RealSense R200 camera, which will be used for things like quick 3D modeling of real-world objects.
Mobile will also be where Intel wages its biggest war on wires, using WiGig, Rezence, WiDi, and more to cut the cables between chargers, displays, and peripherals.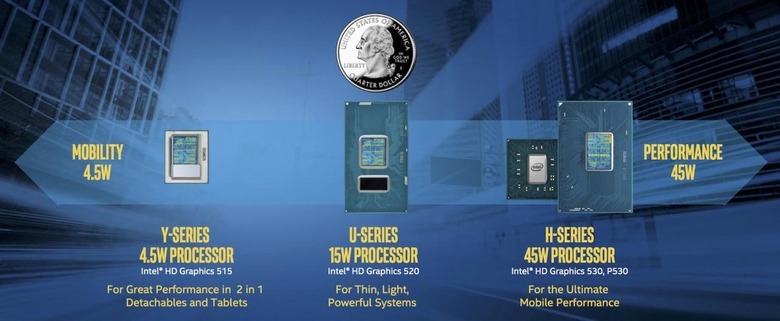 For the first time, there'll be a Core m5 quadcore option, and Intel will have 45W performance chips suitable for squeezing inside sub-20mm ultrabooks. In fact, just such a machine will be able to render six GoPro 4K feeds into a single 360 degree video, without breaking a sweat.
Gamers, meanwhile, get the first ever mobile chip from Intel that comes unlocked, opening the door for easy overclocking. The 45W processor will feature in new gaming notebooks from Alienware, EVGA, Acer, and others, and will support overclocks from the 3.2 GHz normal clock speed to in excess of 4.3 GHz.
Desktop
With the bulk of the eye-catching designs happening over in mobile, it's no surprise that desktop computing has started to look a little stale in recent years. Skylake should change that.
"It's actually our first mainstream desktop family launch in two years," Gregory Bryant, corporate VP and general manager of desktop client platforms, points out. "We've been working on the processors for four years."

So, there'll be Core i3, i5, and i7 chips, with vPro versions of the latter two, as well as some borrowing of the Core m3 and m5 vPro for ultra-frugal 4.5W Y-Series hardware like the newly-revamped Compute Stick.
For the S-Series, there'll be 91W, 65W, and 35W chips targeting everything from small-form-factor towers through to gaming monsters. All-in-Ones and mini PCs will get the 15W U-Series.
Intel's benchmark is a five year old PC, the sort of computer the company believes will be the obvious replacement target among users tempted by 6th-gen Core. It comes as little shock to see the quoted improvements: up to 60-percent better performance including up to 6x faster 4K/UHD transcoding. Intel's own HD graphics are up to 11x better, and now support 4K resolution video across three screens simultaneously.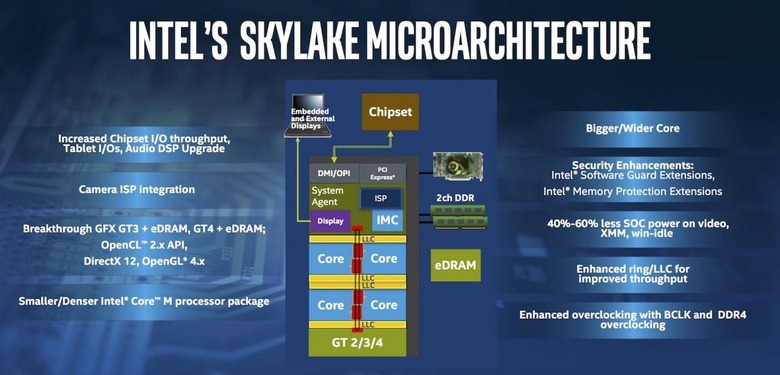 That power will, if Intel has its way, turn desktops into centralized hubs for homes and businesses. Multicore content-creation software, like Adobe Creative Cloud or Cakewalk, get the benefit of things like 6x the bandwidth from PCI Express 3.0 storage, while Thunderbolt 3 – with the USB-C connector – can be used to link in task-specific peripherals.
Gamers, meanwhile, have already had the Core i7-6700K with Intel's Z170 chipset – near-instantly overclocked to a stable 4.7 GHz and higher – but the chip firm has wide ambitions. A tenth of the world's population pay for gaming, Bryant points out, and it's in Intel's best interest to give them the most experience on a PC not a console.

It'll all work hand-in-hand with Windows 10, too. Intel Speed Shift, for instance, takes control of how the processor switches between low and high power states: beforehand, that took at least 30ms, but with Windows 10 it can happen in 1ms. Intel says that's good for up to a 20-percent improvement in performance.
Resume times in Windows 10 with both HDDs and SSDs are expected to be 500ms or less, while there's support for things like a special, hardware-enhanced protected enclave on the processor for secure data. Even just speaking to Cortana should be smoother, with better hotword monitoring.
Graphics
Once upon a time, you needed a discrete video card if you were any way serious about what was showing up on your display. Skylake refines Intel's graphics options, however, with the claim that Iris is now matching the performance of 80-percent of the discrete cards sold (by volume) today.

For instance, the HD Graphics 500 now has dedicated 4K units for raw playback. Iris will support eDRAM now, and gets a 15W option too.
Availability
With such a chip-packed launch, it perhaps comes as no surprise that Intel isn't pushing every version out of the gate at the same time.
First up will be consumer and small business systems, going on sale from today in Asia, and then rolling out worldwide over the next six weeks. That'll include Core i3, i5, and i7 chips for desktops, along with Core m3, m5, and m7 for mobile.
More systems will follow in Q4 and heading into 2016. Intel will have new Skylake Xeon systems, along with Core i5, i7, m5, and m7 vPro variants. Low-end machines will get new Pentium and Celeron chips, too, along with new Iris and Iris Pro graphics