Intel's New Compute Stick Packs 6th Gen Core M Into Dongle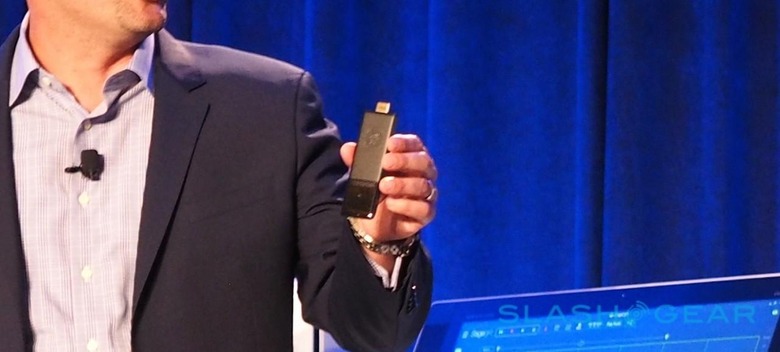 Intel's Compute Stick was the surprise PC of CES 2015, a full computer packed into a TV dongle, and now it's getting a new 6th-gen Core upgrade. Announced today, the new Intel Core M Compute Stick keeps the basic premise of its predecessor – essentially a headless laptop intended to plug straight into an HDTV or monitor – but gives it a Skylake performance boost for serious work and entertainment.
The 4.5W 6th-generation Core M processor Intel is using is the same as will be powering some of the new breed of ultrabooks. That means support for things like 4K video playback, which should make the Compute Stick a better multimedia hub, not to mention a fair platform for some low-intensity gaming.
The new chips have native H.265 transcoding, which will allow small-form-factor PCs to send 4K video in more bandwidth-sensitive ways to mobile devices.
Some of the details are still in short supply. Connectivity hasn't been explained, though we're expecting to see the same WiFi and Bluetooth for networking and peripherals respectively.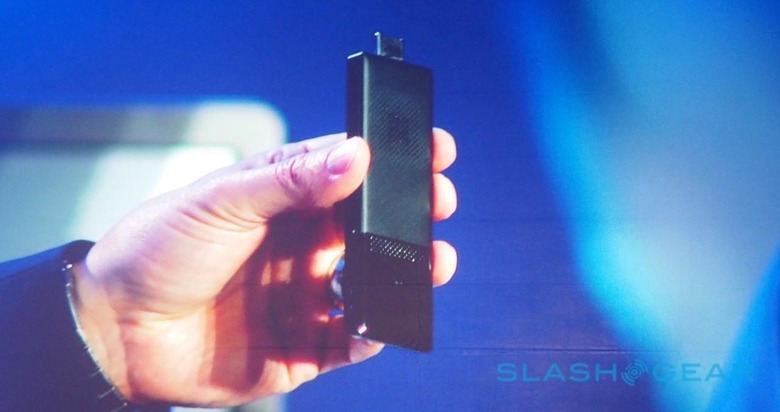 The existing model has a miniUSB port for power, a regular USB for attaching devices, and a microSD slot for augmenting its 32GB of onboard storage.
Intel could stick with that arrangement, or alternatively opt to give the new Compute Stick Thunderbolt 3 with a USB-C connector. That would allow for more flexibility, certainly, since it could handle both power and data.
The company has also been pushing the idea of WiDi wireless display connections in 6th-gen Core, which could potentially allow the tiny computer to link to more than one screen simultaneously.
Down the line, expect even smaller versions. "In the future we really think [there'll be] credit card PCs," Kirk Skaugen, senior VP and general manager of Intel's client computing group predicts, "that plug into the back of TVs."
The new Core M Compute Stick will go on sale in Q1 2016, Intel says. Pricing is yet to be confirmed, though the existing model launched at around $170 for the Windows version, and $140 for the Linux version.