Instagram's active users cut in half while Facebook fights loss claims

This week there's been more than one claim against the growing state of Facebook and its most powerful purchased ecosystem: Instagram. What we're seeing for the latter is a chart from AppStats that cuts their active user numbers in half, while Facebook is facing claims that they've lost 600,000 users in a month. That's not a whole lot compared to the number of people who use Facebook every day, but you'll find that Facebook isn't about to see claims against its popularity go unchecked.
The Instagram numbers we're talking about here have its 40 million active users near the middle of December, 2012, cut down now here in the middle of January to somewhere closer to 17 million. You'll see the holiday claim we spoke about just a couple of weeks ago in the same chart from AppStats here, but even after the rapid resurgence after the Privacy Policy incidence, the app is being shown to have a rather clear slide downward.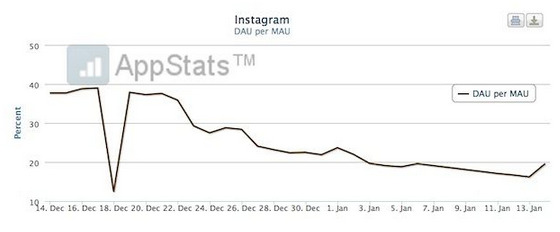 This slide could also very well have to do with the Twitter de-integration that happened over the past couple of weeks, this cutting off a massive tie with one of the most popular social networking systems on the planet. It's not clear at the moment whether or not Instagram will recover from this downturn. Meanwhile Facebook is battling against the Guardian's post with Socialbakers analytics information on a 600,000 user decline in the UK.
This decline represents part of a 1.86% slide for Facebook overall, the time period being the month of December and not seeming all that odd to the analytics group due to the holiday season. Though Facebook has more than 33 million unique users according to the same firm through the month of December, Facebook has made it clear in an emailed statement that they don't trust the methods used by Socialbakers:
"From time to time, we see stories about Facebook losing users in some regions. Some of these reports use data extracted from our advertising tool, which provides broad estimates on the reach of Facebook ads and isn't designed to be a source for tracking the overall growth of Facebook. We are very pleased with our growth and with the way people are engaged with Facebook – more than 50% of our active users log on to Facebook in any given day." – Facebook Representative
The folks at Socialbakers have also responded to the whole situation, CEO Jan Rezab making it clear that several factors should be considered when thinking about the power of Facebook in the UK.
"• Over 50% of UK's entire population is on Facebook – which is amazing!

• About 15% of people in UK are under 13 years old therefore "not allowed" on Facebook

• 16.5% of people in UK are older than 65 and typically not on Facebook (only 4% of 65+ year olds out of the 33M are on Facebook in UK)"

- Socialbakers
Rezab also mentions that the ad interface for Facebook, the interface they've been working with to find the numbers they've presented this week, has a slight delay – slight as in typically by several weeks. Because of this, the changes in Monthly Active Users they've found cannot be accounted for by any of Facebook or Instagram's Privacy Policy changes, and such conclusions should not be drawn from the numbers they've posted.