Inside Facebook: Propaganda printing-presses and free food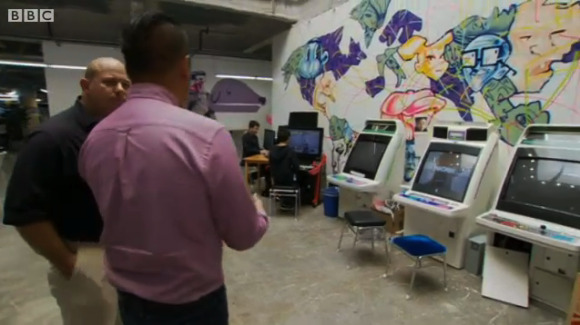 Retro arcade machines, an on-site print shop tongue-in-cheek known as "the propaganda wing", and the general feel of a dorm room: it can only be Facebook's HQ. The BBC took a video tour around the Silicon Valley headquarters of the social networking company, coming across the usual start-up must-haves of free bikes, meals, and even laundry facilities, wrapped up in a design attitude that attempts to channel Mark Zuckerberg's more humble origins despite the hundred-billion dollar floatation.
Just as Steve Jobs set up Apple in his garage, Zuckerberg started Facebook back in his dorm room. The idea of the current Facebook HQ being an exploitative "campus" has been kept, despite needing to accomodate far more people. "As we scaled as a company, we felt it was pretty important that we had that direct connection with people around us" Facebook says.
That extends to the artwork, much of which is produced by Facebook's own staff. "We definitely try and have a more minimal and industrial approach" a spokesperson said of the decoration, which ranges from full-wall murals, graffiti, to punchy quote posters.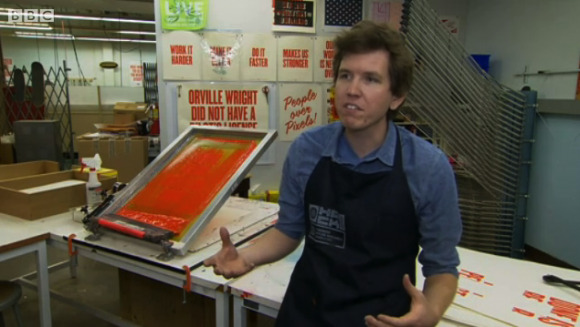 Those posters are produced on-site, at Facebook's own print shop. Not just a bank of heavy-duty printers, but screenprinting tools to turn slogans generated or curated by employees into decoration. "By committing our ideas to paper," one member of the workshop team says, "it elevates them."
Distinctive headquarters are making headlines for several companies lately, with Apple's new space-donut campus expected to open in 2016. Meanwhile, there was a glimpse inside the Googleplex this month, courtesy of a trailer for The Internship, part of which was filmed on location at the Google HQ.