Trailer for The Internship released, shows off Google HQ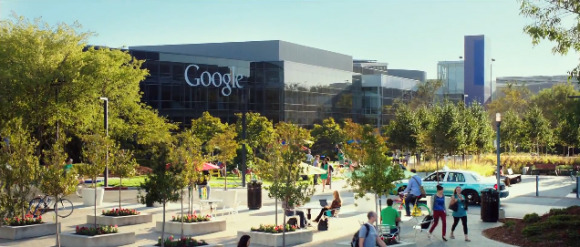 Back on September 21, we reported that Google had opened its California headquarters to the set of a Vince Vaughn and Owen Wilson movie called The Internship. Now, after a few months of waiting, we finally get to see the first glimpse of the film via its trailer, which was posted to YouTube earlier today. Check it out after the jump, and get a peek into Google's headquarters.
The Wedding Crashers duo have joined together again to make a movie about two ex-salesmen who, out of desperation, manage to land internships at Google. The trailer outlines this plot nicely, and sprinkles in a few Google HQ shots amidst laughs, including the outdoor shot you can see of the building and lawn in the image above. You can check out the full trailer in the video below.
Because Google couldn't accomodate the movie set for several months while it filmed, large portions of the film were actually taken at Georgia Tech, and then parts and pieces from Google headquarters were spliced in amongst them. In addition to the location, the movie will also feature spots by some Google top dogs, including Sergey Brin and Hugo Barra.
Reportedly, Google doesn't have any financial interest or involvement in the film, but has been an active participant in its creation. Eric Schmidt held an interview with Vince Vaughn, and Sergey Brin held a dinner at his home for the crew. Says Google, "We're excited that Vince Vaughn and Owen Wilson chose the Google campus as a backdrop for their first film together since 'Wedding Crashers.' We're sure they'll have a humorous take on life in Silicon Valley and look forward to seeing the result."