Google HQ opens for Vince Vaughn and Owen Wilson's movie crew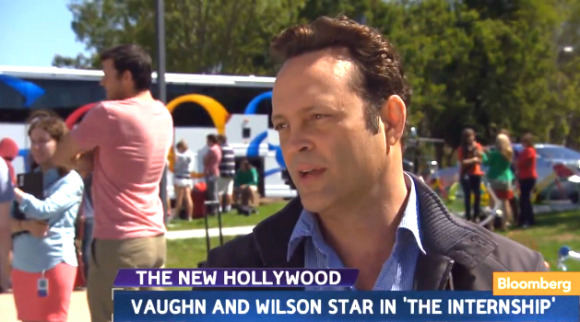 There's tons of extra cameras and colorful chairs hanging around Google's Headquarters in California. That's because it's the set of what is surely going to be an awesome new movie — or a giant commercial for Google. The epic duo of Vince Vaughn and Owen Wilson from Wedding Crashers are back, this time for a new movie called "The Internship."
If you didn't like Wedding Crashers then I don't know what to tell you, because it was awesome. The duo are at it again shooting a new movie that while mostly was shot off of Google's lawn, recently they've been right at the HQ having some fun. Since they couldn't give up their entire office for months and months, the movies been shot at Georgia Tech, and bits and pieces at Google's HQ. Awesome right?
That isn't all either. We're expecting tons of Googlers themselves to star as extras in the film. Those include Co-founder Sergery Brin, and top dogs like Hugo Barra, and more. This might not be quite like "The Social Network" but I'm betting it'll be pretty awesome. Isn't everything that Google does awesome? For more details you'll surely want to check out this short video clip starring my man from Swingers, Vince Vaughn himself:
While Bloomberg reported that Google doesn't have any financials involved with the movie, you have to wonder a bit with so many big hitters on the ground. Apparently Eric Schmidt interviewed Vince Vaughn for an employee talk (which should be online soon) and even Sergey Brin hosted a dinner and what surely was a fun party at his property in California for much of the movie crew. Here's what Google had to say about the film:
We're excited that Vince Vaughn and Owen Wilson chose the Google campus as a backdrop for their first film together since 'Wedding Crashers.' We're sure they'll have a humorous take on life in Silicon Valley and look forward to seeing the result."
So more on Google. Sergey Brin's special Google Project X toys will apparently be making a few cameos during the film too. We are expecting to see Google Glass (which we're excited about here) as well as Google's Driver-less cars and more. Vaughn states he wrote the script without a major company in mind but after meeting a few from Google, decided to take that approach. Good stuff. I can't wait to see it!
[via AllthingsD]