Infiniti teases direction-changing sedan concept for Detroit 2018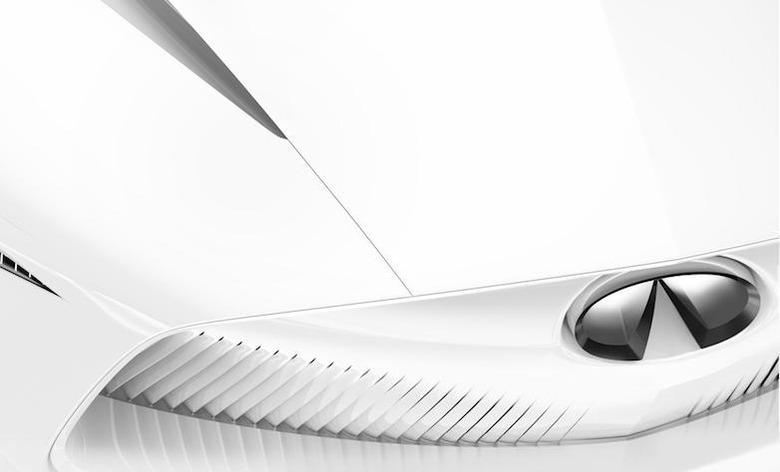 Infiniti plans to signal its change of design direction at the upcoming Detroit auto show, teasing a brand new concept car that the automaker says will represent both its evolving style language and performance. The car will be shown at the North American International Auto Show in mid-January 2018, alongside the existing Infiniti Prototype 9, its stunning 1930's influenced electric roadster.
That was the surprise reveal at Pebble Beach earlier this year, a combination of classic open-wheel design and 21st century powertrain technology. Styled after '30s Grand Prix race cars, the Prototype 9 actually has more humble underpinnings than you might expect. In fact, it shares its running gear with the new Nissan Leaf.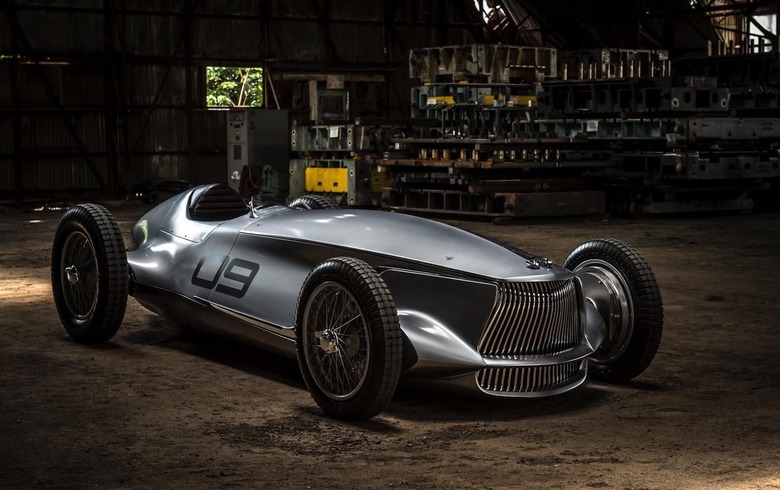 That still meant 148 horsepower and 236 lb-ft of torque, mind. In a lightweight, single-seater with no doors or roof, and only a minimal windshield, that adds up to a top speed of over 100 mph, and 0-62 mph in 5.5 seconds. Sadly you'll run out of charge in about twenty minutes if you push the Prototype 9 hard on the track.
The new Infiniti concept for NAIAS 2018 promises to have longer legs, if only because it's the core of the Japanese automaker's new design and engine direction. While it's officially a sedan, Infiniti is promising something more interesting than that, presumably in an attempt to coax some attention back from the current segment-of-favor, crossovers and SUVs.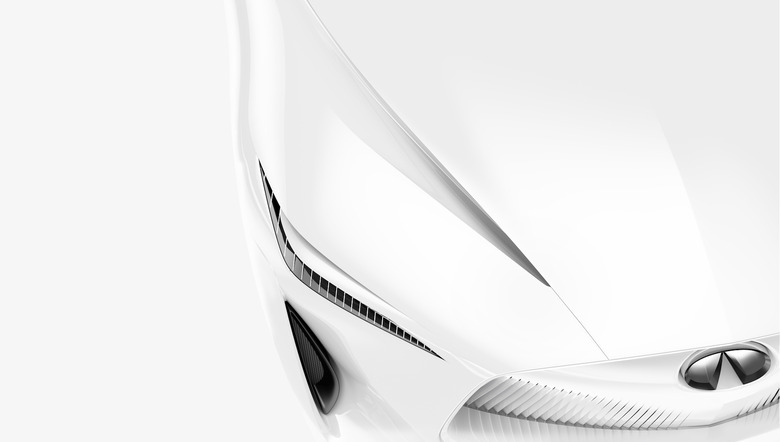 "The new Infiniti concept car will take the traditional sedan architecture to its next stage of evolution," Karim Habib, executive design director at the automaker, said of the launch. "A shift toward smarter, more compact and less intrusive powertrains; we were able to create an alternative form with flowing gestures, more engaging in character and more enriching in experience. With its long cabin, balanced proportions and muscular stance, the concept heralds in a new era for Infiniti models."
So far, we'll just have to take Habib's word for that. All Infiniti has revealed is a partial shot of the concept car's hood, complete with a body-color grille that's far from the automaker's usual bright chrome maw, and some deep creasing and sculpt lines. The all-white probably won't quite translate to a production car, but a more muscular overall aesthetic could convince some buyers that they don't need a crossover in order to feel well-planted on the road.
As for what's under that hood, there Infiniti has some more teasing. "A seamless and stunning new design philosophy demonstrating Infiniti artistry in the new age of autonomy and breakthrough drivetrains," Alfonso Albaisa, SVP of global design at the automaker, suggests. Coupled with Habib's mention of "less intrusive" engine options, we can't help but think of electrification, which pushes electric motors and batteries down under the floorpan and saves overall space. That would certainly fit in with the Infiniti Prototype 9 this concept sedan will share stage-space with, but we'll need to wait until Detroit to know more.