Infiniti electric crossover concept teases alluring EV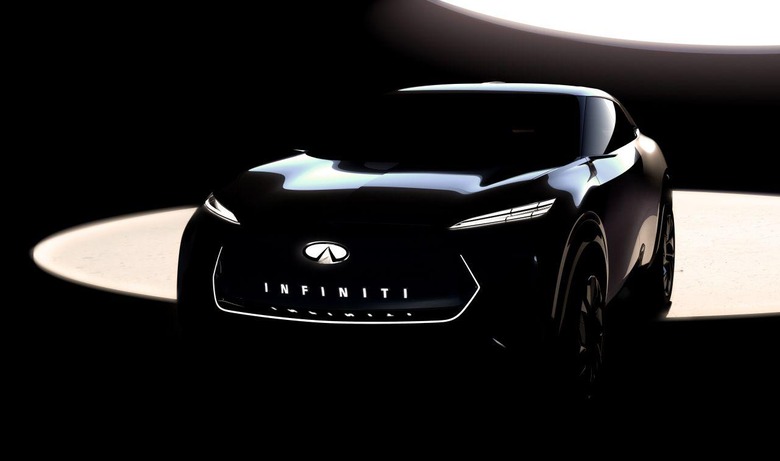 Infiniti will reveal a fully-electric crossover concept at the Detroit Auto Show 2019 in January, the automaker has confirmed, previewing its new EV platform headed to production cars. The premium automaker has been slow to embrace all-electric vehicles – despite corporate parent's relatively early entrance to the segment with the Nissan Leaf EV – but plans to address that rapidly.
Indeed, twelve months ago Infiniti made the commitment that, from 2021 onward, its portfolio would be electrified. That doesn't necessarily mean fully-electric, mind. Infiniti will also be using hybrid drivetrains, combining internal combustion engines with electric drive in some capacity.
For this new Infiniti crossover concept, however, the drivetrain will be entirely electric. Although not directly a production vehicle, Infiniti says that it will preview key themes and design language ideas that will be seen in production models. That promises to be fairly distinctive.
"The concept car we will show in Detroit is the beginning of a new era for INFINITI, and an illustration of where we want to go with the brand." Karim Habib, executive design director at Infiniti, said of the upcoming model. "Electrification and other new technologies have given us the opportunity to evolve our design philosophy."
So far only one graphic of the vehicle has been released, and it's not especially detailed. Still, there are some key elements already visible. Bold lines and chunky detailing are clear, with a high waistline and hidden A-pillars giving the crossover EV a purposeful stance. Bolstering to the wheel arches and deep sculpting to the hood should leave it looking suitably aggressive.
Meanwhile, illumination not only of the headlamps but of the Infiniti logo, the grille surround, and the badge – something Infiniti previewed earlier in the year with the Infiniti Prototype 10, shown above – should help differentiate the EV from other models in the automaker's range. Whether all that – and the camera-based side mirrors, which would undoubtedly fall foul of US safety regulations, sadly – will make it to whatever production car this concept spawns is unclear.
According to Infiniti, the concept previews not so much one car as a whole language for a series of vehicles. "The advent of electrified platforms heralds a fresh approach to what crossover and sedan platforms look like, both inside and out," the automaker suggests. "With new exterior proportions, electrification also gifts interior space, enabling spacious, and lounge-like interiors, rich in welcoming and assistive technologies."
Of course, while drivers may be intrigued by new technology and tempted by style, there are some key questions any new EV needs to address. Primary among those is range, and right now Infiniti isn't saying anything on how far it expects its upcoming pure electric vehicles to drive on a single charge. We'll hopefully find out more about propulsion plans at the North American International Auto Show 2019 in Detroit next month.