iMac refresh appearing on Retail stock systems [Updated]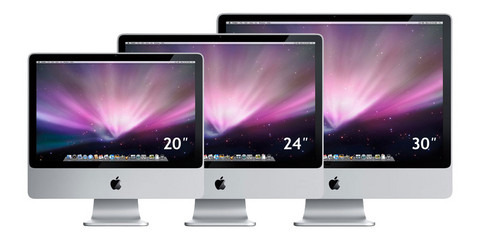 [Update: They've been announced!] Rumors began last week that Apple was prepping an iMac refresh, two months after rejuvenating the MacBook and MacBook Pro lines.  Now retailers are discretely reporting new model numbers appearing on their stock systems.  The assumption is still that Apple will officially release the new desktops tomorrow, and while screen size options are expected to stay the same that hasn't stopped some SlashGear readers dreaming:
Mock-up source
While a huge 30-inch display would be a great addition, what's actually expected is Intel's latest Penryn chipset, with memory, storage and perhaps video card hardware all getting a nudge upwards too.  Aesthetically, the iMacs are expected to stay the same.  Similarly, functionality and, sadly, screen size are not predicted to change.
As was tipped, pricing for the new models has remained the same.  Retailers are reporting that same $1199, $1499 and $1799 pre-configurations.  Since we've not heard of any stock shortages for existing moels, look out for discounted end-of-line pre-built iMacs if you're after a potential bargain.  After all, it's been argued that Penryn's energy efficiency, while useful for a notebook, has limited appeal in a desktop system.