iMac Pro price and specs: All the details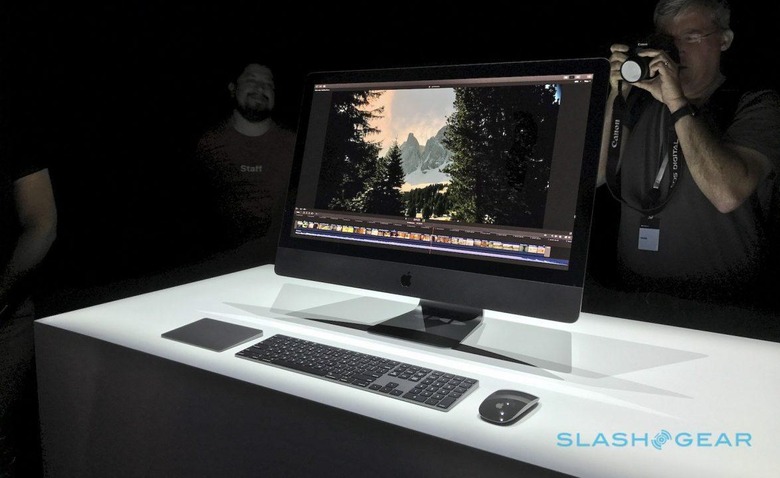 Earlier in the week, Apple gave the iMac Pro a release date of December 14. That, as you've hopefully already realized, is today, meaning Apple's iMac Pro configurator is live, allowing us to swap hardware in and out and figure out just how expensive this beast is going to be. iMac Pro prices start at $5,000, but in just a short time spent customizing hardware, one thing is sure: There's potential for that price to go much, much higher.
For many different components, you have a few different options. For example, the basic iMac Pro model ships with an 8-core Intel Xeon W processor clocked at 3.2GHz. That will be more than enough power for a lot of people, but in case you need more, you can upgrade to a 10-core Xeon W ($800 more), A 14-core one ($1,600 more), or an 18-core behemoth ($2,400 more).
While the 32GB of DDR4 ECC RAM the iMac Pro ships with by default will similarly be fine for most users, you can increase that as well. For $800 more, you can jump to 64GB, while an extra $2,400 will quadruple your RAM, bringing you up to an eye-watering 128GB.
READ MORE: iMac Pro hands-onWe see similar pricing when we look at storage tiers. 1TB of SSD storage is what you get with the base model, and an 2TB SSD will cost you $800 more while a 4TB SSD is going to run $2,800 more. Finally, we round out the list of hardware customizations with the GPU, a 8GB Radeon Pro Vega 56 that can be upgraded to a 16GB Radeon Pro Vega 64 for $600, a charge that looks somewhat paltry compared to the other entries on this list.
Apple is also letting you customize some of the accessories that come with the iMac Pro, letting you swap in a Magic Trackpad 2 for the Magic Mouse 2 that ships with the default configuration for $50. If you can't decide between the two, you can have Apple ship you both for $149, along with a VESA mount adapter kit for an extra $79. You can also opt to have Apple pre-install Final Cut Pro X and Logic Pro X for $299.99 and $199.99, respectively.
So, how much would an iMac Pro run you if you took the most expensive customization options, along with all accessories and pre-installed software? You may want to sit down, because the price is truly insane: $13,926.98. Obviously, we don't think many people out there are going to customize the iMac Pro to that point, but you know at least a few will. If you feel so inclined, you can pick up an iMac Pro for yourself over on Apple's website today.