iLife and iWork free limits surface as apps overtake charts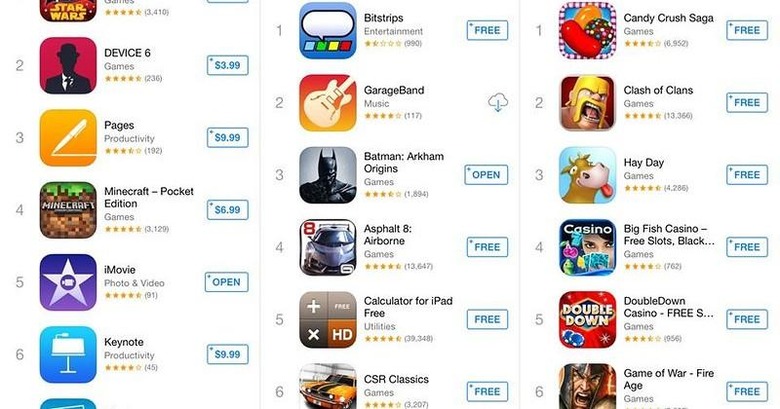 If you head on down to the iTunes App Store this afternoon to see how the topmost downloads are doing, you're going to see Garage Band quickly overtaking the top "Free" spot while the rest of the iLife and iWork apps climb up "Paid". But wait, you might be saying, didn't Apple just say that the iLife and iWork app suites would be free for all users from this point forward? Actually they didn't – what they actually said was that new customers – everyone purchasing a device from September 2013 forward – would be getting these apps for free.
For those of you out there in the wild having purchased an iPhone 5, an iPad 2, an iPad with Retina display, an iPod touch – anything before September rolled around – you're out of luck. For you, there's only one newly free app: Garageband. The Garageband app is the only one of the collection of apps made free this week that's actually 100% free to all Apple mobile device owners.
GarageBand is free on the App Store for all iOS 7 compatible devices; additional GarageBand instruments and sounds are available with an in-app purchase. iPhoto, iMovie, Pages, Numbers, and Keynote are free on the App Store for qualifying iOS 7 compatible devices activated on or after September 1, 2013. See www.apple.com/ios/whats-new/ for iOS 7 compatible devices. Downloading apps requires an Apple ID.
The above comes from Apple's own Creativity Apps portal where the whole iLife and iWork collection is detailed. For users not inside the September cut-off, iPhoto, iMovie, Pages, Numbers, and Keynote are still going to cost $9.99 USD.
Have a peek at our iPad Air hands-on as well as our iPad mini with Retina display hands-on for more information on the hardware revealed at this week's event as well.
An interesting side-effect of these apps going free for users having purchased their devices in the past couple of months is the fact that iMovie, Keynote, Pages, and iPhoto are climbing the "Paid" charts at immense speed. Garage Band has also nearly overtaken Bitstrips for the first place in Free apps on the app store, having taken over Batman: Arkham Origins and Asphalt 8: Airborne with great quickness since yesterday's announcements.