IFTTT bakes IoT recipes right into partner apps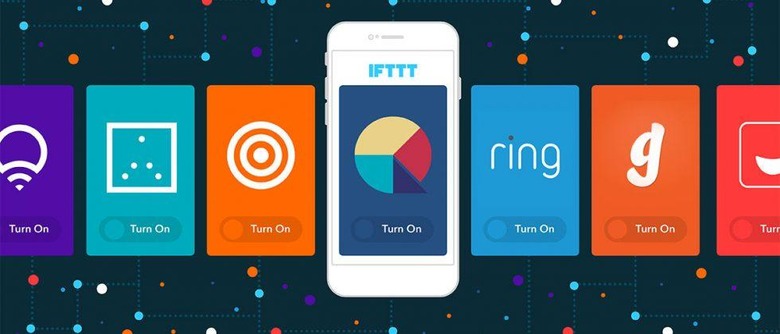 IFTTT may be the glue for the Internet of Things, but now the useful service-linking platform is going embedded, with deep app integration making cooking up smart home recipes even more straightforward. IFTTT – or "If This Then That" – has announced an update today that sees its recipes embedded into third-party apps from Ring, Automatic, and more.
If the Internet of Things is made up of lots of different LEGO bricks with slightly different – and usually incompatible – shapes, then IFTTT is the universal adapter that fits between them. The service features hundreds of recipes, as well as allowing users to make more, which link different platforms together so that one triggers the next.
For instance, a press of your connected doorbell could automatically fire off a Gmail message, log a record in a spreadsheet, or turn on your app-enabled lights.
Until now, though, you've needed to go to IFTTT and either hunt down such a recipe or cook up your own. Today's new integration, however, puts IFTTT right into third-party apps.
So, if you're a Skybell doorbell owner, you could set up triggers and outcomes all from the Skybell iOS app. The end functionality would be the same either way, but it cuts out an extra step and, presumably, will help highlight just what IFTTT can do to users that might not currently be aware of the service.
Today, Abode, Awair, BloomSky, Foobot, Garageio, LIFX, Qapital, Roger, Skybell, and Stack Lighting all have new versions of their respective apps with IFTTT offered as an additional feature. Automatic, Emberlight, and Ring will follow on in due course, it's suggested.
Founded in 2010, IFTTT has certainly proved to be an enduring addition to the IoT, though it's not perfect. While the company has a growing list of compatible partners – including hardware products and software services – the recipes themselves are fairly straightforward: one input, one output.
As many smart home early-adopters have discovered, though, the IoT is rarely so clean cut. Even little things, like only wanting your connected lights to come on when your connected doorbell is pressed if it's actually dark outside, are beyond IFTTT's scope, given it lacks conditional filters.
The market is, therefore, still fairly open, and that's not gone unnoticed by would-be rivals. Microsoft, for instance, launched CAP recently, a more natural-language alternative to IFTTT currently in beta.
MORE IFTTT