IDC reports 1 billion smartphones shipped in 2013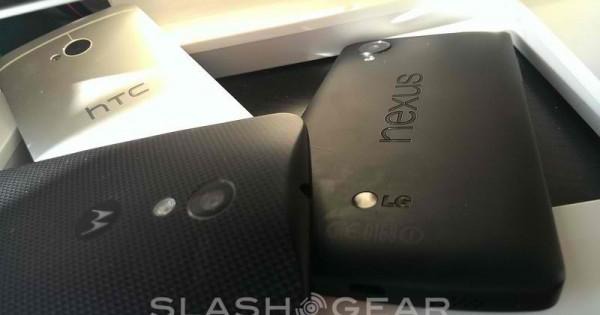 If there were still any doubt about the exponential growth of smartphones, these latest figures from the IDC should dispel those. Reaching a new milestone, the International Data Corporation revealed that smartphone shipments world wide have reached an astounding 1,004.2 million in 2013.
This is quite an increase from 2012's figures, by as much as 38.4 percent up from that year's 725.3 million. Smartphones have gained the lion's share of the overall mobile phone market, comprising 55.1 percent of all 1,821.8 million mobile phones shipped in 2013. Overall, the industry seems quite healthy, showing a 4.8 percent increase of all units sold from 2012's 1,738.1 million.
The figures per vendor turned out as expected, but the underlying observations made by IDC are quite interesting. Samsung, unsurprisingly, remains at the top in terms of units shipped, no small thanks to the sheer number of models it has in its portfolio. That said, even the top dog experienced a decline in shipments in the fourth quarter but not enough to unseat it from its lead.
Apple also kept its spot at second place but its market performance was a bit unstable. As expected, the launch of the new iPhone 5S and iPhone 5C boosted its numbers by the end of 2013. Unfortunately, it still saw the lowest increase in shipments among the top five vendors compared to 2012. There is some hope, however, that appealing to the Chinese market through China Mobile might help skew 2014's figures heavily in its favor.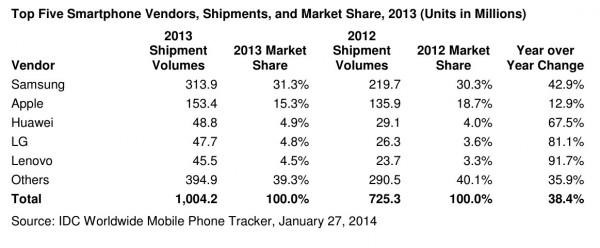 Huawei at third was 2013's biggest achiever, having the highest increase in shipments year-on-year. Lenovo, however, is probably the most surprising contender, managing to rank fourth in worldwide shipments despite having very little presence in key markets such as the US and Europe. The company, however, is starting to become more aggressive in its mobile push, which could threaten Huawei's position. Last but definitely not least is LG, which is 2013's upstart, having wrestled away the fifth spot from ZTE. But the Korean manufacturer shouldn't be complacent since there are only 5 million units that separate the two smartphone manufacturers.