iControlPad iPhone gaming controller gets video demo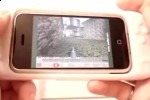 The iControlPad project first showed off their joypad accessory intentions back in August, promising a combination case and gaming controller for Apple's iPhone and iPod touch.  Now developer ZodTTD is back with a video of the joypad in action (playing quake4iphone, no less), together with an update on how exactly the project is progressing.  Find both after the cut.
The independently-powered controller has a D-pad, four gameplay buttons (A/B/X/Y), together with start and select buttons.  There's also a power LED.  Apple have repeatedly called the iPod touch the next generation of portable gaming console, so we wouldn't be surprised to find developers and users all enthused about the iControlPad.
As well as the hardware, ZodTTD is promising the sourcecode too, so that developers can give their iPhone and iPod touch titles iControlPad compatibility.  No word on release dates or pricing (although $30 was originally suggested), but at least it looks like the iControlPad isn't vaporware.
[via Nowherelse]