Ice Cream Sandwich Visual Voicemail Missing In Action, Google Responds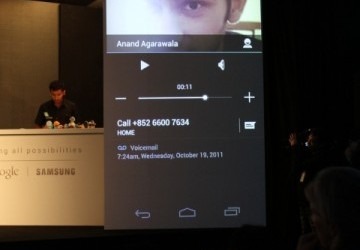 Upon the release of the Galaxy Nexus internationally this week complete with Android 4.0 Ice Cream Sandwich and review units for a select few publishers here in the USA, several points have become clear, the newest being the complete absence of Visual Voicemail, the same feature shown off at the launch in Hong Kong. Of course there are still options to get visual voicemail with 3rd party apps, but what's come up missing in this out of the box experience with Ice Cream Sandwich is a pre-installed visual voicemail experience. After reaching out to Google on the matter this week we're being told that the API is there in the guts, it's just not built up to an application yet.
What we've been told is that while the code to make visual voicemail work in Ice Cream Sandwich, it's the developer working with a voicemail provider that needs to take advantage of it. Since we saw Ice Cream Sandwich's visual voicemail working just fine in Hong Kong at the launch of both the final version of the OS and the Galaxy Nexus, it's easy to speculate that it'll be here soon once some group or another makes a move to develop it – and provide service. In other words we'll likely see this function with the inevitable Verizon release.
Have a look a the rest of our Ice Cream Sandwich coverage in the first of our ongoing series exploring all the new abilities of the Galaxy Nexus running the vanilla version of the OS. Also check out our hands-on with Android 4.0 Ice Cream Sandwich right out of the box and our first look at the Galaxy Nexus as it exists right here at the jump-off. Also note that we've got full reviews of the device as well as the operating system coming up soon!
Android 4.0 Ice Cream Sandwich hands-on
More Android 4.0 Ice Cream Sandwich (first features feature)