Android 4.0 ICS demo: Active voice dictation, Unlock to camera, and more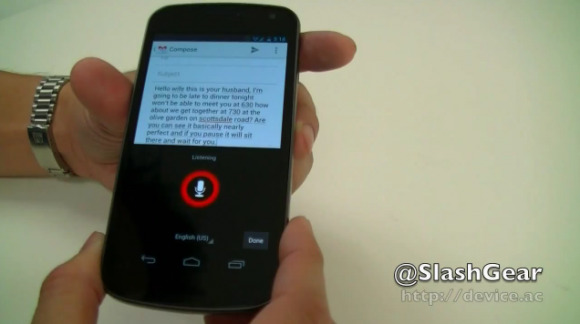 We know you're all dying to get your hands on a Galaxy Nexus with Android 4.0 Ice Cream Sandwich that you can all your own, but in the meantime since we have the beautiful phone right here we've recorded another quick demo. First, look over our hands-on and unboxing, followed by a detailed Ice Cream Sandwich hands-on. That should hold you over, but while you wait enjoy the video demo below.
In our hands-on demo video at the end of this page we go over the brand new active voice dictation introduced in 4.0 ICS as well as the face unlock, unlock to camera option, and even facial recognition. We've been loving this phone so far and without a doubt the active voice dictation is one cool feature.
Active voice dictation
Android had voice capabilities before that were actually quite good, but now it's at an entirely new level. You'll clearly understand after watching the video. Not only does it follow and type out what you say with your voice, but now it follows along in real time. If you pause for a moment it doesn't cut you off and you're actually allowed a moment to think before you talk — instead of rushing to say it all at once. There is a limit to how long you can continue but it gives plenty of time for texts and even the occasional lengthy email.
Face unlock & unlock to camera
Now the entire face unlock has had its fair share of scrutiny and many are worried that it can simply be fooled with a photo. This I'm sure Google will continue to work on but for now it can be deactivated and give you the usual pin to unlock feature. Also provided is unlock to camera. Just like with iOS 5 (see our review) with Android 4.0 Ice Cream Sandwich you can select in lockscreen settings any of the many options. Being able to instantly slide to unlock directly to the camera is a feature that has been missed on stock Android — even though 3rd party apps supported it.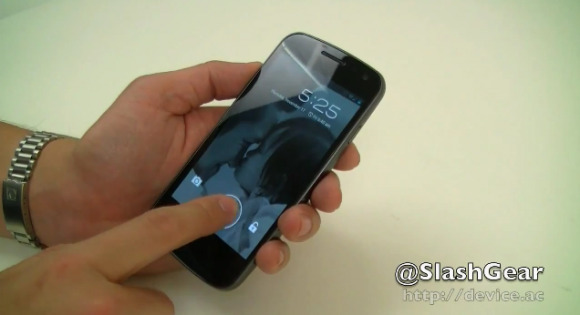 Facial tracking
Obviously facial tracking may be a small feature, but its new and exciting. This is another feature that has been seen on many Android devices in the recent past and included with custom camera applications from manufacturers but now its a completely stock feature. Integrated right into stock vanilla Android. The front facing camera on this Galaxy Nexus is quite impressive — as you can clearly see in the video below.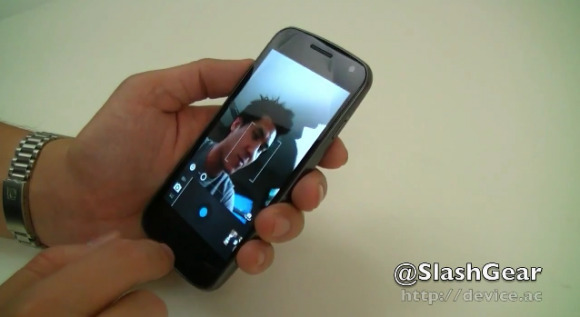 We also lightly mention just how easy it is to create and edit folders with Android 4.0 Ice Cream Sandwich but I wanted to finish this off with a quick note regarding the new settings menu.
Settings & WiFi
As shown in the demo connecting to a WiFi connection isn't quite as easy as we've seen in the past with Android. While this may be simple to understand for many the new implementation might be confusing for some — until they figure it out of course. With Android 2.3 Gingerbread after enabling WiFi there was a "WiFi Settings" menu listing your available wireless networks — that has disappeared from 4.0 ICS. Instead, when you enable WiFi nothing happens and there is no settings option below for your convenience. Now you simply tap the actual WiFi area and it enters the settings menu. This is very simple to understand but I certainly wouldn't call it intuitive for the average user. Same rule applies for Bluetooth and the others — just a tip in case you find yourself wondering when you finally have an ICS device of your own to enjoy.
Now without further commentary as I've said enough already — I present you with another quick hands-on video of the Samsung Galaxy Nexus running on Android 4.0 Ice Cream Sandwich. Enjoy!
Stick around because we'll have plenty of coverage regarding the Galaxy Nexus and the new Android 4.0 Ice Cream Sandwich all week, not to mention a full in-depth review coming soon.