Galaxy Nexus Unboxing and Hands-on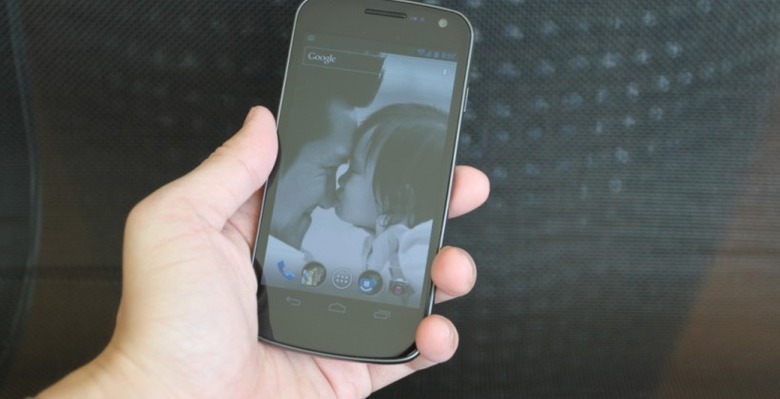 Could the Galaxy Nexus be the most anticipated Android phone of the holiday season? It certainly has some strong competition, with the DROID RAZR and HTC Rezound doing their level best to muscle into the market ahead of the first Ice Cream Sandwich phone's arrival. Still, Samsung's smartphone – and the third device to wear the official Nexus branding – has plenty to differentiate it, not just Android 4.0. The HSPA+ model has arrived on the SlashGear test bench; read on for our first impressions.
Our unit comes ready for HSPA+ on both AT&T and T-Mobile USA, pentaband HSPA/WCDMA support being a most welcome change from the previous Nexus S. Samsung is also preparing an LTE version of the Galaxy Nexus, set to launch on Verizon in the US sometime before the end of the year. It's not a small device, the curvy form-factor having grown to 135.5 x 67.94 x 8.94 mm and 135g, but Samsung takes advantage of that scale to fit a sizable 4.65-inch Super AMOLED HD display.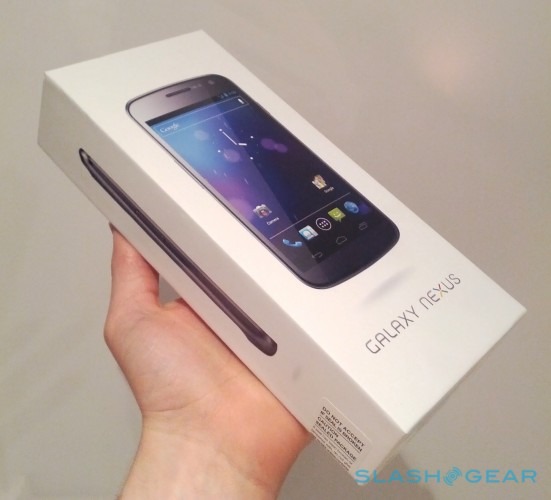 It's not just inches that the new screen offers, but pixels too: at 1280 x 720 this is one of the rare 720p HD-capable smartphones. The curved display looks incredible, despite the concerns pre-launch about Samsung using a PenTile display. For those unaware, PenTile Matrix panels have sub-pixels that share colors, which can lead to a slight blue tint and underwhelming greens. However, eyes-on it's hard to be disappointed with the Galaxy Nexus' screen: colors are punchy, viewing angles broad and ICS' clever on-screen controls – which automatically hide when appropriate to give you more room for video and other apps – are a great example of the refined UI.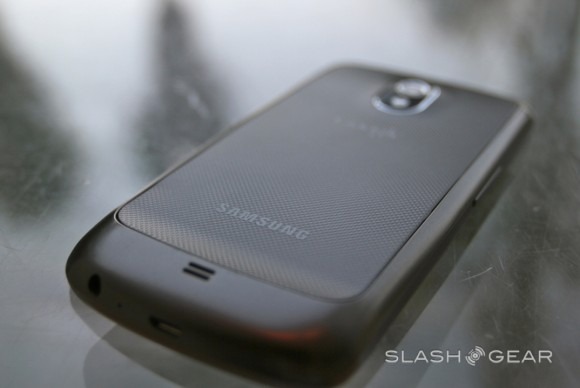 Samsung's casing materials aren't as instantly premium in their feel as, say, the Rezound's unibody chassis, but nor do they feel cheap or brittle. There's thankfully little in the way of glossy plastic, and the various textures feel good in the hand. Google says the Contour Display makes for a phone that's easier to hold and use one-handed, though reaching across the screen with a thumb can still be a stretch. We're more impressed by the minimal bezel around the display. Sound from the rear speaker seems surprisingly muffled, however, particularly noticeable during turn-by-turn directions in Google Maps Navigation.
Galaxy Nexus Unboxing & Hands-on:
[vms 4fb2321e9ce801e2f516]
A volume rocker is on the left edge, the power key on the right; no dedicated camera shortcut, though Android 4.0 adds one to the lock-screen. The camera itself is a 5-megapixel autofocus snapper with 1080p HD video capture support, the relatively low resolution still another source of concern after Google's official announcement. Google is hoping the Galaxy Nexus is the device that finally convinces the majority that good photos are about more than just raw megapixels, and we're looking forward to testing that out for the review. It certainly loads fast and snaps off images in quick succession, this more recent software version proving considerably faster than the already-quick firmware running on Google's original launch demo units; there are sample shots in the gallery below. A 1.3-megapixel camera can be used for video calls or Google+ Hangouts.
Galaxy Nexus 1080p camcorder sample (rear camera):
Galaxy Nexus front facing camcorder sample:
Power is courtesy of a 1.2GHz dual-core processor, paired with 1GB of RAM and – in our unit – 16GB of non-expandable storage. In addition to the HSPA+ there's quadband GSM/EDGE, WiFi a/b/g/n (2.4/5GHz), Bluetooth 3.0, a microUSB port with MHL HDMI output and GPS/A-GPS, together with NFC for scanning tags and making mobile payments with Google Wallet. Performance is slick out of the box, though we're yet to run actual benchmarks: this may not be a 1.5GHz dual-core, as we've seen Samsung put inside its other recent phones, but Android 4.0 has no apparent issues with multitasking, opening apps and rendering/zooming/panning webpages. Of course, the Galaxy Nexus is box-fresh now, so we'll have to see how it shapes up after we've loaded some third-party apps and put it through its paces.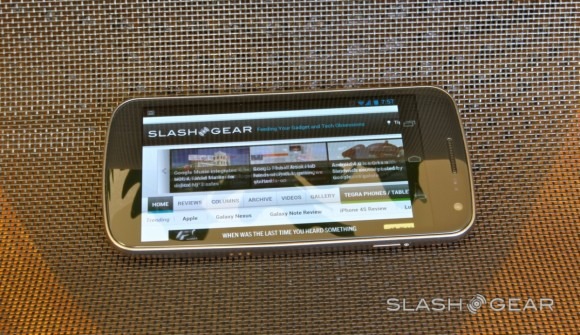 That's not the only magic we're looking forward to testing. Face Unlock, Voice Typing and – if we can find someone else to rub smartphones with – Android Beam for NFC transfers all promise to be stand-out features that, until Ice Cream Sandwich updates start rolling out, will be Galaxy Nexus exclusives for the moment. It's a big step in Android development, so stay tuned for the full Galaxy Nexus SlashGear review, and until then enjoy our hands-on video and unboxing gallery!
Don't forget to check out our Android 4.0 Ice Cream Sandwich hands-on for more details!