Hyundai Tjin Edition Genesis Coupe struts into SEMA with 500hp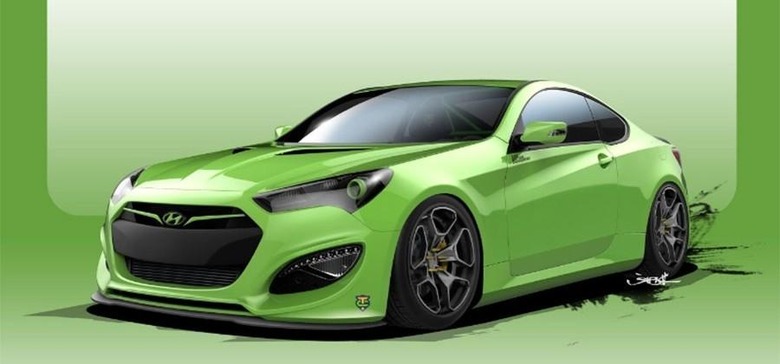 Hyundai has been teasing us with a long string of awesome customized cars and SUVs that will be shown off at SEMA 2015 next month. The latest car to be teased is the Tjin Edition Genesis Coupe. The car is built up as a racer and packs 500hp under the hood along with a host of other modifications. The 3.8L V6 engine makes 500hp thanks to a Vortech V3 supercharger.
That blower is backed with a Bisimoto Engineering tune and exhaust system. A Vortech front mount intercooler and blow-off valve are fitted to help with boost. The wheels are Rotiform 19-inch 3-piece HUR units and the car stops thanks to custom Baer x CBA Extreme Plus brakes.
Those fancy custom wheels are wrapped in Falken FK453 tires. The suspension was massaged with KW coilovers and the entire car is covered in a custom green paint job. A unique front lip, metal trunk lid, and rear wing are fitted along with custom headlights.
Inside the car, the interior gets a roll cage and custom Alea leather interior. This car will fit nicely with the ARK Performance Solus Genesis coupe and the 700hp Tucson Brute Ute that have been unveiled previously.
SOURCE: Hyundai News