Hyundai Teases 700hp SEMA SUV dubbed "Brute Ute"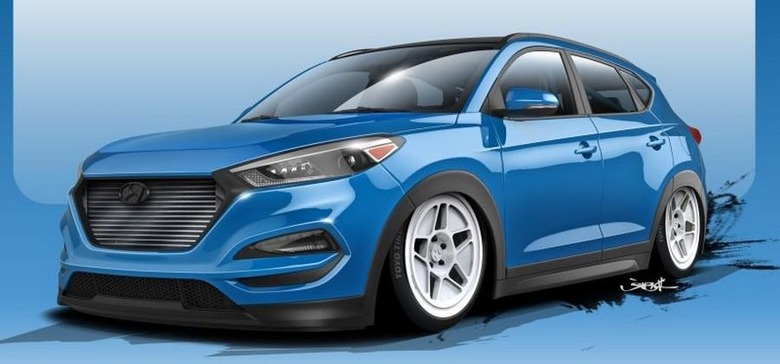 Each November Las Vegas becomes the place to bring your hottest cars to show off to the world. Many of those cars are customized one-off units and typically major manufacturers get in on the customization act. We may be more than a month from the SEMA kickoff, but Hyundai is already trying to generate some buzz for its SEMA show car.
The car seen here in concept rendering form is a Tucson SUV that Hyundai plans to make over with help from the gang at Bisimoto Engineering. That company is certainly no stranger to SEMA with hordes of show cars to its credit each year on display at the show.
Hyundai says that the car will pack over 700hp. That number is even more impressive when you consider that Hyundai plans to reach that number using a 2.4L 4-cylinder engine. As you might expect, little about that engine will be left stock.
The four banger will get a massive big boost turbo, forged internals, a new cam, and an updated engine management system. All that power will go the ground via a 6-speed manual. The Tucson is dubbed the Brute Ute and it sounds like it will live up to its name. The outside of the car will also be thoroughly changes with new suspension and wheels among other things.
SOURCE: Autoblog