Hyundai The Walking Dead Tucson limited edition announced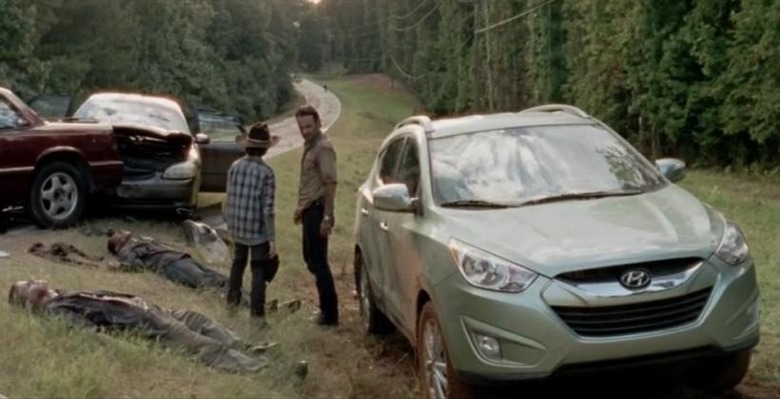 If you watch the zombie TV series on AMC called The Walking Dead, you probably have noticed that Rick and his crew get around quite frequently in a Hyundai SUV. Hyundai has announced that it will be launching a limited edition version of the Tucson inspired by The Walking Dead graphic novel. This car is not going to have any barbed wire or swords on the wheels to kill zombies like the zombie survival machine show car.
The car will be an actual production model Tucson that will land at dealerships starting early next year. Hyundai says that the limited edition vehicle will hit showrooms just in time to celebrate the 10th anniversary of the graphic novels. The special edition Tucson will have an Ash Black Exterior with a red accent graphics package.
It will have Special Edition exterior and interior badges. The outside of the car will have roof rack cross rails and mudguards. Inside the car will get custom floor and cargo mats, black leather interior, and a custom Zombie Survival Kit. That survival kit will include a 72-hour survivalist's backpack.
Inside the backpack will be a The Walking Dead Tucson Survival Quick Reference Guide. The kit will also have stickers to allow the owner to show which faction they align with from the graphic novel series with stickers for Hilltop, Kingdom, Saviors, and Survivors. Power for the limited edition car comes from a 2.4L Theta II GDI engine.
SOURCE: Hyundai News