Hyundai to bring The Walking Dead zombie survival machine to life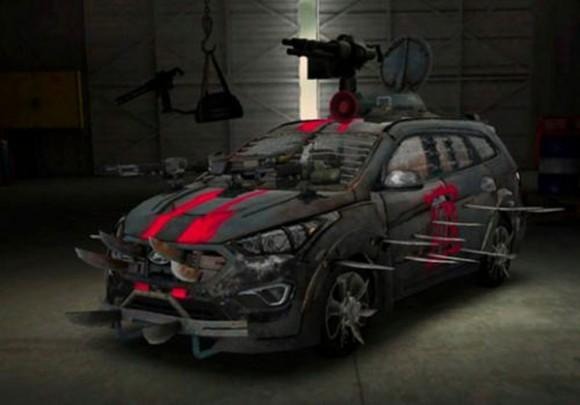 Hyundai has been showing off a few show cars recently. The most recent one I mentioned was called Yellowcake and is designed to be a night time racecar. Hyundai has now announced that it will be building a zombie survival machine in conjunction with the incredibly popular show The Walking Dead. The vehicle was designed by a fan using The Walking Dead Chop Shop configurator.
The automaker was holding a competition for fans of The Walking Bid to design the ultimate zombie survival vehicle using the Hyundai Veloster Turbo, Santa Fe, or Elantra. The winning vehicle was the fan-designed Santa Fe SUV pictured above.
Hyundai says that it received 82,500 submissions and this particular knife wielding Santa Fe was chosen as the winning vehicle submission. As the winning submission, the vehicle was built by Galpin Auto Sports and will be unveiled on the show floor at the New York Comic Con kicking off October 10.
The vehicle has several automatic weapons attached, it relies primarily on knives because they don't need ammunition to be lethal. The weapons configured on the virtual car included knives, an automatic crossbow, razor wire windows, three machine guns, armor, and a muffler silencer. The vehicle will be presented in the Future US booth at New York Comic Con. A documentary covering the build will be available on thewalkingdead.com on October 11.
SOURCE: Hyundai