Hyundai PROVIA A7+ PND: 7" touchscreen, T-DMB and PIP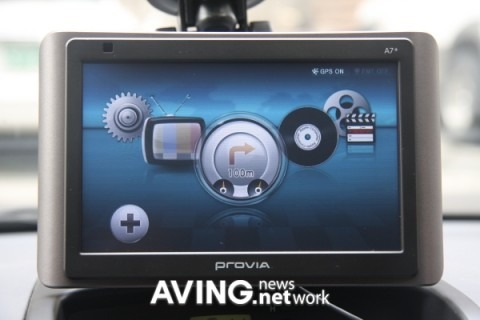 For a moment there, the UK was almost ahead: Mio's Navman Spirit TV PNDs wowed and impressed with their blend of GPS navigation and digital TV, only to be blown out of the proverbial water by Korean firm Hyundai Telematics.  Their new PROVIA A7+ PND takes the Navman Spirit TV and uses that as a mere kicking-off point, stuffing in simultaneous T-DMB digital TV and TPEG road status reception and more.
There's also a USB 2.0 port, AV output if the 7-inch 800 x 480 touchscreen isn't big enough for you, and support for a rear camera for use when reversing.  Extra storage can be added via an SD card slot or a USB memory stick.
Everything runs on an 806MHz Monahans processor (likely to be the PXA320) that's powerful enough to offer picture-in-picture with the navigation display showing in the corner of a TV show.  No word on pricing, but as with many Korean gadgets this may be a case of simply lusting from afar.
[via NaviGadget[