Mio Navman Spirit TV V735 and V505 digital TV PNDs announced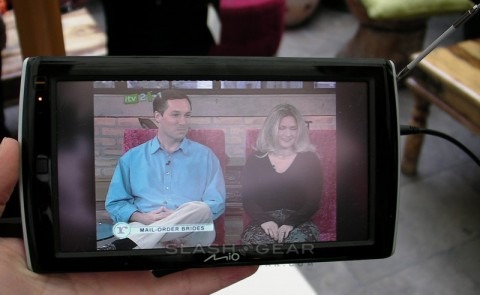 Mio have released the first TV-enabled satnav units in the UK, the Mio Navman Spirit TV.  First shown at the launch of the Spirit range back in May, the Spirit TV will be available in two versions – the 4.7-inch V505 and the 7-inch V735 – each with a touchscreen, Google search, TruMap and Junction views and of course Freeview digital TV with autotuning.
Each comes with a remote control, and can access the Freeview 7-day EPG for scheduling.  The larger V735 also gets PMP functionality, including playback of videos and MP3s, together with a photo viewer and FM transmitter.  All of the usual Spirit functionality is present, including NavPix geo-tagged photos, POIs and a pedestrian mode.
The Navman Spirit TV range will go on sale in the UK come July, priced at £299.99 ($493) for the V735 and £229 ($377) for the V505.  More hands-on images of the new 7-inch Mio Navman Spirit V735 TV here.  While Mio have not announced any plans to bring the Navman Spirit TV range to the US, the modular nature of the TV tuner would make a North America version technologically possible.
[vms 33f3fdb077ca70bbd5d6]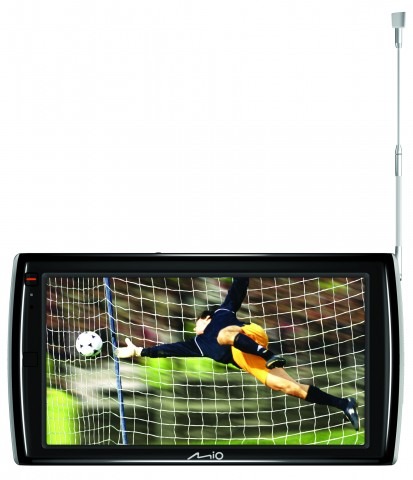 Press Release:
Mio brings Digital TV to the dashboard

Mio revolutionises sat nav with launch of first ultra-slim device with integrated Freeview tuner

London, UK, 22 June 2009: Leading sat nav company Mio today becomes the first to offer a range of products combining state-of-the-art satellite navigation with a digital TV, providing users with easy-to-use, multi-channel entertainment they can enjoy during breaks in the journey or at their final destination.

The Navman Spirit TV range continues Mio's history of ground-breaking innovation in sat nav design and functionality. They are the perfect companion for family outings, driving holidays and camping trips, providing mobile entertainment when a destination has been reached. In addition, professionals who drive as part of their work (for example taxi drivers, truckers or salespeople), can use the Navman Spirit TV's to relax and enjoy their favourite TV programmes or catch up on the latest news while on breaks between journeys. When not travelling, the Spirit TV can also be used as an additional portable TV for the home.

The Navman Spirit TV range comprises two highly portable, ultra-slim models – the V505 with a 4.7" widescreen, and the V735 with a stunning 7" widescreen.

Huw Bush, Head of UK Marketing, Mio, said: "Our existing range of sat-navs already encompasses photos and the ability to play MP3s and video, so a digital TV tuner is the natural next step in sat-nav innovation. The V505 and V735 combine our cutting-edge navigation with the ability to watch hundreds of digital TV channels across Europe – making it the perfect companion for family outings or professional drivers."

Digital TV wherever you are

With their wide, flat displays, watching Digital TV on the V505 or V735 is a pleasure. The auto-tuning is easy to set up, so users can be viewing their favourite Freeview channels in seconds. Both models include a seven-day EPG (Electronic Programme Guide) which lists what's on every available channel up to a week ahead. With two antennas available to facilitate the strongest signal, the simple touchscreen menu and remote control make finding programmes a breeze, and the sharp, bright picture and powerful speaker provide a great mobile TV experience.

The V735 also includes full media device functionality, enabling users to store and view video and photos, and listen to their favourite MP3 music tracks.

Spirit software and new slidetouch™ screen

The 'Spirit' part of the name refers to the software that powers the V735, V505 and the other recently released sat nav devices in the Spirit range. Redesigned from the ground up, Spirit uses a simple and colourful menu system that takes users to all of the features within a couple of 'taps'. The new slidetouch™ screen brings up windows that glide on and off to help find what you are looking for quickly and easily, without needing to go back to the main menu unless you want to.

TruMap™ Views, Junction Views and lane guidance make navigation easy

Navman Spirit TV caters for all the basic sat nav functions, such as finding your destination easily, being aware of road speeds and safety cameras and helping the driver negotiate difficult junctions, with some important additions. To improve map clarity, Mio has added new TruMap™ Views that strip away clutter for a cleaner, much easier to read map display. New Junction Views have also been added, giving drivers an accurate representation of motorway signs in 3D as they approach an exit. Intelligent text-to-speech provides spoken next turn road names and directions, enabling drivers to keep their eyes on the road, and both models also include built-in Traffic with a lifetime subscription, meaning drivers can easily find ways around hold-ups and traffic hot spots.

Spoken navigation is now louder and clearer on the V735 with its built-in FM transmitter, allowing users to tune the device into their car speakers via the radio.

Go further with Explore Mode, Google Local™ and Wcities Travel Books

The Navman Spirit TV range also includes Mio's suite of innovative new features that sets it apart from other sat nav devices, and helps drivers get a lot more out of their journeys.

First up is Explore Mode, an ingenious POI (Point of Interest) feature that really comes into its own when exploring new places. From any location in Europe, touching the map makes a cluster of icons 'grow' from that point. Users can immediately see what's available in or near that location, from cash machines to hotels, museums and local attractions, car parks, restaurants and more. Zooming in on the map gives more location detail, while zooming out shows a wider choice of POIs. Touching any icon brings up a name and address, then by clicking 'Go' Navman will navigate there. Explore Mode works on the go, or can be used before drivers set off so they can plan POIs in advance.

Mio takes the idea of exploring even further with Travel Books from Wcities. Pre-loaded into every new Navman Spirit TV is a selection of Travel Books, featuring in-depth listings of places to eat, stay and visit, combined with facts and photos. There are hundreds more to choose from which can easily be downloaded onto the new devices.

Pedestrian mode – take shortcuts that your car can't

Featuring the world's most accurate walking mode, Navman Spirit TV also helps users explore more on foot. With built-in 2D city maps specially designed to work out of the car at walking pace, creating a seamless navigation experience. With details of footpaths and building outlines, each device works with the user to cut travel times.

Find your way with geo-tagged NavpixTM pictures

The Navman Spirit TV range also includes the market-leading NavPixTM geo-tagged photo navigation feature, pioneered by Mio in its previous Navman devices. With the built-in photo album, users can browse through a huge variety of pictures such as tourist sites, hideaway beaches, hotels and restaurants. As geo-tagging becomes more popular, and with over a million tagged photos free on NavPix and Flickr® websites, this feature really starts to come into its own.

The Navman Spirit TV range is available in stores in July. For more information please visit www.mio.com .

Navman Spirit TV Product specifications:

Navman Spirit V505 TV

Key Features:

· Digital TV with Electronic Programme Guide

· Spirit navigation software with Slide Touch™

· 4.7" widescreen

· Slim, lightweight design

· TruMap views

· 3D Junction Views and Lane Guidance

· Local Search via MioMore Desktop 2

· Explore Mode

· Wcities Travel Books

· Walking Mode

· Smart Economical Routing

· NavPix photo navigation

· Capture Button with location and journey capture

· Pre-loaded safety camera data – free trial*

· Text to Speech (spoken next turn road names)

· High speed GPS fix with SiRFInstantFixII

· Road speed limit data

· Built-in Traffic

· Latest European Map Data with Total Refresh Guarantee

* For a limited period of 12 months

Navman Spirit V735 TV

Key Features:

· Digital TV with Electronic Programme Guide

· Spirit navigation software with Slide Touch™

· 7" widescreen

· Slim, lightweight design

· TruMap views

· 3D Junction Views and Lane Guidance

· Local Search via MioMore Desktop 2

· Explore Mode

· Wcities Travel Books

· Walking Mode

· Smart Economical Routing

· NavPix photo navigation

· Capture Button with location and journey capture

· Pre-loaded safety camera data – free trial*

· Text to Speech (spoken next turn road names)

· High speed GPS fix with SiRFInstantFixII

· Road speed limit data

· Built-in Traffic

· Latest European Map Data with Total Refresh Guarantee

· Remote Control

* For a limited period of 12 months