HyperMac Kills MacBook/iPod Charging Kit Over Apple Lawsuit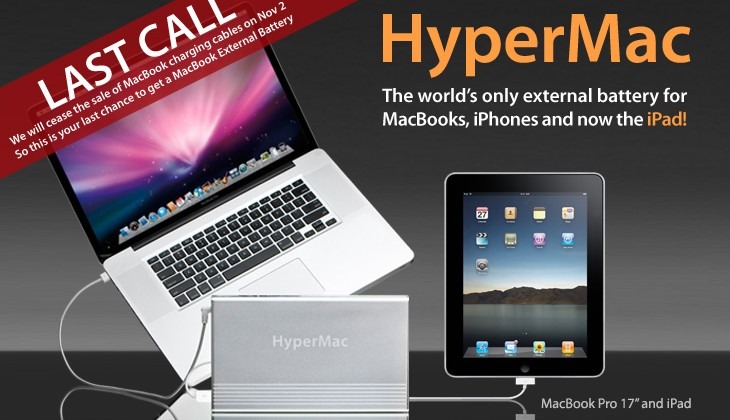 With a Cupertino lawsuit pending, HyperMac's days offering external MacBook power accessories didn't exactly look to be long-lived.  Now, the company has announced that, as of November 2 2010, they'll be ceasing sales of all their charging cables and car charger kits for Apple hardware.
HyperMac will still be selling the same battery packs beyond the November 2 deadline, but without the correct cables they won't be much use to Apple users.  The company is now looking to shift their remaining stock, so now's the time to buy if you were sitting on the fence.
Apple took issue with HyperMac's use of its proprietary MagSafe and iPod cables and connectors without prior permission, and filed a suit against parent company Sanho back in September.  The decision to cease sales is described as "part of ongoing comprehensive licensing negotiations with Apple regarding a wide array of technologies and issues."
Press Release:
Dear Valued Customers,

As part of our ongoing comprehensive licensing negotiations with Apple regarding a wide array of technologies and issues, we have decided to cease the sale of the MacBook charging cables and car charger on November 2, 2010.

While we will continue to sell the same batteries together with the rest of our product line after November 2nd, they will not be able to charge MacBooks without the cables.

If you wish to get the world's ONLY external battery and car charger solution that works with ALL MacBook, MacBook Air and MacBook Pro (supports dual voltage) as well as the iPad, iPhone 3/3GS/4, iPod and all other USB devices, NOW is the time.

On November 2, 2010 00:00 U.S. Pacific Time, they will gone for good.

As we have very limited stocks, do order early to avoid disappointment. We will continue to sell until November 2nd and while stocks last.

We wish thank the many customers who have already gotten the HyperMac External MacBook Battery and those of you that gave us wonderful reviews