Hue Wireless Dimming Kit is a $40 remote lamp upgrade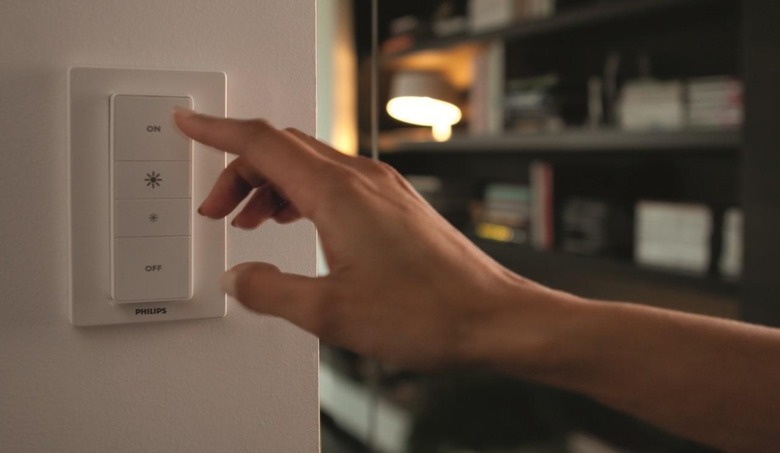 Philips' Hue range of remote-controlled lighting is getting a new member, with the Hue Wireless Dimming Kit introducing both a bulb and a handy remote. The $40 kit will be the cheapest entry into Hue ownership, avoiding even the need for the bridge that has traditionally hooked up the wireless bulbs to the home network.
The new Hue white light bulb is good for 800 lumens of soft white light at 2,700K, and is rated at around 25,000 hours of use. Unlike some energy-efficient lights, it hits maximum brightness from the get-go.
Unlike Hue's traditional LED bulbs, there's no color changing, but dimming is supported. That's where the bundled remote comes in.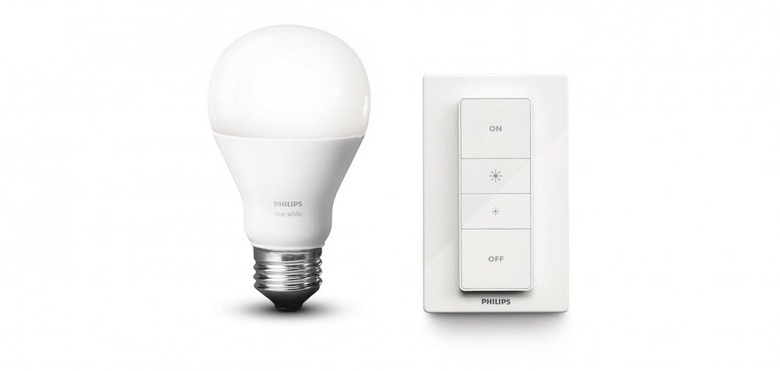 Philips already has a remote, the Hue Tap, which generates its own power with each button-press and thus requires no batteries. That cleverness comes at a price, however, and at $60 apiece it would be expensive to outfit a whole home's worth of rooms.
The Wireless Dimming Kit's remote, in contrast, uses a regular CR2450 battery which Philips says is good for at least three years or 50,000 clicks. It can be used both as a portable device or magnetically attached to a wall mounting plate, also included.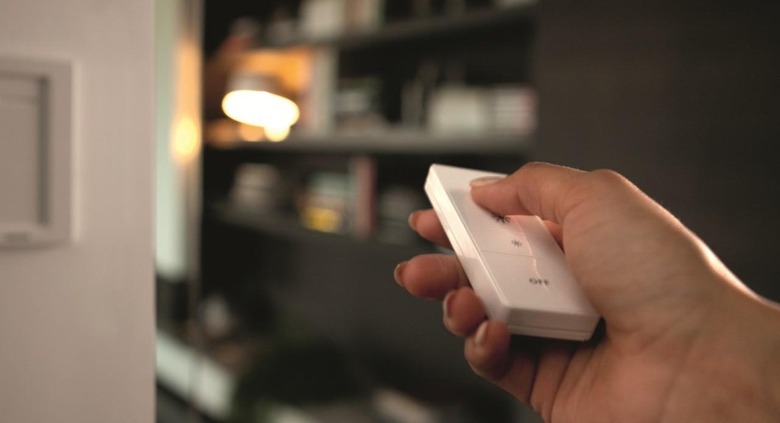 Arriving ready-paired to the bulb, it has buttons for on/off and dimming, and a range of up to 30m. A single remote can be paired with up to 10 Hue white bulbs, however, or a single bulb paired with multiple remotes if you have them from other sets.
Unlike every other Hue kit we've tested, you don't need the bridge to act as a central hub: the remote can communicate directly with the bulb. If you do already have a Hue system installed, though, you can pair both the bulb and the remote with it, and have them integrated into existing scenes and control other lights.
Unfortunately, while Philips will sell both the kit – for $39.95 – and the white bulb by itself – for $19.95 – there's no current plan to offer the remote on its own. They'll go on sale from September; stand-by for our full review.