Huawei's shipping so many phones, the global market is growing again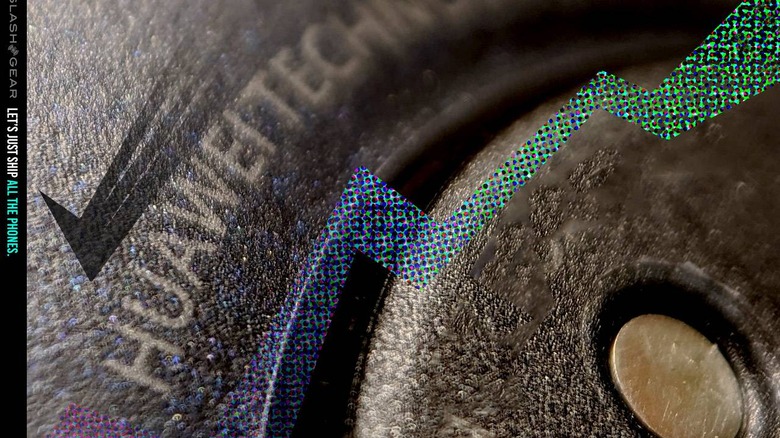 Huawei keeps shipping more phones every year, growing said shipments by percentages that leave all other companies in the dust. For example their year-over-year growth for Q3 of the year 2019 for unit shipments was a positive 29%. The next largest – and only other major positive percentage – was Samsung's comparatively meager 8%. Because of Huawei's monstrous growth, global smartphone vendor shipments this quarter (compared to this same quarter last year) are up 2%.
According to Strategy Analytics, this 2% increase is "the smartphone industry's first period of positive growth for 2 years." If we look back at Q3 for the past several years, we see right around where the drop really happened. If we look at global smartphone unit shipments year-over-year growth starting in 2015, we get 9.5%, 6%, -8.4%, -8%, and in 2019 we get a growth of 2%.
The two otherwise-most-major brands in the global smartphone market, Apple and Samsung, have shipments that stick in the same general arena in the Q3 periods of the past half-decade. Starting in 2015, Samsung's shipments were (in millions of units) 83.8, 75.3, 83.4, 72.3, and 78.2. Apple's shipments were 48, 45.5, 46.7, 46.9, and 45.6.
Part of the situation with Apple and Samsung (especially Apple) is their strategy varying just a bit. Their most recent couple of years they've increased prices of some smartphones to over $1000 – and, conversely, revealed more budget-friendly smartphones (or at least appeared to do so). As such, global smartphone marketshare for Q3 shows Samsung, Huawei, and Apple in fairly close contention at 21.3%, 18.2%, and 12.4% respectively.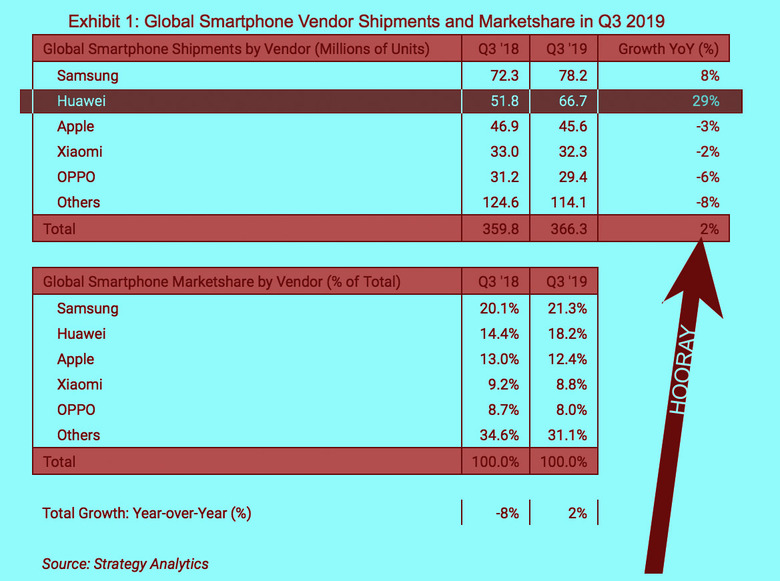 Huawei's global unit shipments over the past half-decade of Q3 records have only gone up. Global smartphone unit shipments from Huawei in Q3 for 2015-2019 are as follows (in millions): 26.7, 33.6, 39.1, 51.8, and 66.7. They've got some healthy growth when it comes down to unit shipments, that's for sure.
While it might seem that Huawei's troubles with USA-based government regulators should've had a detrimental effect on the company's shipments, they've more than made up the difference in other markets. "Huawei surged at home in China during the quarter, as the firm sought to offset regulatory uncertainty in other major regions such as North America and Western Europe," said Neil Mawston, Executive Director at Strategy Analytics.
SIDE NOTE: Apple's doing OK, too, despite what the charts here might suggest. "APPLE iPhone shipments fell 3 percent annually from 46.9 million units worldwide in Q3 2018 to 45.6 million in Q3 2019," said Woody Oh, Director at Strategy Analytics. "Despite the slight decline, this was actually Apple's best growth performance since last year. We believe Apple is stabilizing, due to cheaper iPhone 11 pricing and healthier demand across Asia and the United States."