Much of the coverage around Huawei's fate revolves around the negative effects of the US ban on its business, both in mobile and networking equipment. Despite almost all the predictions of doom, however, Huawei released almost unbelievably good numbers when it came to smartphone shipments. One reason may have been that the full effects of Google's absence from its phones have yet to be felt. Another is that, as market analysis company Canalys reports, Huawei's numbers skyrocketed in China last quarter, mostly at the expense of Xiaomi and Apple.
On the one hand, it's not that surprising that Huawei's sales wouldn't be affected that much back at home. The Chinese market has always been deprived of Google Play apps and services so nothing actually changed in the US ban. What has analysts shocked, however, is how much Huawei gained in Q3 2019 and, conversely, how much its biggest rival lost compared to last year.
Canalys' figures showed that Huawei's shipments grew by as much as 66% compared to the same third quarter in 2018. It now holds almost half of the Chinese smartphone market at 42.4%. Everyone else, including fellow Chinese companies Vivo, OPPO, and Xiaomi, took a backseat. Samsung, the global smartphone leader, was nowhere to be seen.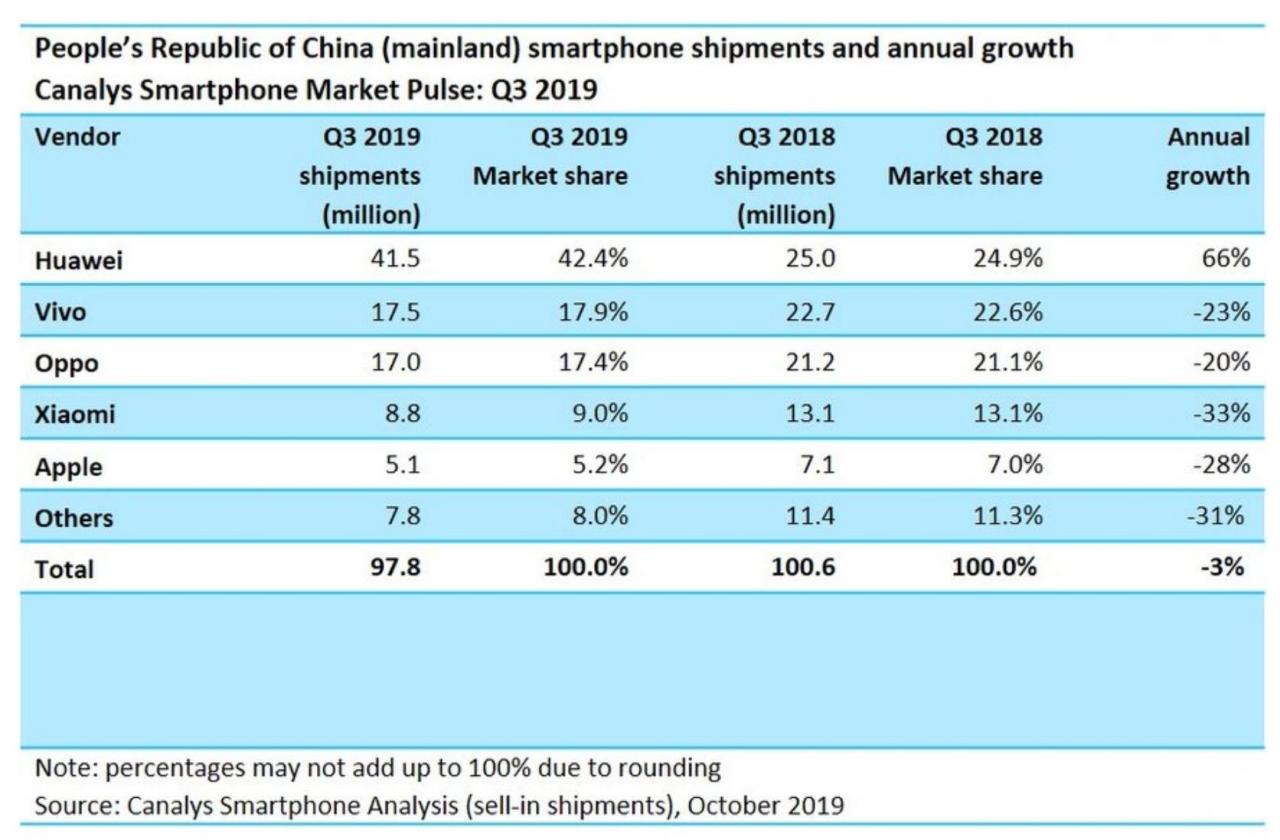 More curious, however, is Apple's market performance. The iPhone has been struggling for the past years in China but, this year, it took its biggest hit yet, losing as much as 28% to end up at only 5.2% of the market last quarter. Interestingly, 40% of Apple's 5.1 million shipments from July to September were made up of iPhone 11 models which were launched only in September.
Canalys suggests that the iPhone 11 could be Apple's way up, using the improved cameras to appeal to the Chinese market. That said, Huawei and its peers have started to ramp up aggressive marketing campaigns and one can't discount the effects of the US-China trade spat on consumers' purchasing choices.