Huawei Watch Review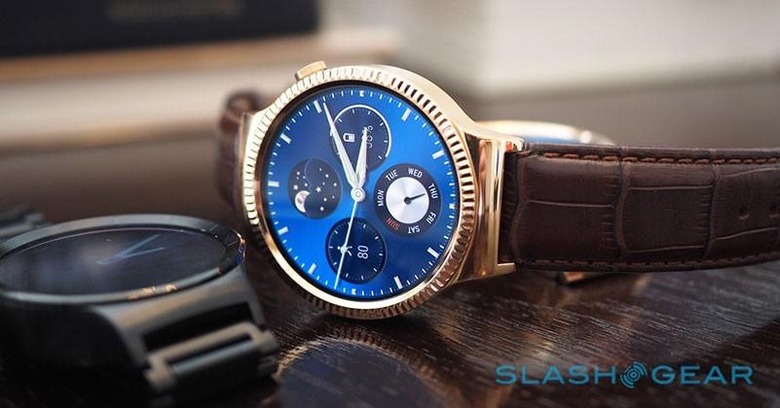 This device has been a long time coming – and anticipated by round-faced smartwatch hopefuls. This is Huawei's first fully round display-toting wearable device, and indeed one of the first smartwatches with a fully round panel to have been shown to the world, as well. The Huawei Watch is relatively affordable (especially compared to its biggest competitors) and looks generally unassuming or otherwise low-key in design. Is that enough to take on the likes of Apple and Motorola?
What do you want in a smartwatch? Do you want it to run Android Wear or Tizen? The Huawei Watch runs Android Wear just fine. With a standard-sized watch face (with a 1.4-inch AMOLED touchscreen) and a processor that's more than capable of running the apps any other Android Wear device can at this point in time, the Huawei Watch is nothing if not capable software-wise.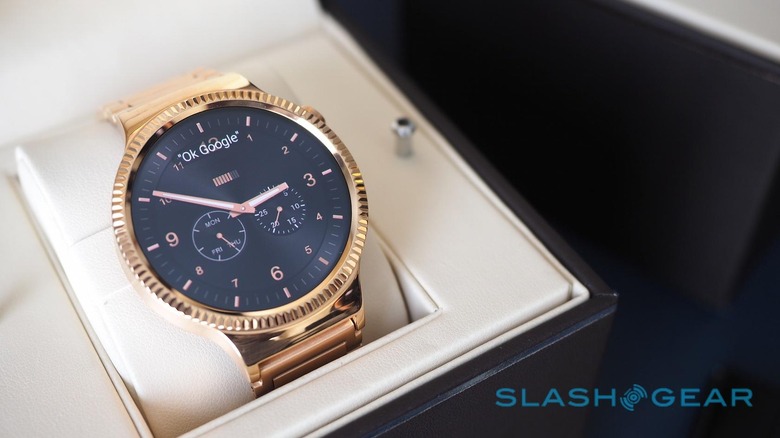 Materials are of the finest quality – so says Huawei – and by the looks and feel of the watch, we're inclined to agree. The watch body is made of cold-forged 316L-grade stainless steel (Huawei says scratch and corrosion resistant) and the front-facing glass (over the display) is real-deal sapphire crystal glass.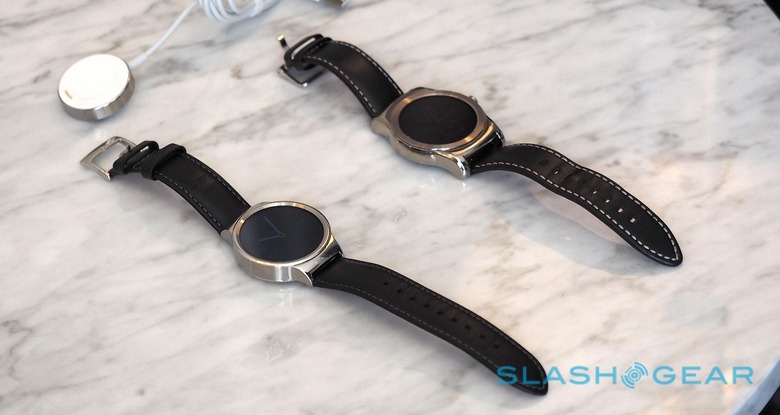 The Huawei Watch does what the LG G Watch R and LG Watch Urbane (seen above to the right of the Huawei Watch) tried to do with a professional look – but Huawei has done it with a lot more finesse. This watch face has a relatively small bezel and a classic form, making it blend in with the collection of a longtime watch-wearer.
Inside you'll find a 1.2GHz Qualcomm Snapdragon 400 processor with 4GB of internal storage and 512MB of RAM. That's all you'll need. You'll find Wi-fi connectivity as well as Bluetooth 4.1 LE and 6-axis movement tracking with both a gyroscope and an accelerometer.
There's a heart rate monitor on the back of this device as well that's been more or less the same as every other heart rate monitor we've experienced on a smartwatch so far.
Above you'll see our hands-on video with the Huawei Watch as presented at IFA 2015. This was the second time Huawei had shown the watch, the first being their initial unveiling at CES 2015 earlier this year.
Style
The beauty of this device is really in the eye of the beholder, much like the Apple Watch. While some might find its simplicity entirely engaging, others might be put off by its look to the past for style advice. Some might not like the idea that you'll be paying this much cash for an Android Wear watch, others might be excited that some models undercut the Apple Watch.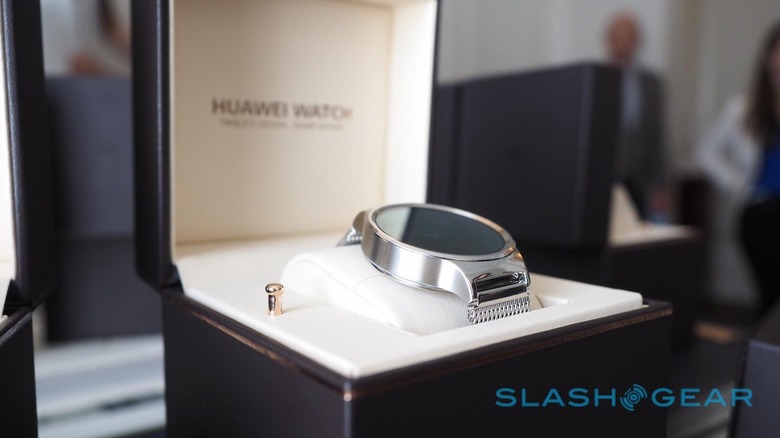 Above you'll see the box the Huawei Watch comes in, regardless of the model you purchase. It's a fine box, to be sure – Huawei isn't messing around when it comes to presentation.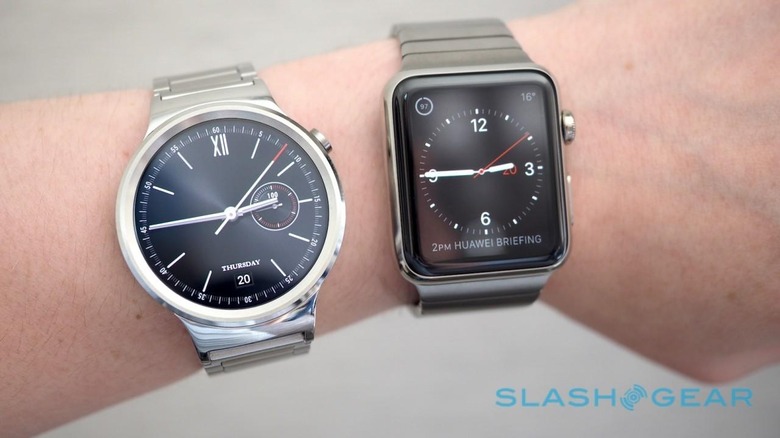 Above you'll see both the Apple Watch and the Huawei Watch on the wrist of my colleague Chris Davies. Below you'll see the Huawei Watch and the Moto 360 (2015) on my own wrist.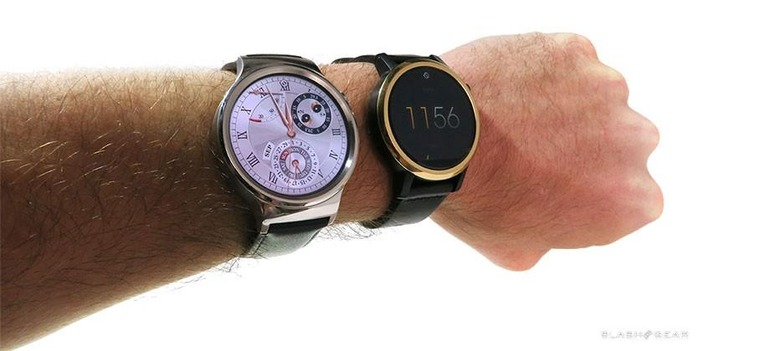 Each wearable device's appeal rests largely in the personal taste of the user. Especially since each Android Wear device has roughly the same abilities as the last, we're relying a lot more on the hardware details here than the software – and the look and feel take precedence over all other features.
While I'm more inclined to seek out a device with more personality – like the Moto 360 – your decision may be based entirely on how natural or classic the watch looks around your wrist.
If you're the sort of person that's worn a fairly standard-looking round silver or gold watch your whole life, Huawei has likely made a smartwatch that'll be easy for you to transition to.
If you already own a smartwatch, like a first-wave Android Wear watch for example, you might be better of choosing a device that's slightly less expensive.
Battery Life
Under the hood is a 300 mAh battery which lasts a very similar amount of time to most other Android Wear watches released thus far. You'll find that a full day's use is extremely attainable, especially if you only use standard Android Wear apps.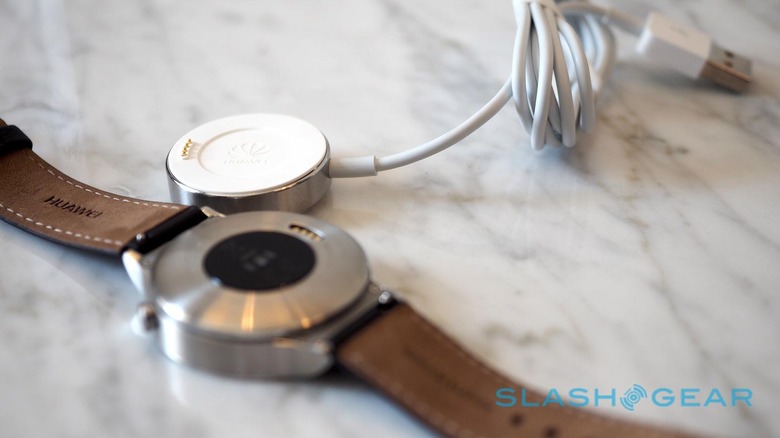 While we'd much rather be using a standardized wireless charging pad to charge any and all wearables, this device's pogo-pin puck does have magnetic connectivity – so it's certainly easy enough. Just so long as you don't easily misplace cords.
Wrap-up
Your decision to purchase a Huawei Watch will be largely based on price, more than likely. While the device might look and act surprisingly similar to several other smartwatches on the market today, Huawei's price range for materials varies greatly.
You'll be able to get a polished stainless steel version of this device for $349 with a matte leather strap. If you're thinking you'd like the stainless steel link bracelet, you'll be paying closer to $399 USD. There's a mesh bracelet style watch strap also available – that package will also cost you $399 USD.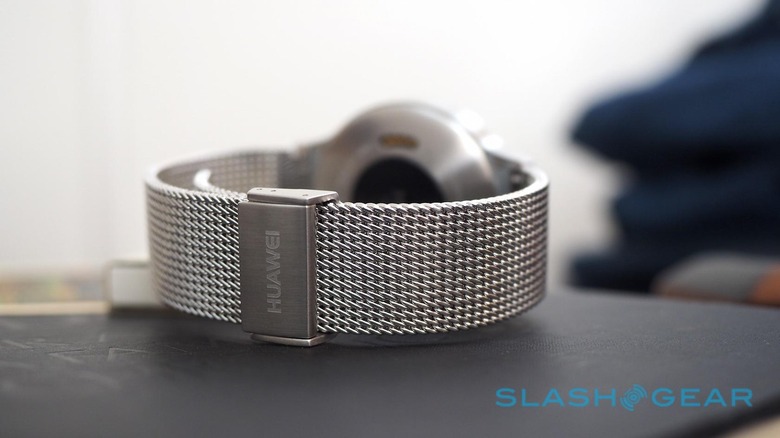 Huawei steps up the cost to $449 for the black watch with a carbon coating and a matching link bracelet. There's a rose gold version of the Huawei Watch available for two prices: $699 including a leather strap or $799 with a matching link bracelet.
The Huawei Watch is the business person's Android Wear watch. It looks professional and won't be out of place in the collection of a watch enthusiast. For those of you looking for a more colorful experience, look elsewhere.