In our Huawei Watch GT Review, we explore the pros and cons of buying a wearable device in a post-WearOS market. It's time to move beyond the basics in the smartwatch world – or at least that's what the Huawei Watch GT believes. In this device is the "One" sort of smartwatch, bringing the most essential elements of the most basic smartwatches made in the last few years – to a new sort of device. You'd be forgiven for thinking this was just another Android WearOS smartwatch, but it's not! Instead, it's running Huawei's own LightOS, an operating system that's… different?
Where is WearOS?
Wait a second, you might be saying, this sure seems like WearOS to me – what's the difference? There's not a lot of difference here, save the fact that you're now relying on Huawei's dedication to keeping an operating system updated rather than Google. You're also working with Huawei's themes, Huawei's functionality, and Huawei's choices for 3rd-party connectivity.
So it's sort of like using a Samsung Galaxy Watch, but you're not using Samsung's own OS, you're using one made by Huawei. The basic elements of most smartwatches are here, including smartphone notifications, time, and fitness tracking. Huawei's delivered a device that's more a classic watch in its scope for 3rd-party access – especially since it does not appear to be seeking out developers to create 3rd-party apps.
Why even mention WearOS in the first place? It's a familiar operating system, it's kinda sorta Android, it feels safe. We love what we're used to, and for that reason it seems odd to use anything other than WearOS for a smartwatch. The same was true when I reviewed the Galaxy Watch – though in that case it wasn't quite the mega battery booster we're seeing here.
UPDATE: NOTE, to be clear, that WearOS from Google is not dead – it's just not on this specific device. As of the writing of this review, WearOS is on plenty of other devices. When I say "Life after Android," I mean that Huawei's clearly moved on – at least in this device. This machine still works with Android phones just fine.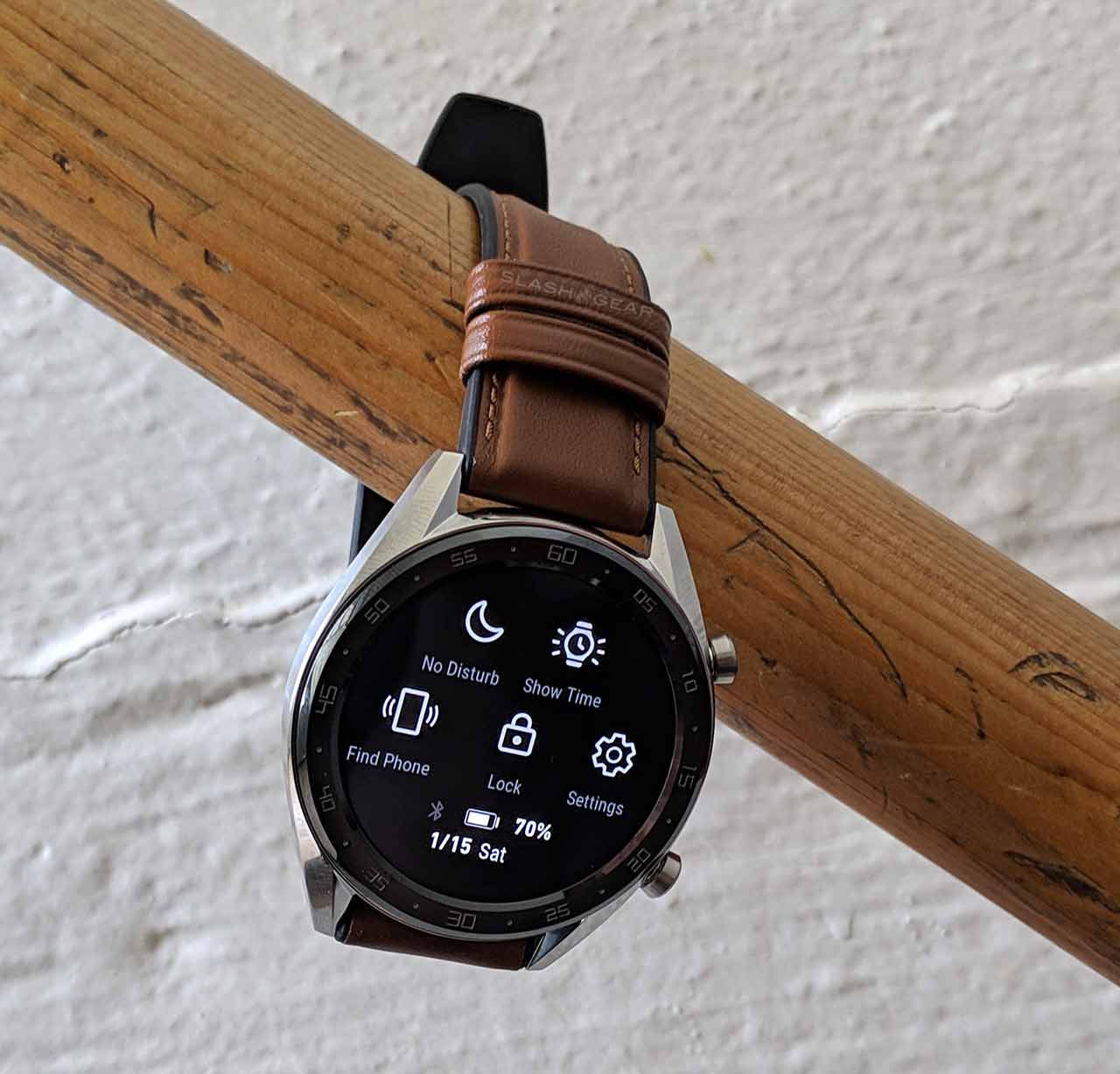 LightOS in the house
With the Watch GT, you're given LightOS with a set of apps… and what you see is what you get. That includes functionality like a stopwatch, timer, wakeup alarm, weather service, barometer, compass, local phone locator, activity records (tracking), and heart rate. You'll also get Workout, Workout records, and Workout status – because you need them all!
Your workout status and workout records work hand-in-hand. One shows you how you're doing at the moment with regard to Fitness and Load. These metrics are such that you'll need to trust the watch and Huawei on what'll work for you, as they do not connect to any 3rd-party fitness ecosystem.
The watch's Fitness app allows you to track a whole bunch of different sorts of activities. On the list are Running Courses, Outdoor Run, Indoor Run, Outdoor Walk, Climb, Trail Run, Outdoor Cycle, Indoor Cycle, Pool Swim, Open Water, and "Other." The "other" category here really encapsulates the basis for the rest of the bunch – you're tracking only time and calories burned – based on how much your watch is moving through space.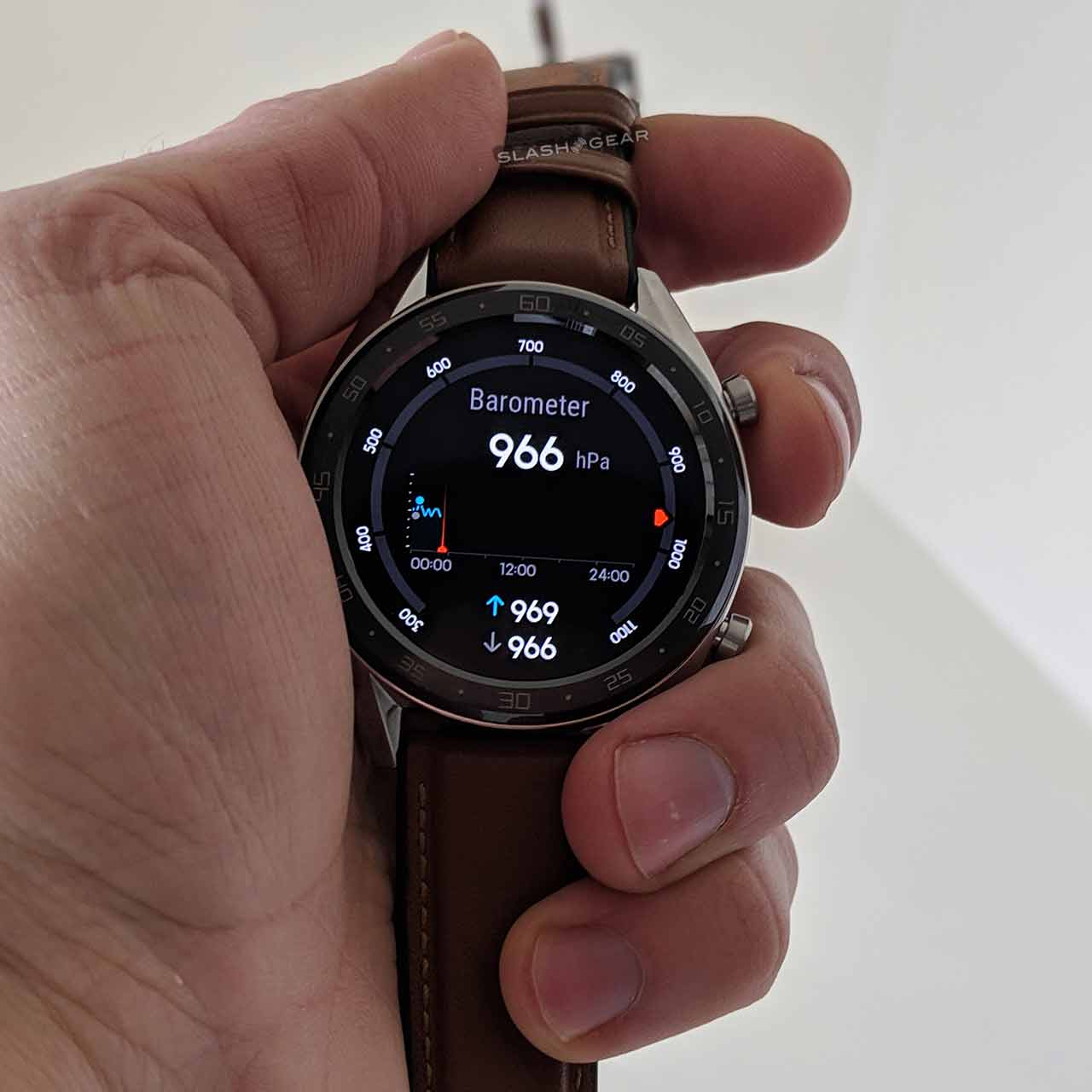 Activity Records is a circular infographic sort of mini-app that shows you Steps, Minutes, and Number of Times You've Stood Up recently. If for no other reason than a combination of this set of metrics and the heart rate monitoring that's going on constantly, this watch has made me more conscious of my activity during the day.
My favorite watch face (shown at the top of this review) gives the time and my heart rate – and also draws a chart showing my relative heart rate throughout the day. I start the day pretty pumped up with a high heart rate, become more relaxed in the hours before lunch, then get my blood pumping again once I've eaten a sandwich, and so on. It's the basic insight I gain here that makes me conscious of what my body is up to.
Hardware
The display on this device is round touchscreen, and can also be controlled with two single-press physical buttons on its right side. The panel is a 1.39-inch AMOLED display with a resolution of 454 x 454 pixels. This panel is easily one of the best we've seen on any smartwatch released thus far.
This device has GPS, which is helpful for assisting in tracking your movements for the built-in fitness and activity apps. You've also got a barometer onboard – which allows you to get readouts on barometric pressure whenever you do so choose.
This device is 5ATM waterproof, which means you can swim without issue. Don't leave it pinned down to the bottom of a diving pool for a week – but a few laps will be totally alright. In fact the watch has swim tracking inside – so it's more than just OK, it's encouraged.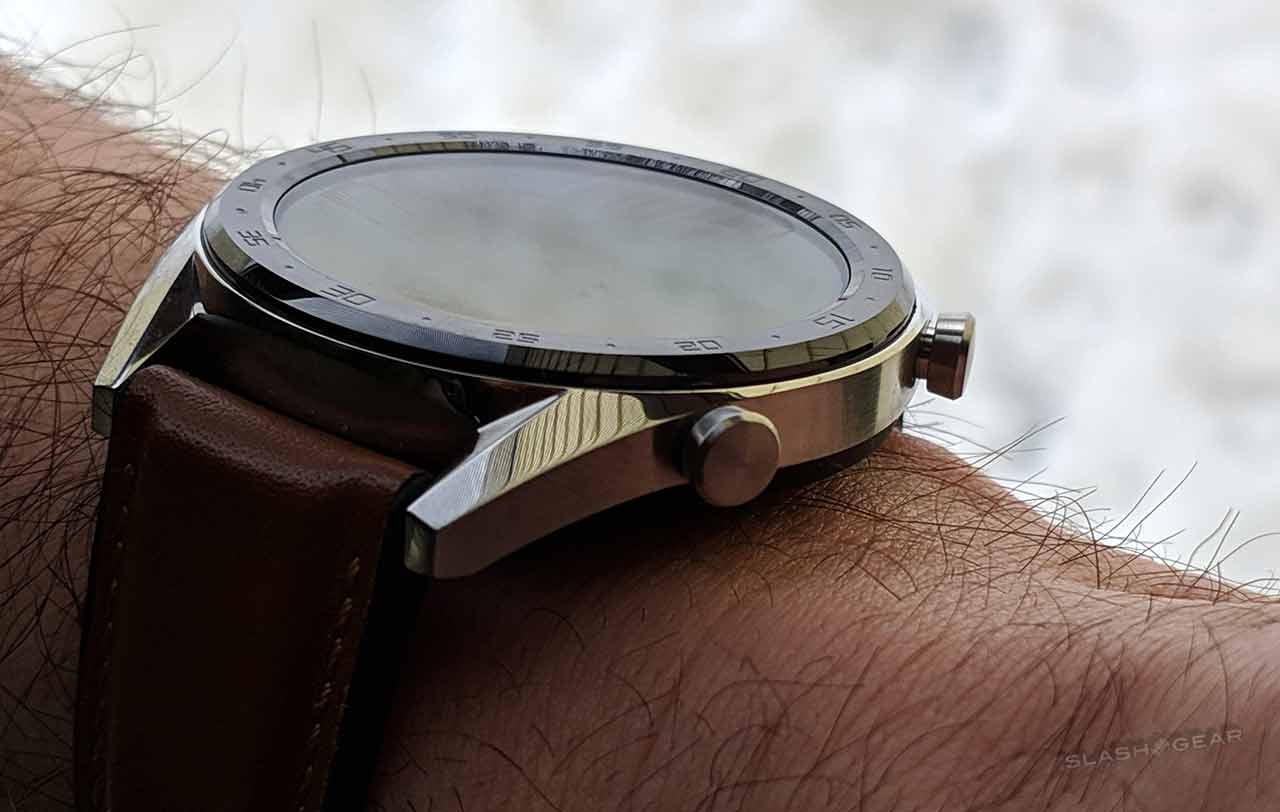 Battery forever
Forever battery, really. Almost literally, but not quite. So far we've found that the watch just… won't die. It's been five days since the last time I charged the watch, and it'd been up and running for at least a week before that when I decided to give in and charge it up.
Charging the battery on this watch is kind of like playing a FPS game where you've got a capacity for 100 arrows, fire one, and go back to get a new arrow because you can't stand the idea that you don't have the full capacity you can carry.
Above you'll see the watch as it appears outside in the snow – even with indirect sunlight we're talking about extreme light, bouncing off all surfaces because of the icy whiteness of the environment. In this environment, the watch is a little hard to see – but it remains usable. Below you'll see the watch in its natural environment.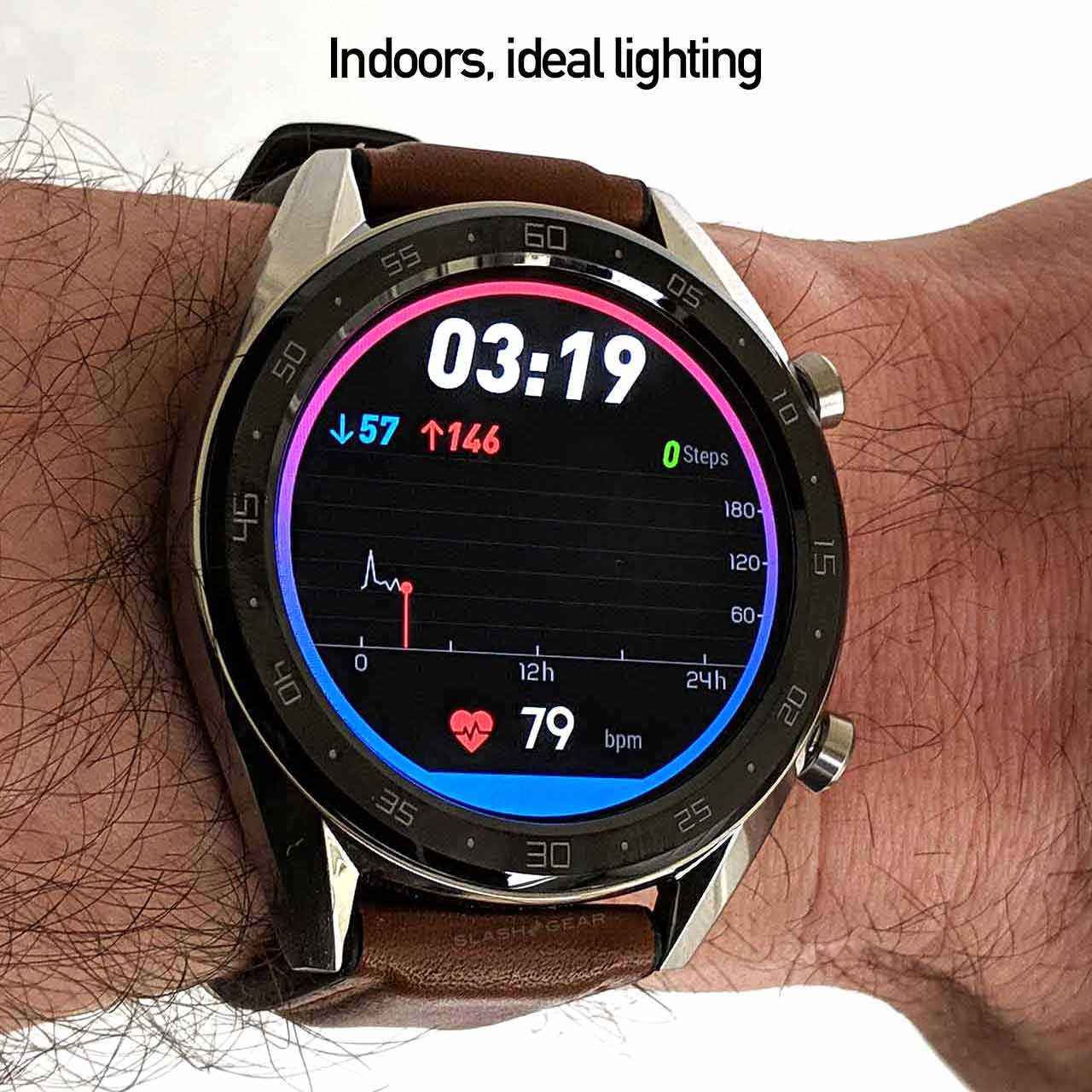 Wrap-up
There's little to dislike about this smartwatch. It's metal, has a top-notch display, does the basics. It's by no means the most powerful or feature-full smartwatch, but it's also one of the least expensive right out the gate. At approximately $200, the Huawei Watch GT is a decent proposal of a smartwatch indeed.
The Huawei Watch GT is available around the world from Huawei's online store, mobile phone outlets, and the usual haunts for Huawei devices. You might have a little more trouble finding it inside the United States since Huawei's not doing particularly well with the US government at the moment – but it's by no means impossible.