Last year, Huawei tried to convince us that we needed a combination Bluetooth headset and activity tracker; for MWC 2015, it's the turn of its glamorous sibling, the Huawei TalkBand B2. Hewn from metal and leather rather than the plastic of its B1 predecessor, and targeting wearers who might be looking to replace a traditional watch rather than fitness band, the TalkBand B2 is fronted with a 0.73-inch AMOLED display, while inside there's a self-learning algorithm that claims to cut down on fake readings.
Like the B1, the TalkBand B2 snaps out of a wrist-worn dock, and then can be worn in the ear for hands-free conversations. On the outside, there's now aluminum alloy and a leather band, though Huawei will also offer a TPU rubber band for those with sensitive skin or doing more active endeavors.
Compared to the B1, the B2 is 20-percent thinner, at 11.5mm, and 10-percent narrower, at 62mm. It also uses a standard 15mm strap, so that if you can bypass Huawei's options and pick your own instead.
On the headset side, there's dual-microphone noise cancellation and a 10mm speaker with which sits in a newly-optimized chamber for a 3 dB volume increase.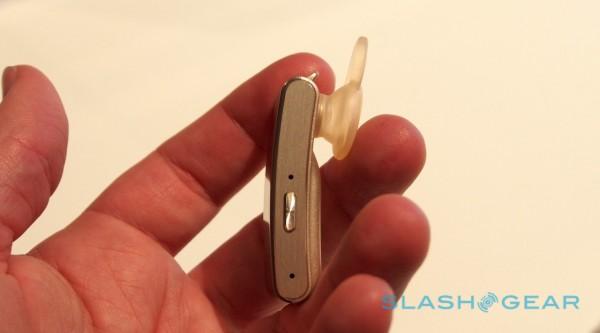 Cleverly, Huawei has designed it to so that – when the headset it clicked into its dock – the rubbery earpiece tucks inside too. Docked, it's held in place firmly, though it only takes a squeeze on either side to pop it out.
As for the fitness tracking, Huawei uses a 6-axis motion sensor and a gyroscope for more precise measurement. That's paired with a new algorithm that, so the company claims, can better tell the difference between similar movements: not mistaking brushing your teeth for walking to the bus stop, for instance.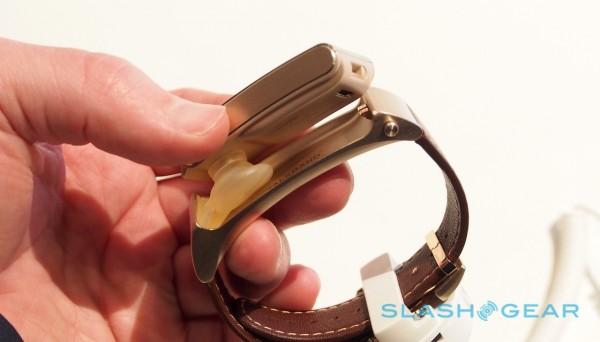 The TalkBand B2 will work as a smartphone "pager" to hunt down lost handsets, even if they're set to silent, and if you walk away from you phone beyond the range of the Bluetooth connection, the wearable will remind you.
Battery life is five days of activity, or six hours talktime. Left alone, it'll stay in standby for up to twelve days. Huawei will have compatibility for both iOS 7+ and Android 4.0+.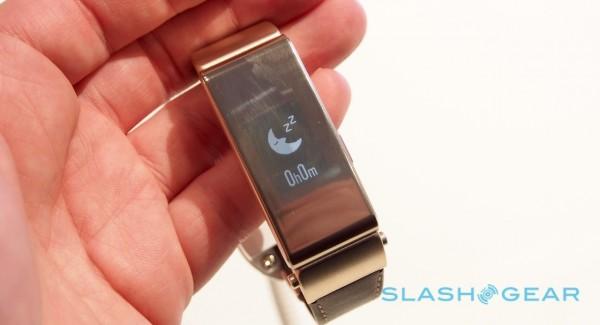 It'll hit shelves at the end of April 2015 in multiple countries – including the US and UK – priced at €169 ($189) for the standard version in black or white, or €199 ($223) for the premium gold colored version, with both leather and TPU straps.