If it were ever time for another Android tablet with a thin frame and a 10.1-inch display, it's now, and it's Huawei who's bringing this device into the world. Huawei makes a valiant effort at creating a tablet with the MediaPad 10 FHD, and it does indeed bring on an impressive package, especially for media playback. If you're looking for the most massively impressive tablet on the market – this isn't it – but if you do have this device on your radar and wonder if it's worth the cash, let me give you a spoiler: it's definitely nice to watch a movie on, but that's just about where it ends.
Hardware
The 10.1-inch display on this device has 1920 x 1200 pixels and a 16:10 aspect ratio. The tablet is 8.8mm thin and weighs 580g – that's just a bit heavier than it it seems like it should be given the aesthetics of the device. This just means that the Samsung Galaxy Note 10.1, which is 20g heavier than the MediaPad, seems light simply because it's got plastic on the outside, giant-looking speakers on the front, and a pen built-in. The MediaPad 10 FHD on the other hand does too good a job of hiding it all – but the speakers can certainly be heard loud and clear.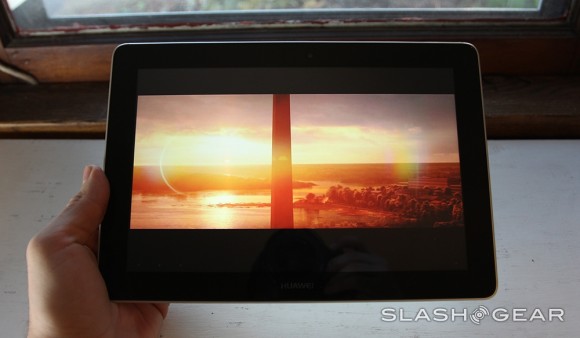 The speakers on this device are nice – Dolby Surround Sound back them up and you do indeed get some impressive blasts when you hold the device the right way or have it propped up with a stand or up against a wall. What I mean is that, like the rest of the past generation of tablets out there, the speakers on this unit are facing the back. Even though we would like them to face the front, they still sound nicer than the vast majority of the smart devices out there – and that includes smartphones.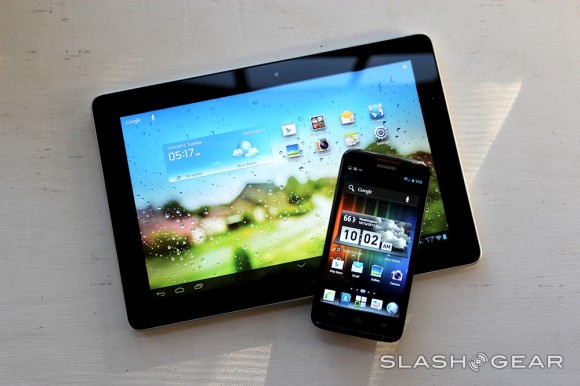 Above: Huawei MediaPad 10 FHD pictured with its release buddy, the Huawei Ascend D1 quad XL
This device is available in 8, 16, or 32GB internal memory configurations – there's no microSD slot, so choose wisely on that internal number right out of the box. The battery is 6600 mAh large, you'll be connecting to the device for charging with a unique port at the bottom. The bottom of this tablet also shows a couple of ports that allow for the keyboard accessory which – sadly – we have not worked with at this time.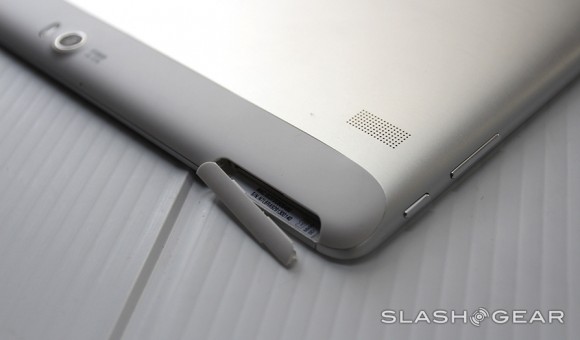 The display on this device is relatively sharp at 1920 x 1200 pixels, that placing the pixel density at 224 PPI, well below the iPad 4th gen's 263.92 PPI and in a different league compared to the Google Nexus 10 which has 300 PPI. If you've seen neither of these tablets up close and personal before, you'll find the MediaTab FHD to be rather bright and sharp.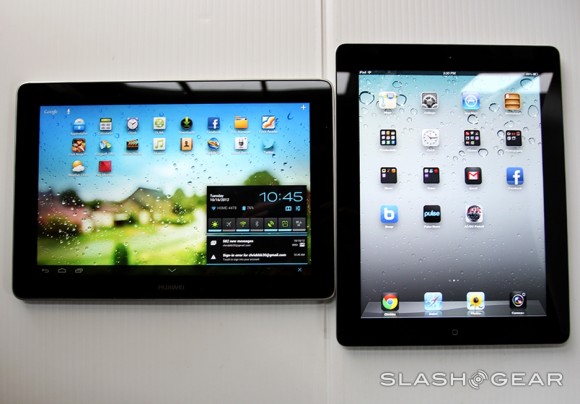 The tablet is not unlike many, many other high-end tablets on the market right this minute, coming rather close to the original Samsung Galaxy Tab 10.1 in its appearance and feel – it's as if Huawei has taken a dash of Apple metal-love and placed it in a mixing pot with the Galaxy Tab 10.1, and out popped the MediaPad we're looking at today.
Software and Performance
The Android 4.0 Ice Cream Sandwich you see here is ever-so-slightly modified beyond its vanilla state. It's not the abilities you'll have added, but the slight side-steps you'll be taking that really show you where Huawei was going with the user interface here. One example is the complete absence of an apps drawer – you'll have everything out in the open here like MIUI or iOS rather than home screens and an app drawer separate.
There are also some slight changes in your standard settings in how you'll be able to work with your device, but nothing to absolutely write home about. This device is not made to be competing directly with the US market for tablet dominance, so it's not difficult to see why Huawei wouldn't push too hard on the features list, especially in the software. You can play movies you've downloaded or transferred to the tablet with the standard movie playing app, you can play some MP3s if you wish, or you can straight up rely on Google's suite of media-playing apps, which certainly is a viable option with Google's family as mature as it is at the moment.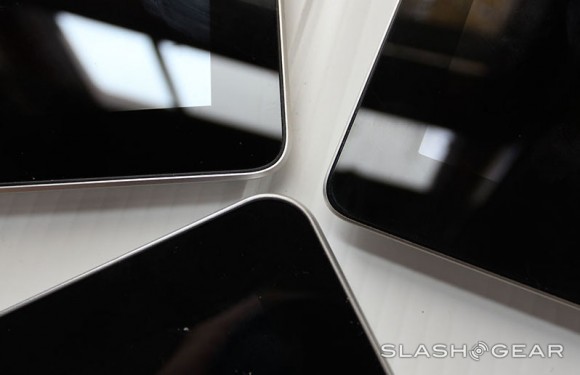 Above you're seeing the Huawei MediaPad 10 FHD next to the Samsung Galaxy Tab 10.1 and a 3rd generation iPad with Retina display. They don't look or feel all that different from one another when they've got their displays turned off, that's for sure. See if you can name each tablet by their corners and edges!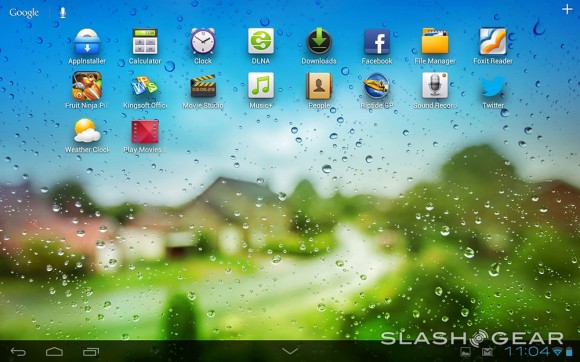 Then have a peek at a few benchmarks taking note that this tablet works with Huawei's own quad-core processor (quad-core 1.4GHz Cortex-A9 to be exact) but doesn't quite beat out the competition in a standardized competition. You'll be able to run many high-powered applications here but don't expect much more power than you had with your NVIDIA Tegra 2 tablet – don't be fooled by a simple addition of a couple cores to the name. Have a peek once more at the hands-on video above to see how well it does in everyday switching between apps and you'll see the truth.
Camera and Battery
This device works essentially as well as the rest of the top-tier Android universe as far as battery life goes, with a massive 6600mAh battery under the hood to keep you up all night. What happens with a tablet – unless you carry it with you all day long – is that you leave it asleep for the major part of your day. When you do this, the machine gets a relatively unfair advantage over the smartphone you've got in your pocket as far as battery life goes because it's not getting punched in the gut all day long with mobile data. It's true too with this Huawei tablet: because you're not prone to using it all day long, you'll be getting several days of battery life if you use it regularly (or 26 days if you don't use it at all). If you're a heavy user, expect as short a battery life as 8 hours.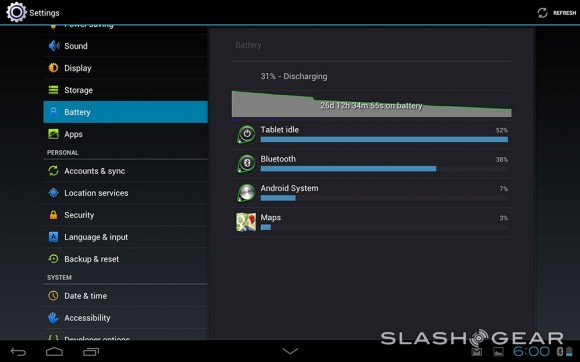 The camera is OK, certainly nothing to write home about. It's utterly blown away by competitors such as the HTC Jetstream and the Google Nexus 10 tablet from Samsung. The Samsung Galaxy Note 10.1's camera takes the Huawei MediaPad 10 FHD to the cleaners even though the Note has 5 megapixels under the hood and the MediaPad has 8 – food for thought. The video it captures, on the other hand, is fairly nice.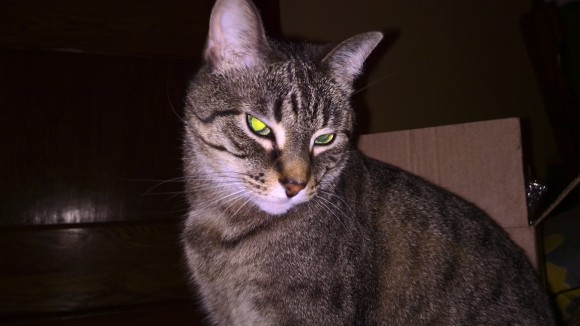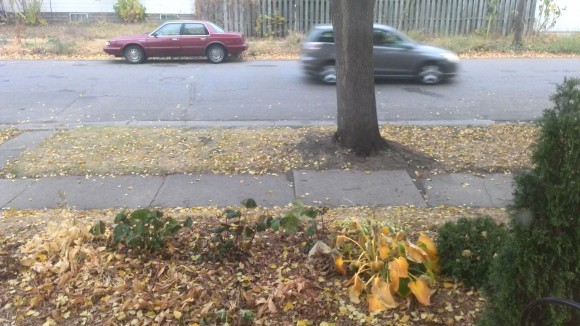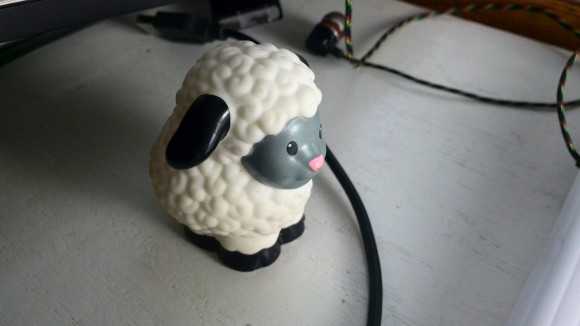 Wrap-up
This device is a rather nice addition to the Android tablet universe, and certainly offers up a unique option where otherwise you'd be handling either a Samsung tablet or going over to Apple for an iPad. If you're thinking about grabbing the highest quality Android tablet on the market today, I would still personally point you toward the Galaxy Note 10.1 simply due to its much more well-rounded ecosystem and matured device family. [See: "Smart Device specs are over, long live the ecosystem" column for more information.]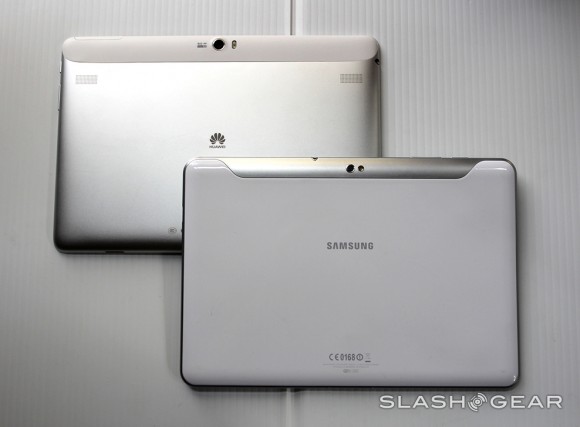 If on the other hand you want to take a fresh look at the Android tablet and don't mind that your device looks strikingly similar to an original Samsung Galaxy Tab 10.1, Huawei is here to back you up. The speaker system is strong, the display is fairly nice, and you'll definitely be the only one on your block with this tablet, guaranteed. The cost of this device for anyone outside of China will certainly be prohibitive at $600 USD or more, on the other hand, so unless you can get this machine for next-to-nothing, you'll be better off skipping it and waiting for Huawei to present a more complete package – and a wider release, to boot.