Huawei MateBook 2-In-1 Now Available For Order In The US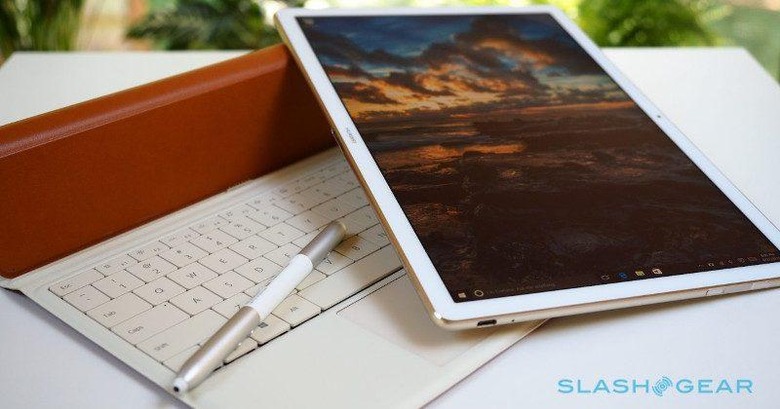 We may receive a commission on purchases made from links.
Move over Surface Pro, you've got some competition. Or do you? Huawei tried its hand at creating a sleek 2-in-1 Windows 10 tablet and it almost succeeded. Almost. The Huawei MateBook almost checked all the right points in a premium Windows portable PC but faltered on the battery and the keyboard. Unfazed, the tablet that could be has officially launched in the US from different online stores, carrying a price tag that makes you think you're really getting what you pay for, and not exactly in a good way.
Externally, the Huawei MateBook rivals and might even surpass the Microsoft Surface Pro 4, with a surprisingly premium look and feel that would probably even remind users of the 13-inch Apple iPad Pro. Indeed, the use of a USB-C port, which might actually be controversial, and an Intel Core m processor, equally debatable, allowed Huawei to squeeze the tablet down as much as possible. And unlike the Samsung Galaxy TabPro S, it actually does have a stylus accessory, of course sold separately.
Sadly, the MateBook's near perfect appeal is marred by critical usability flaws. Huawei, and even Microsoft, love to advertise the tablet's 9-hour battery life, but in our review and else where, it was impossible to reach even half of that. And while Huawei opted for an iPad Pro like keyboard cover stand, it failed to provide the same stability that Apple's accessory gave, making it precarious to use the tablet even on a flat surface.
Check our full review of the Huawei MateBook to get the details on this rather surprising device.
That said, the MateBook does have a few things going for it. For example, unlike other Windows 10 tablets, it incorporates a fingerprint sensor right on the tablet itself instead of the keyboard. The accessories are also quite premium but the MateDock probably takes the cake.
The Huawei MateBook and friends are now available from the Microsoft Store, Amazon, and Newegg. Prices start at $699 for a Core m3 model with 4 GB of RAM and 128 GB of SSD storage, all the way up to $1,199 for a Core m5, 8 GB RAM, and 512 GB SSD configuration. Accessories are sold separately, of course, with the Portfolio keyboard costing $129, the MatePen stylus with laser pointer for $59, and the MateDock for $89.