Huawei Mate X 1st-gen foldable appears to break, too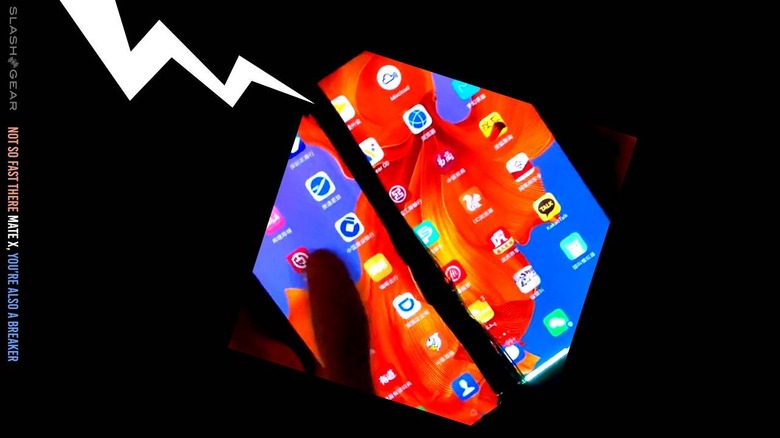 In 2019, Samsung Galaxy Fold early review unit display-breaking issue got a lot of press. Other companies like Huawei seemed to delay their own foldable display-toting devices as a result – better to reinforce in the meantime than to have a first-gen disaster, right? Now, after originally delaying their release from a planned June 2019 to an ultimate November 2019 exclusively in China, the Huawei Mate X's launch is... also not so hot.
A YouTube user by the name of Fold Universe created a list of Huawei Mate X durability failures here in June of 2020. NOTE: Some of these videos were posted without original credit, so if you happen to be the owner of any one of these pieces of media, let us know!
Our own original hands-on with Huawei Mate X back in February of 2019 left us feeling like Huawei might've had a winner on their hands. But the key for any next-generation piece of technology like this is durability – and the Huawei Mate X seems to have missed the mark. Take a peek at our Huawei Mate X gallery to see how promising this device was almost one year ago.
For those select few who did get the chance to get their hands on the Huawei Mate X, the hype was real. The phone sold out in China extraordinarily quickly. According to Huawei, the phone sold out the same day it was first released for sale.
Unfortunate for those few who purchased the phone and found their displays to be less-than-rugged, repairs cost a mint. As we discovered in late November, a full Huawei Mate X repair/screen replacement was quoted at approximately $1000 – that's nearly half the original full price (approximately $2400 USD, converted).
We must assume that the second Huawei Mate X set for launch in 2020 will have a more durable design. This sort of extreme destruction isn't the sort of image any company growing at a speed like Huawei's should be ready to accept without major calls for repentance.
Take a peek at the Huawei Mate X in our hands-on above and stick around for Mobile World Congress 2020. There, at the tail end of February, we're expecting some excellent Huawei action in the form of new phones and other next-gen gadgets and tech for 2020 and beyond!