Huawei E583X MiFi-Rival Gets Video Demo; Coming July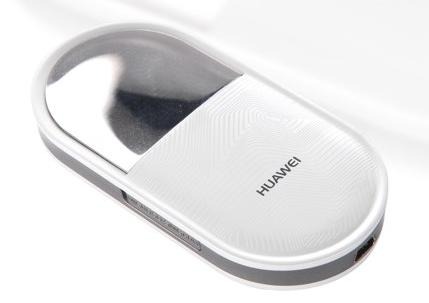 We first heard about Huawei's E583X wireless modem back in February, and now the company has been showing it off at CommunicAsia in Singapore.  A MiFi rival, the E583X – also known as the i-Mo – packs an HSPA modem and WiFi router into a palm-sized battery powered box.
Video hands-on after the cut
Runtime is tipped at up to 5hrs, after which the E583X recharges from a USB port.  You can also leave it plugged in and use it as a standard USB modem, though only with that one computer.  As with the MiFi it supports up to five simultaneous WiFi connections and has a microSD card slot, though the Huawei apparently only supports microSD access via direct USB connection, not by any WiFi client as on the MiFi.
Still, it looks to be a little smaller than the MiFi, which may sway some users who are short on space.  We'd say this one will come down to which carriers offer the Huawei and which plump for the Novatel rival; the E583X is set to land in Europe come July, though there's no word on which networks have signed up.