Huawei i-Mo HSPA modem with WiFi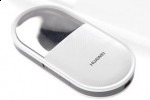 Huawei have announced their latest wireless modem, the i-Mo, which will debut at Mobile World Congress next week.  The Huawei i-Mo, which is apparently the size of a "small key chain", has both an HSDPA/HSUPA USB modem and a WiFi b/g chip on board for sharing the connection with other devices.
In addition there's a microSD slot, meaning the i-Mo can double as removable storage.  Maximum downlink and uplink speeds of 7.2Mbps and 5.76Mbps (network depending) are supported 
No word on pricing as yet, though Huawei usually offer products through a carrier partner rather than directly to users.  However we can expect availability in Q2 2009; we'll likely have more details on the i-Mo next week.
Press Release:
Huawei Technologies: Huawei Introduces i-Mo the Smallest and Lightest Wireless Modem Ever at Mobile World Congress in Barcelona

Shenzhen, China — Huawei, a leader in providing next generation telecommunications network solutions for operators around the world, will make business people's dream for high-speed Internet surfing anytime, anywhere a reality with i-Mo, its new wireless modem. The smallest wireless modem in the world, i-Mo will debut at the 2009 World Mobile Congress in Barcelona on 16 February.

Huawei's latest innovation in broadband terminals, i-Mo provides a new level of convenience to its users. With i-Mo, you no longer need to carry a bulky Internet cable. The size of a small key chain, it fits in your pocket or wallet. You simply turn on the Wi-Fi switch and enjoy immediate access to a high speed HSPA network. i-Mo can automatically create group Internet access and individual Wi-Fi hot points for network digital equipment such as laptops, mobile phones, cameras, games consoles, and MP4 devices

But that's not all. i-Mo supports plug-and-play and data transmission speeds up to 7.2 Mbps (downlink) and 5.76 Mbps (uplink). Music and videos can be uploaded or downloaded in seconds. With its built-in Micro SD card slot, i-Mo can also serve as a USB disk. All these features have been integrated into the smallest wireless modem in the world.

"i-Mo is our biggest release since the E220, an innovative USB modem we delivered to the market in 2006. The E220 sold a record-breaking 9 million units and was dubbed 'the most influential communication terminal in 2007' by Dean Bubley, the Founder of Disruptive Analysis," said Director of Huawei Terminal Marketing Department. "Our unmatched R&D capabilities allow us to offer operators continuous innovation and profitable growth opportunities in mobile broadband services. i-Mo will be one of Huawei's most important strategies in 2009 for maintaining its leadership in the mobile broadband market. We believe it will be the next E220 bringing transformational changes to the mobile broadband market."

Huawei, ranked number one in mobile broadband sales, has shipped over 25 million worldwide. With a reputation for innovation, Huawei has enjoyed numerous successes in the mobile broadband market and continued to expand its market share.

i-Mo will be available to customers in Q2 2009.

i-Mo offers convenient wireless Internet access

i-Mo has an elegant, elliptical profile that distinguishes it from competitive products. Unlike other, traditional product designs for electronic products, i-Mo introduces a new aesthetic with its ornamental design and will change the way people think about their modems going forward.

About Huawei Technologies

Huawei Technologies is a leader in providing next generation telecommunications networks, and now serves 35 of the world's top 50 operators, along with over one billion users worldwide. The company is committed to providing innovative and customized products, services and solutions to create long-term value and growth potential for its customers.